Posted by Jane Dodge BA Fashion Design RMIT: Textile Designer Quickfit Blinds and Curtains on 18th Mar 2015
We weren't expecting to fall in love with this novel colour combination, but here we are!
On first thought, you may feel like an orange, black, and white colour combination is fit for a modern kid's room, right? In truth, this colour palette - when pulled together correctly - actually looks absolutely fantastic in any room in your home, and can provide your interiors with a more modern, dynamic feel.

It has a sense of style, a sense of calm, and is right up to the minute when it comes to interior colour schemes. The key to this palette is to make sure you have plenty of texture in the room. We are not talking about the 1970's "plastic-fantastic" orange here either. We're talking more about creating a Scandinavian-style interior design scheme, which will innately allow you to cultivate a homey, stylish air throughout your interiors.
Read on for a little insight into how you can effortlessly bring this novel colour scheme to life using our ready made curtains as well as some versatile home decor.
How best to achieve this look
For this palette, it's best to use mute colours as a backdrop, leaving orange to be your accent. Here at Quickfit, we're big fans of selecting grey or charcoal as your ready made curtain, and coupling that with a grey or cream tone flooring, and pulling it all together with some off-white walls. Be sure to use your vibrant orange accent colour sparingly. Consider incorporating orange cushions, throws or other accent furniture into your room's overall design plan. You may even like to try investing in an orange arm chair, coffee table, or lamp to add an extra touch of boldness to your design.
To soften the look and keep any sense of starkness at bay, you can also choose earthy brown greys rather than blue greys for your secondary accent colour. The good thing about grey is that it's a versatile monochrome tone, meaning that both warm and cool tones can be complementary to it.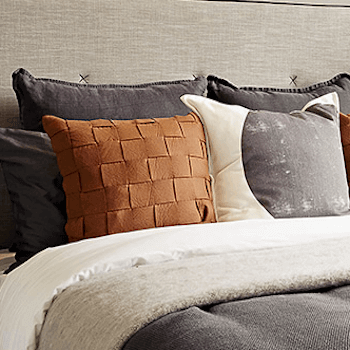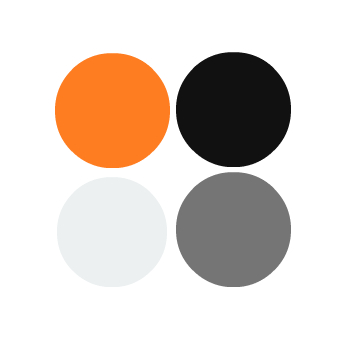 Remember that if you're looking to put together this modern and versatile colour scheme, it's best to start with your grey or black curtains, which you can find right here at Quickfit Blinds & Curtains.
Take a look at our curtains online today so that you can find the perfect set to bring your new look together with minimal fuss.
* Room shots from Carlisle Homes Melbourne Display