Posted by Quickfit Blinds & Curtains on 30th Sep 2020
Your window treatment is something that can truly make or break a space, which is why choosing the perfect type for a room such as the master bedroom is so important. After all, you do spend ⅓ of your life asleep, so paying close attention to your bedroom surroundings is key. The right curtains for your master bedroom should not just enhance the overall aesthetic of the space, but also provide adequate functionality for the room. In today's article, we have a look at how to choose the perfect curtains for your master bedroom, so read on to find out more!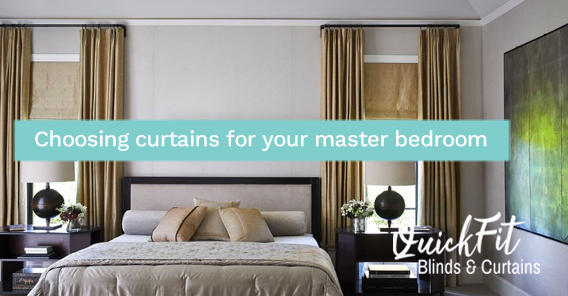 Ponder on Their Purpose
When it comes to choosing the right curtains for your master bedroom, thinking about the purpose of said curtains is paramount. Classically, bedroom curtains serve a number of purposes that may include blocking light out of the room for a restful night of sleep, providing adequate privacy and finally, or even simply adding your personal style of beauty to the room. Figuring out exactly what your master bedroom curtains are meant to do is step one in choosing your perfect window treatment.
Channel Your Inner Interior Designer
Now, as much as curtains serve a functional purpose, it is also important that they look good. No one wants to spend evenings staring at gaudy or improperly fit curtains -- what a way to NOT end the day! When choosing your master bedroom curtains, look to factors such as the colour of your walls and the overall style and design of your room. Do you want your curtains to stand out as a main focal point? Perhaps you'd rather they somewhat fade into the background.
Depending on your personal preference, the type of curtains you choose will differ. Going for a breezy summer vibe? You'll probably want to pick colours such as Peach, Coral, Orange and Yellow. If you're looking towards more of a minimalist vibe, then Whites, Creams or even Greys would be the ideal option.
Fabric Frenzy
Another component of the perfect bedroom curtains is its fabric. As you probably already know, curtains come in a vast variety of fabrics and choosing the perfect one can be a daunting task. Do you prefer sheer fabrics? Perhaps you're more of a cotton, linen, burlap or brocades person. A great tip if you're struggling to choose the perfect fabric is to do yourself a favour and get plenty of samples before taking the plunge. The perfect fabric for bedroom curtains is entirely subjective, so there is no right or wrong choice to make!
Think About The Hardware
Another thing to consider when purchasing perfect curtains is the hardware it will require to put them up. Take note of what colours or styles you would like your curtain hardware to be as well as how you would like said hardware positioned. Ask yourself questions such as, do you want custom-made curtain rods? How long will the curtain rods need to be? Do they need to be in a specific finish or colour? The answer to these questions will help you in determining which curtain rod will work best in your master bedroom!
Upkeep and Maintenance
Last but not least, something that most neglect to pay attention to when choosing curtains is the upkeep and maintenance process. Quality curtains require some TLC, and you'll have to ensure that you clean them yourself or occasionally get a professional to do the job. Long, heavy and draping curtains tend to be the hardest to clean, so choose wisely! The best option is to select styles and fabrics that you can easily vacuum or pop into the washing machine. Do take note that curtains tend to get a little grimy after the 6-month mark, so we always recommend giving them a good wash at least twice a year!
___________
Choosing the perfect curtains for your master bedroom is an incredibly personal choice -- there is no right and wrong when it comes to channelling your inner style and creativity. We hope that this article has given you some useful insight into how you can go about choosing YOUR perfect bedroom curtains. All the best!