Winter is a time of year when many people elect to stay home and relax instead of going outside. This is mostly because there isn't as much sunshine to welcome us outdoors, but it's also because it gets darker sooner, giving people "permission" to stay home at an earlier time of day. When you have one of these nights at home on your hands, treat yourself to a spa bath. We'll show you how the curtains you buy online with Quickfit can help you transform a typical bathroom into a spa oasis.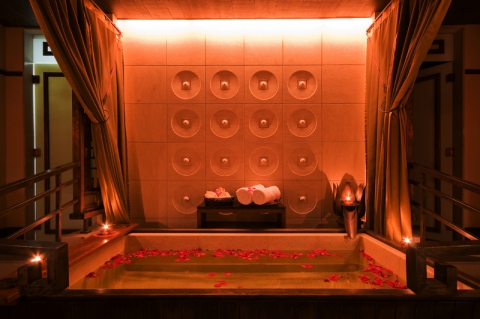 Treat Your Senses
The easiest way to relax with a spa night at home is to target all of your senses: touch, smell, sight, sound, and taste.
Touch
Fill the tub with warm water, grab an exfoliating scrub, and do your body a favour by rejuvenating your skin.
Smell
Add rose petals to the water or a soothing dose of lavender bubbles to send your nose into relaxation.
Sight
A spa night wouldn't be complete without tea candles surrounding the bathroom. Place them on the corners of the tub, on the shelves around the room, and on the counters. Then, turn off the lights and relax by candlelight alone.
Sound
Turn on your favourite tunes, an audio book, or sit in silence. Your ears deserve to be pampered, too.
Taste
End the evening with a bite of chocolate, a cup of fruit, or a delicious smoothie that will nourish your body, relaxing it from the inside.
Add Sheer Curtains Around The Tub
By adding a layer of sheer curtains around the tub, you give yourself the ultimate privacy and relaxation. Sheer curtains aren't too thick nor too thin, meaning you can have privacy without feeling isolated and trapped. We love the soft white or lightly coloured curtain selections in our home spa. Couple together the sheer curtains and a spa treatment for your senses, and you'll have the perfect home spa.
There are plenty of sheer curtains online at affordable prices, so you don't have to feel guilty for treating yourself. Relax and enjoy!