Sheer curtains are a delicate decoration. Sheer white curtains can easily accrue and show dirt more than other colours, but all colours of sheer curtains need regular tidying. It's important to know how to properly wash and dry this style before you accidentally ruin your window coverings by zipping through the care process.
Washing and drying sheer curtains properly means your curtains will stay light, clean, and fluid. A window covering disaster can strike if you're not careful! Well, disaster may be a bit of a strong word, but we're just preparing you for the worst.
Sheer curtain care may seem like more work than, say, washing blockout curtains since sheer curtains require a delicate touch for proper care. Don't fret; the care process is still very simple. All you have to do is mind these instructions, and your sheer curtains will look brand new for years to come.
How to properly care for sheer curtains.
Machine wash on gentle cold cycle.
Dry on a line.
Do not bleach.
Do not tumble dry.
That doesn't seem too difficult, does it?
If sheer curtains are sent through a tumble dryer, they can lose their shape, size, and style. Moreover, we don't recommend hanging the curtains back on the rod to dry because that can cause damage to flooring due to water dripping. Hang the curtains on a line to dry most of the way, and then hang the sheer curtains back on the rod to dry completely. This will help maintain the beautiful curtain shape without causing any other problems.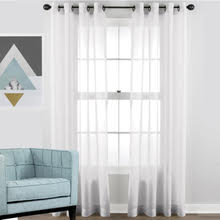 Check out these new Shimmer Sheer White Curtains for a light and smooth style to your room, and keep these care directions in mind if you decide to purchase.