Posted by Quickfit Blinds & Curtains on 15th Dec 2018
During the fall and winter months, window treatment trends tend to go the way of warm colours and thick, luxurious fabrics. This is because these qualities often help reduce heat loss through the windows and, well, most people tend to like the cosy, comfortable aesthetic that these type of materials provide. However, during the summer months, bright-coloured curtains that are light and airy tend to be more popular because they offer an element of cheeriness and plenty of ventilation.
Here at Quickfit Blinds & Curtains, we have all of your seasonal window treatment needs covered. From blockout curtains and shades to elegant sheer panels, you'll find everything you are looking for in our online curtain store. Check out some of our most popular bright-coloured curtains below and purchase yours today!
Affordable Bright Coloured Curtains
Gone are the boring floral print window treatments that you remember from your grandmother's house. Bright coloured curtains create incredible contrast and an interesting focal point in a room, and they complement virtually any type of neutral colour scheme, from whites to greys to blacks. Which will you choose?
This gorgeous curtain panel features a stunning pink pattern on a white curtain to provide any space with bright, cheery contrast. Perfect for living rooms, kids' rooms, and virtually any other room in your home, these panels are made from 100-percent easy-care polyester. That means it is machine washable to make cleaning a breeze. What's more, they will let in plenty of natural light during the day while protecting your floors and furnishings from direct UV ray exposure. Each pack includes a single panel that measures 137cm by 213cm, and this product is an incredible bargain at $35.95 (AUD) per panel.

Portsea Custom Made Blockout Curtains in Red
If you love the romantic appeal of red decor in your home, why not extend that passion to your window treatments? There is plenty to love about this curtain panel, as it provides a wonderful balance of both form and function. Its deep, rich colour and simple texture add visual appeal to any space, while its linen-style fabrication filters light and keeps your homer cooler but not darker. This blockout panel is perfect for those who value their sleep, and it comes in four different sizes to ensure a proper fit for your window. Priced to sell as low as $29.95 (AUD) per panel, these bright-coloured curtains won't last long!
Homespun Linen-Look Two-Tone Sheer Eyelet Curtain Panel White/Purple
During the summer, you want to enjoy the plentiful natural light that daytime provides, but not at the expense of exposing the interior of your home to harmful UV rays. This gorgeous curtain panel is a light-filtering sheer curtain that provides plenty of natural light without having to be concerned about fading floors and furniture. Featuring white on the top and purple on the bottom, the two-tone colour pattern is perfect for summertime. These panels are made from 100-percent easy care polyester for stress-free cleaning, and each pack includes one panel that measures 140cm wide by 230cm. Buy these at $26.95 (AUD) per panel today!
Villa Pinch Pleat Blockout Curtains in Navy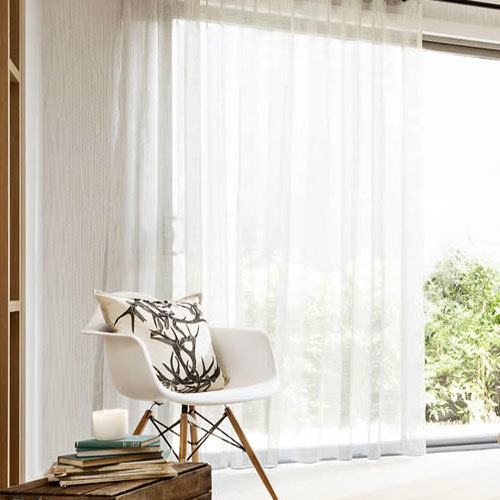 Pinch pleat curtains offer a nice balance between casual and formal, making them incredibly versatile window treatments. Made from navy blue, 100% polyester fabric, these incredible curtain panels mimic the beauty of the Australian summer sky and provide a faux-silk look at a more attractive price point. They feature three layers of thermal foam coating, making them an ideal blockout curtain for bedrooms, and they come in four different sizes to accommodate a wide variety of window sizes. One of these bright-coloured curtain panels is only $69.95 (AUD), and you can add pinch pleat hooks for the low price of $9.95.
Some might argue that white isn't truly a colour. While we won't argue with the logic behind that argument, we will say that you can't ever go wrong with white curtains. These sheer, bright white panels lend an element of airy sophistication to any space, and whether you hang them in your living room, bedroom, or formal dining room, you will love the natural light that filters through. Aside from beautifully filtered natural light, these curtain panels also offer a nice amount of privacy during the day. Panels are available in standard 140cm wide by 230cm measurements or extra large 180cm wide by 250cm measurements, and they only cost $29.95 (AUD) per panel.
Shop Bright Coloured Curtains Online Now
Are you ready to pack away your heavy window treatments from last winter and give your home a light, airy makeover for summer with bright-coloured curtains? If so, then look no further than the wide assortment of pink, red, purple, blue, and white curtains that we have in our online curtain store. We offer both ready-made and custom-made curtains, as well as free fabric swatches and a no-hassle return policy on all ready-made items to make your shopping experience as fun and easy as possible. You won't believe the incredible selection of curtains we have. Shop our online store by colour!
Not sure if buying curtains online is right for you? Check out our reviews and special offers to discover how our commitment to customer service and quality are second to none. Questions? Call our team of window treatment experts seven days a week at 0422584155 — we look forward to speaking with you!