Posted by Quickfit Blinds & Curtains on 9th Aug 2018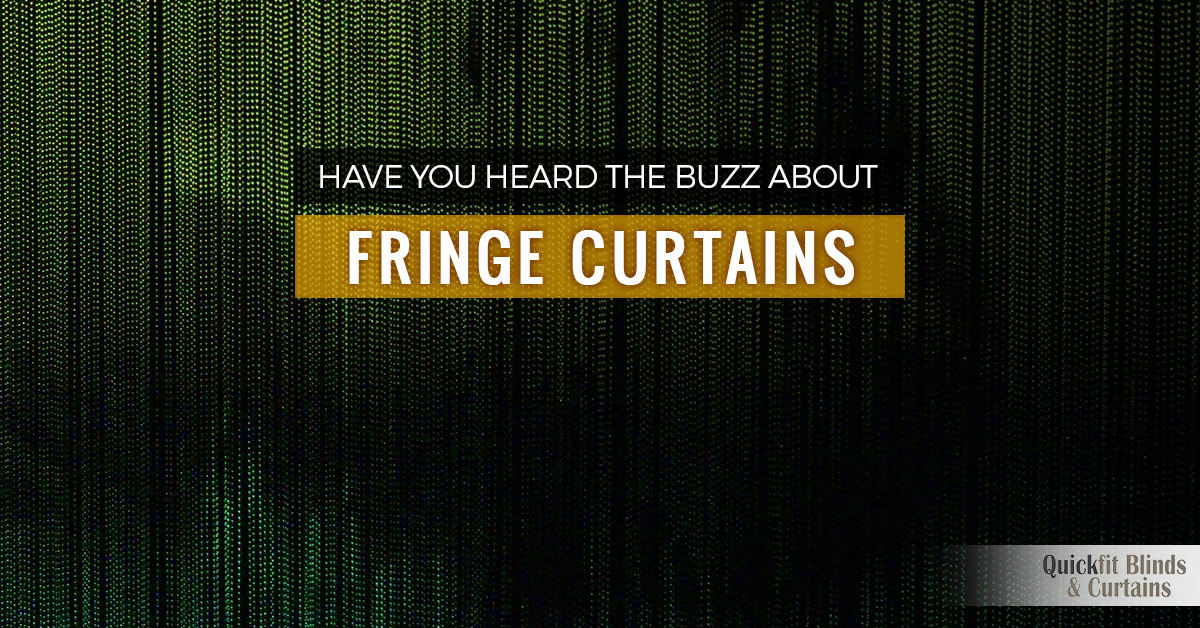 If you gravitate towards sleek, modern curtain styles more so than traditional panels, then you may love the unique look that fringe curtains lend to a room. These stunning window treatments have increased in popularity over the last few years, and for good reason. Not only are they beautiful and elegant, but they are also affordable. In fact, you can find these gems in black, white, and grey in our online curtain store for less than $20 per panel, and you can have them delivered to your Australia home for less than $10. Read more about these gorgeous window treatments below, and be sure to shop Quickfit Blinds & Curtains for Australia's best curtain deals!
What Are Fringe String Curtains?
If you have never seen this type of curtain, then you may wonder what exactly fringe string curtains are. They are similar to the beaded string curtains that were so popular in the 1960s, only the quality and materials have come a long way since then. Fringe curtains are often made from non-fraying materials, such as rayon. Additionally, they can usually be cut to length, making them easy to customise for a wide variety of applications, including unique residential decor and opulent event drapery.
How Can You Use Them In Home Decor?
Hang Them as Stylish, Modern Curtains
Some homeowners choose to use fringe curtains for their original intended purpose and hang them in front of windows. This type of panel provides many of the same benefits that sheer panels do, such as privacy and light diffusion, but it does so in a much more visually appealing manner because of the way that light and shadow play off of one another. Just imagine how elegant and whimsical these curtains will look as they catch a light breeze.
Use Them as a Room Divider
Do you live in a studio apartment or a small college dorm room? If so, then you know how important it is to find the right decor items that help you maximise your space. Fringe curtains make for stunning room dividers, and they can allow you to create a division between different areas of your home. While they are not soundproof like walls, they can provide some element of privacy when you want it most.
Create a Unique Headboard
If you are searching for an affordable way to achieve amazing decor in your bedroom, then look no further than fringe string curtains to help you create stunning designs. When hung as a wall panel behind your bed, they create an interesting focal point in the space. They can also be customised to surround the central light fixture in your room. This can instantly add an air of indulgent elegance to an otherwise utilitarian space.
Use Them as a Bug Screen
Do you have a dog or another pet that needs to be let outside multiple times a day, or do you enjoy entertaining family and friends for a backyard barbecue? If so, then you may get tired of letting flies and mosquitoes in with the constantly opening and closing of your back door. Fringe curtains can be used in place of an exterior door in a pinch, allowing easy access in and out of your home. Their unique design also prevents bugs from penetrating the panel, keeping them out of your house.

Hang Them In Open Door Frames
Similar to their function as a room divider, fringe string curtains can also be used in place of interior doors. For example, if you have a master closet or a linen closet that doesn't have a door, you can hang a fringe panel at the door frame to create the illusion of a door. In fact, you can do the same for virtually any interior door opening in your home in order to create privacy without blocking air flow.
A Word About Safety
These incredible window treatments are sure to make a fashionable statement in any home, however, there are some homes for which they may not be best suited. Your satisfaction and safety is always a top concern at Quickfit Blinds & Curtains, therefore, we must advise extreme caution if you have children and are considering these panels. Fringe curtains can pose a strangulation and entanglement hazard for children because the panels feature many long cords of fabric.
Buy Stunning Fringe Curtains Online Today!
Are you shopping online for high-quality, affordable fringe curtains? If so, then look no further than the panels available through Quickfit Blinds & Curtains. Our fringe string curtains are easy to hang and can serve multiple purposes around your home. Whether you decide to use them as window curtains, a room divider, or for another purpose, you simply can't beat the versatility of these unique panels. Not sure whether or not these are the right window treatment for you? Our team is available seven days a week to answer any questions you might have about fringe curtains to help you determine if they are the best fit for your home. Call us at 0422584155 today or shop our online curtain store now!