Posted by Quickfit Blinds & Curtains on 5th Jun 2018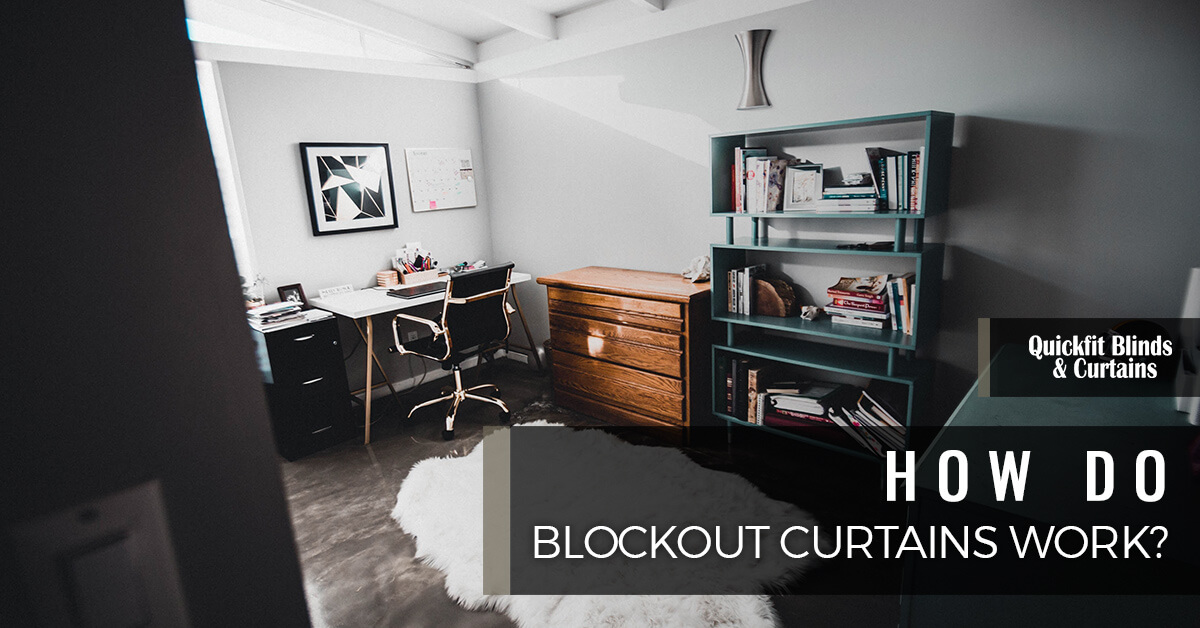 Blockout curtains are one of the best additions you can make to your home. Efficient, elegant, and protective, these curtains are a smart investment for a variety of reasons. Whether you're shopping for blockout curtains in order to improve your sleep quality or keep a movie room dark during the day, we're confident that you'll be impressed with our selection of custom-made curtains. Read on to learn more about how blockout curtains work, and then stop by Quickfit Blinds & Curtains to find a great selection of curtains for sale!
If you have regular curtains throughout your home, you've probably noticed that they don't completely prevent light from entering a room. Regular curtains are generally a single layer of fabric, but blockout curtains actually have several layers that prevent virtually every ray of sunlight from entering a room. The first layer is the fabric you've chosen for your blockout curtains. Perhaps you're content with black curtains to accent a contemporary theme, or maybe you've chosen something lighter in colour in order to prevent clashes. Whichever fabric you've chosen, the remaining layers will be exactly the same no matter which blockout curtains you purchase. The second layer is an off-white coating that works to block sunlight and prevent heat from entering your home. This layer is followed by a black middle coating and then another off-white coating, making it almost impossible for light to penetrate through the curtain.
Why Do I Need Blockout Curtains?
While some people may not mind having an extra bit of sunlight peeking through their blinds in the mornings, others find it nearly impossible to get a good night's sleep unless the room is completely dark. Those who work overnight shifts often find that the darkness provided by blockout curtains makes it much easier to sleep through the day and maintain a non-traditional sleeping schedule.
Even if you work normal daytime hours and don't mind a bit of sunlight peeking through the curtains each morning, there are certainly other reasons why you may want to invest in a set of high-quality blockout curtains. As we mentioned above, blockout curtains are layered in such a way that they prevent virtually any sunlight from entering your home. If you have art, furniture, or newly installed carpet, a set of blockout curtains can help you maintain and protect your investments. You've probably noticed how dingy and run-down faded furniture can make a home look, and blockout blinds are the perfect way to prevent the contents of a room from being damaged by ultraviolet rays.
With summer just around the corner, you're probably dreading paying a higher utility bill caused by constantly running your air conditioning unit. Blockout curtains will prevent your home's internal temperature rising due to sunlight entering through the windows, allowing you to keep your utility bill as low as possible. In fact, blockout curtains can reduce the amount of heat entering your home by up to 24 percent!
Do you have noisy neighbours or traffic near your bedroom? Blockout curtains can help with that, too! Blockout curtains are thick enough that they reduce the amount of noise entering through your windows, allowing you to sleep, watch movies, or listen to your favourite music in peace.
Are you ready to install a high-quality set of blockout curtains in your Australia or New Zealand home? Quickfit Blinds and Curtains has everything you need to install new curtains quickly and affordably. We know that buying curtains online can be difficult, so we happily provide our customers with free fabric swatches that can help you see and feel our materials before you decide to purchase them. We're committed to providing exceptional customer service, and we frequently feature special offers and discounts that can save you even more money on your purchase. Shop our wide selection of custom-made curtains today!