Posted by Quickfit Blinds & Curtains on 16th Aug 2018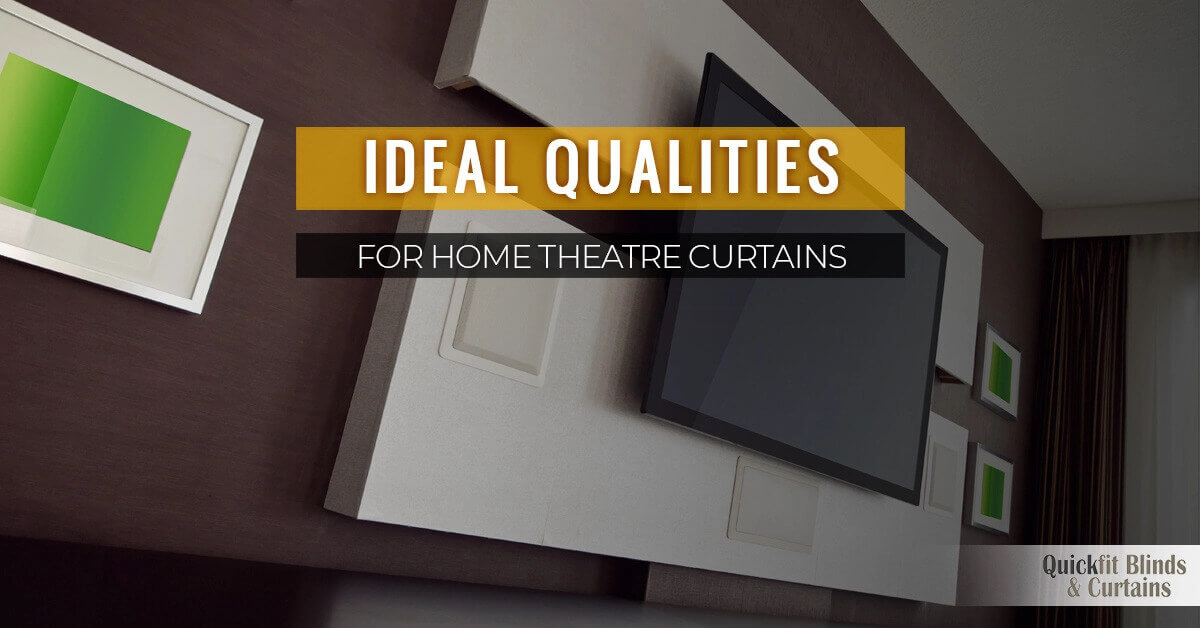 Having a home theatre is a luxury that many people desire. This space enables you to watch your favourite movies and sporting events in the comfort of your own home without worrying about going out, and it also provides seemingly endless entertainment options when you have friends and family over to visit. While there are many elements that make this room special, the type of home theatre curtains that you choose can affect the quality of your viewing experience almost as much as the television and sound components that you choose.
We highlighted a couple of ideal window treatments for home theatres in a previous post, and today, we will review a few ideal qualities to look for when you are choosing your home theatre curtains. Check them out below, then be sure to shop Quickfit Blinds & Curtains for all of your window treatment needs!
5 Home Theatre Curtain Features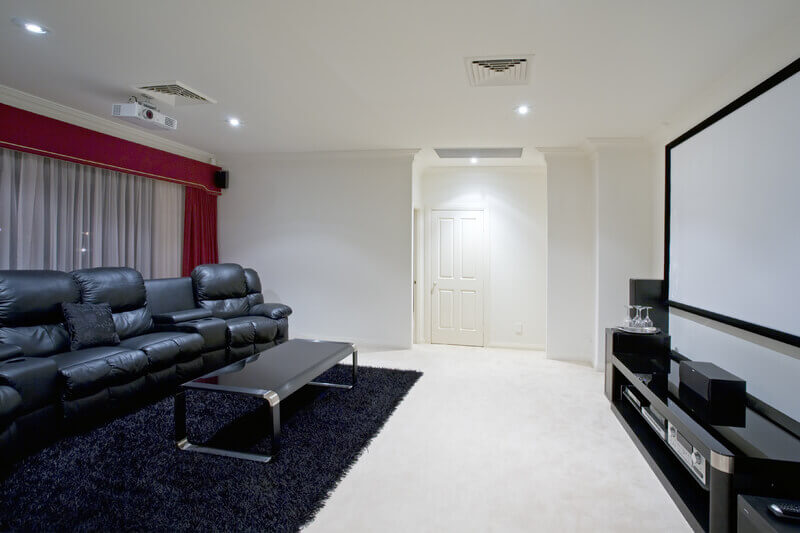 Light Blocking
There is nothing more frustrating than experiencing problematic sun glare on your television screen when you are watching your favourite show. If you don't have the right curtains in your home theatre room, then you could end up dealing with this annoyance more often than you would like. Ideal theatre curtains block out all light from the top of your window to the bottom, allowing you to enjoy a glare-free viewing experience. We are happy to provide a wide variety of blockout eyelet curtains that are as affordable as they are stylish so you can achieve the desired lighting in your theatre room.
Sound Blocking
Have you ever settled in to watch a movie at home, only to be distracted by the next door neighbours lawn mower or dog barking? If you live very close to your neighbour or a very busy street, then outdoor noise could be a real nuisance when you are trying to hear your television. In addition to blocking out unwanted sunlight, home theatre curtains should also block out unwanted ambient noise from outside the windows. Many thermal curtains have three bonded layers of fabric that not only make for great soundproof curtains, but ones that help keep your energy costs low as well — a win-win, if you ask us!
Versatile Appearance
One of the best things about having a home theatre room in your home is that you have free rein to choose the type of decor you use to decorate the space. You may choose a classic movie theatre motif, or you may choose to adopt a look that is more modern and edgy. No matter how you decide to decorate the room, your theatre curtains should be versatile enough to complement any design scheme. Neutral-coloured curtains are always a safe bet, and black curtain panels are sure to block the most light while easily complementing the rest of your decor, regardless of your colour scheme.

Easy to Clean
If you have children in your home, then you know all too well how easily messes are made. It's likely that you may not be the only member of your family enjoying your theatre room, and if your children use it on a regular basis, there is a possibility that the curtains could get food or drink spilled on them. As you shop for theatre curtains, pay close attention to the fabric they are made from and their cleaning instructions. Many of the curtains we offer at Quickfit Blinds & Curtains are machine-washable, making it easy to clean your window treatments whenever the need arises.
Long Panels
Finally, you should also carefully consider the length of your curtain panels before you buy them for your home theatre room. Whether you have small windows that are high up on the walls or you have floor-to-ceiling windows that let in a large amount of light, you want to make sure that there is no chance for light to escape from the bottom of your window treatment. Long curtains are especially well-suited for making sure this doesn't happen, and they often offer a much more dramatic aesthetic than shorter curtains, providing you with the just the right balance between form and function.
Buy Home Theatre Curtains Online
When you want to buy modern theatre curtains that will enhance your viewing experience, look no further than the wide assortment of long blockout curtains available through Quickfit Blinds & Curtains. In addition to preventing unwanted light from entering your home theatre room, many of our curtain panels are available with thermal backing that is also effective at dampening outdoor noises. We offer free fabric swatches and tips for measuring and installing your curtains so that you can have the best experience possible when you buy from our online curtain store. Creating the perfect ambiance for your theatre room has never been easier. Shop our entire inventory today to get started!