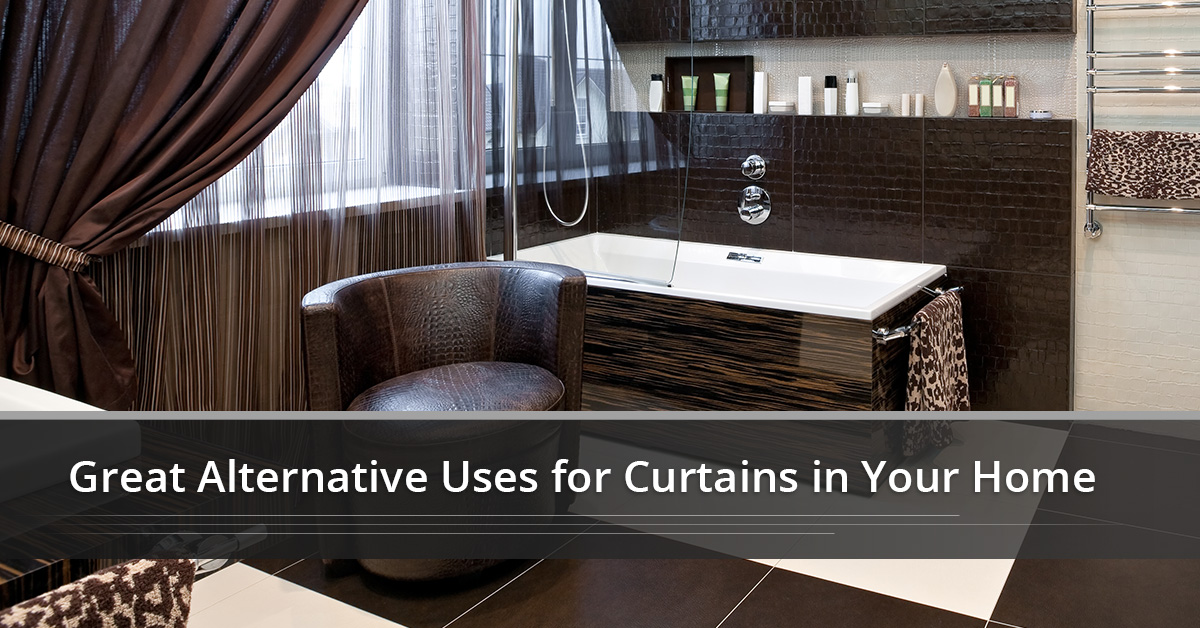 Curtains are great for your windows, but that's not all that they are good for! We've seen some incredible ideas thanks to our customers sharing photos with us of their final projects. We're so impressed with what they come up with and how gorgeous our curtains look in their homes! They've put our custom-made curtain service to good use. Here are some of our favourite ideas that you might be able to use in your own home!

Great Ways to Use Curtains In Your Home
As a room divider.
When you have a large room, it can be hard to make it feel intimate. A room divider made out of curtains can be the perfect answer. Simply hang a curtain rod at your dividing point and attach your curtains. We recommend sheers for most room dividers; they provide a sense of space, breaking up a large room into smaller areas, without blocking out the light. They also allow visibility into other parts of the room while still making the space feel private. Divide a lounge into a sitting room and dining room, or a basement into an office and storage.
To make a reading nook.
Hang curtains out from a hula hoop or large embroidery hoop to create a sort of tent suspended from your ceiling. Inside, you can place piles of pillows and blankets along with a small lamp and you've created a magical reading nook. This is great for both kids and grownups. Choose sheers for an airy space, or go for heavier curtains if you want the clubhouse feel.
As a bed canopy.
Curtains are the perfect way to create romantic bed canopies! Simply hang the curtains along the sides and bottom of the bed, suspending them from the ceiling. Choose sheers for a romantic look or blockout curtains for a practical canopy that keeps out artificial light while you are sleeping. It's a dramatic look for a room that creates a special place to get a good night's rest, and thanks to the curtain rods you don't even have to have a four-poster bed to pull it off!
To hide ugly appliances.
Have a boiler out in the middle of your kitchen? Are your washer and dryer in the hallway? If you have an oddly placed appliance, curtains can mask them and keep them from being a distraction from your decor. Suspend the curtains from the ceiling around the appliance, making sure to leave enough space between the appliance and the curtain so it doesn't create a fire hazard. You'll definitely want to stay away from sheers for this, since you are trying to hide what's behind there.
Ditch the doors on your closets.
Taking the doors off of your closets can create all sorts of possibilities. It can allow you to create better storage options for your clothing, create an at-home office space, or even create a cosy guest bed option. If you still want to hide what's inside, though, curtains are the way to go. Simply hang your curtain rod at the top of the closet door frame and hang your curtains. There is no wrong look here, and the change from doors to curtains will completely transform the look of your room.
How Will You Use Custom Curtains in Your Home?
Whether you need to break up a big space, make a smaller one more intimate, or hide something that's distracting from the decor of your space, we have the curtains that you need. From heavy blockout drapes to light and breeze sheers, we carry a huge variety of colours and fabrics to choose from so you find something that is perfect. Just visit our website, measure your space, and choose your fabric and style. We'll take care of the rest! We ship anywhere in Australia for just $9.95 flat rate shipping, and you can have you new curtains at your door and ready to hang in as little as 10 days.
Place an order for your custom curtains today! We'd love to see a photo of your finished project. Share it with us on one of our social media channels or email it to us. We might feature it in a future blog post!