Posted by Jane Dodge BA Fashion Design RMIT: Textile Designer Quickfit Blinds and Curtains on 1st Dec 2014
If you are after a classical look for your curtains you can't go wrong with pencil pleat curtains, which have a tape sewn onto the back. The tape has three strings that you pull to gather the curtains to the desired width. This makes it a breeze when measuring as you can't really mess the size up when buying them. You determine the size by gathering them up yourself.
TIP: If you like your curtains to have lots of fabric, fullness or you want maximum blockout effect then get the size larger than specified as you can gather them up nice and tight and get a really great fabric coverage. This will help with noise absorption in a theatre or movie room, help improve the thermal properties and increase the blackout, room-darkening effect of the curtains. Not to mention the fact that they look fabulous, nice and full.
The key features of the pencil pleat style curtain are:
They have a gathered look
There are 3 positions to insert the hooks so you can have them sit exactly were you want them off the floor
They are completely adjustable, allowing you to buy larger sizes for extra fullness
They have a very sophisticated look
They can be a little fiddly, pulling up the strings and inserting the hooks, but with a bit of patience they look fabulous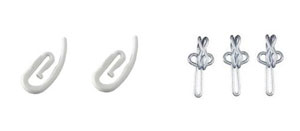 For more information on installing and fitting your pencil pleat or gather curtains, let us help you measure and install guides for curtains and blinds