Posted by Quickfit Blinds & Curtains on 1st Dec 2020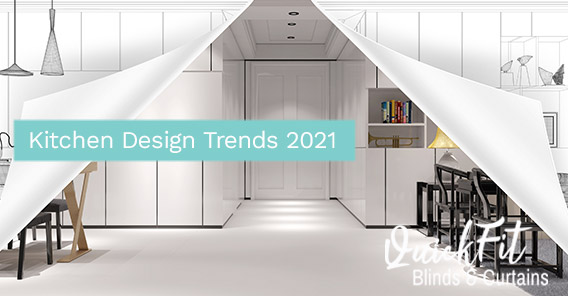 Kitchens are often referred to the heart of the home. It is where family and friends gather to enjoy delicious meals, share stories and unwind after a stressful day. The kitchen is the place we replenish, refuel and create long lasting and precious memories with the ones we love. With this in mind, it only makes perfect sense that one would want to design their kitchen to reflect its importance in all our lives. In today's article, we have a look at upcoming kitchen design trends for 2021 that will help you transform your kitchen into the most stylish version of itself. Read on to find out more!
Whimsical Window Treatment
If you're lucky enough to have a kitchen that has its own window, this offers the perfect opportunity to add some style and sophistication to the room with the help of trendy kitchen blinds and curtains. For those who are looking to add a modern touch to the kitchen in 2021, some incredibly popular options include white venetian blinds and floor length sheer panels that allow light into the room without causing harsh glares. It is important to note that the perfect window treatment for the kitchen needs to be easily disassembled and washed, so avoid choosing fabric textures that easily absorb smells and odours.
Striking Splashbacks
It's time to trade in your boring and plain splashback for something cooler, quirkier and more attention grabbing. Much like appliances, drawers and cupboard doors, splashbacks contribute greatly to the overall look, feel and ambience of your kitchen. While 2020 saw the trend towards marble and granite splashbacks, 2021 splashback designs are predicted to be bigger, bolder and more textured. Think geometric patterns, colourful tiles, mirrors and even steel.
A bold and bright splashback is also the perfect addition to a neutral themed kitchen as it adds some personality and a pop of colour that creates more visual interest in the room.
Taps That Impress
Taps may not be the first thing on your mind when you're thinking about kitchen design, but you'll be surprised at the world of difference that such a small change in the kitchen can make. Industrial looking brass taps, matte black taps and unusual tap handles are predicted to soar in popularity in 2021, but don't just stop there. Now that taps are being made in various colours and finishes, sinks are following not far behind. Matching your tap and sink materials is the perfect way to add sophistication and style to any kitchen without having to break the bank!
Clever Storage Solutions
When one pictures a 21st century kitchen, there is almost no chance of that visual including clutter and dishes piled all over the place. With the shift towards a more minimalist and low-key style (possibly thanks to Marie Kondo), the trend of incorporating smart storage solutions seems to be on the rise. Hidden and well-located storage is the perfect way to keep unsightly items away from plain sight, thus creating a more organised and clean design in the kitchen. Some popular smart storage options include kitchen island drawers and the butler's pantry which is expected to be 2021's most sought after kitchen storage solution.
Hidden Appliances
The appliances you choose contribute greatly to your kitchen's overall aesthetic and style which is why you'll want to ensure that any less than remarkable looking appliances are hidden and kept out of plain sight. Unless you're looking to splash out the big bucks on all brand new, aesthetically pleasing appliances, we highly recommend integrating your appliances. This can be as easy as hiding them in a designated cupboard or as complex as getting a contractor in and redesigning your whole kitchen and giving it a brand new aerodynamic finish. The choice is up to you, but regardless of which option you pick, hiding your appliances is certainly the way to go.
____________
And there you have it -- everything you need to know about kitchen design trends that are expected to take stage front and centre in 2021. We hope that this article has inspired you to give your kitchen a little makeover, even if it means just purchasing new curtains or re-organising your pantry. All the best!