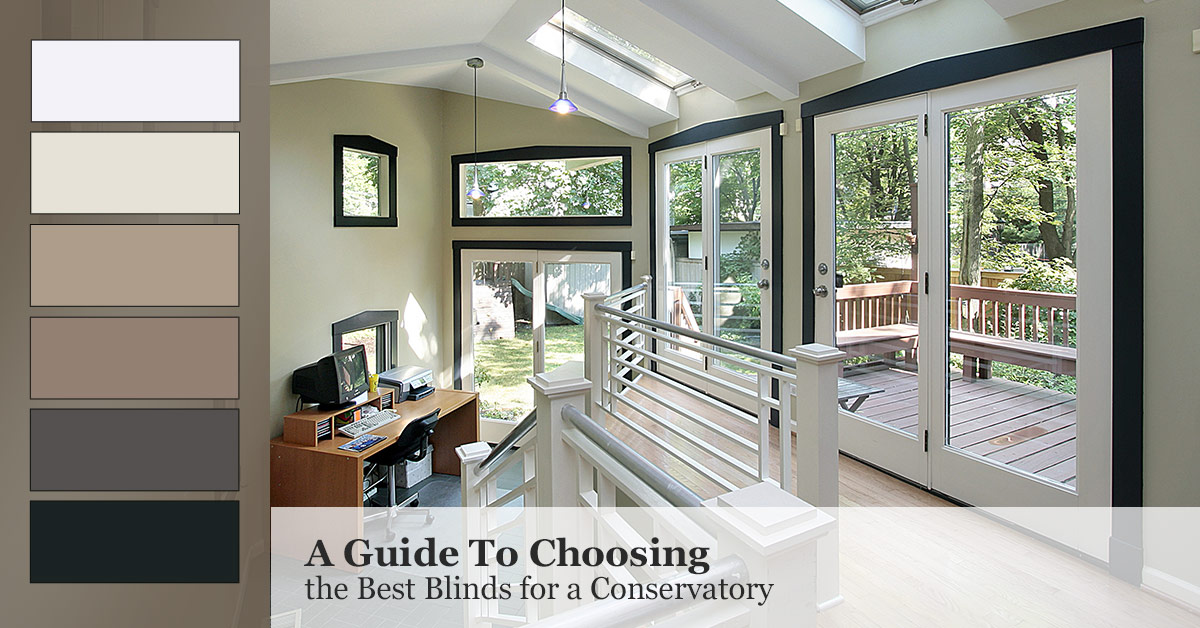 Ah, relaxing in a conservatory sounds great right about now. The weather is warming, the sun is staying in the sky longer, and people are generally happier. Whether you relax in a conservatory to get some peace and quiet or like to socialize with friends, neighbours, or family, the conservatory is a great place to enjoy the sunshine without actually having to step outside. Although the purpose of a conservatory is to soak up the sun, roller blinds may still be wanted for dulling a harsh glare or for ensuring privacy when the room is not in use.
A Guide to Choosing the Best Blinds for a Conservatory
Step One: Choose the Style
For a conservatory, we recommend shopping online for blinds in the Sunscreen blind style. This particular style is made with a tiny weave pattern that still allows sunlight to shine through the screen when it is drawn. The other type of roller blind offered online by Quickfit is a blockout blind. This style completely blocks sunlight from shining through the window when it is drawn; for this reason, we do not recommend blockout blinds for the conservatory, since it is a place to enjoy the sun's warm rays.
Quickfit sells Sunscreen roller blinds in five exquisite neutral colours: white, ivory, grey, charcoal, and black. No matter which one you choose, it is sure to hang nicely in a conservatory.
Step Two: Fine Tune the Details
The way a roller blind hangs in the room depends upon the details. Do you want the blinds to be mounted inside each window frame, or outside? Do you want traditionally sized panels for average sized windows, or do you desire a larger blind panel to cover more space? Depending on the answers to these questions, you may choose to purchase ready-made roller blinds or custom, made-to-measure roller blinds.
Since conservatories are typically top-to-bottom window panels, custom blinds may be the easiest decision you will ever make.
Step Three: Measure
Custom, made-to-measure roller blinds are perfect for a conservatory because it will fit your space just right. Measuring for roller blinds is easy. Just follow the steps in this How To video.
Step Four: Order
Ordering roller blinds is easy on Quickfit's website. The custom roller blinds can be made and shipped from our Melbourne store to you within three days. This two-minute tutorial will show you everything you need to know to order roller blinds online.
Step Five: Hang
The roller blinds package delivered to your doorstep will include all hardware needed to hang the blinds. You will have to provide the tools, but all you should need are a screwdriver or drill, and possibly a level to make sure they hang straight. There will be detailed hanging instructions in the packaging.
Step Six: Enjoy
Once the roller blinds are hung in the conservatory, you can enjoy the shade or privacy at your leisure.
Salutations!