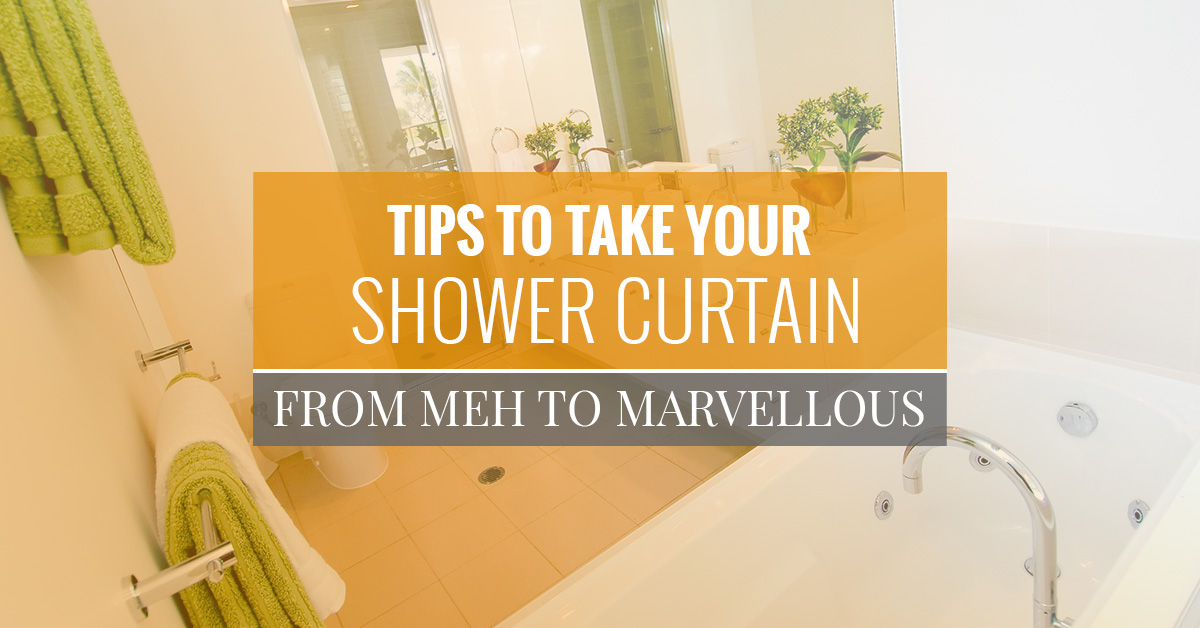 Your shower curtain is a big part of your home decor. In most bathrooms, it's one of the most prominent features of the decor, and sets the tone and style of the room. Because of that, your shower curtain isn't something you should overlook when you want to have a really fantastic bathroom. If your shower curtain is more likely to induce yawns than excitement, it's time to give it a style makeover. Here are some of our favourite tips on how to make your shower curtain shine. We have all the rods, rings, and shower curtains online you'll need to get the job done!

Try These Tips to Pump Up Your Shower Curtain Style
Don't forget about the rod and rings.
While your shower curtain is definitely going to steal the show, it needs good supporting characters to make it work. That's why you'll want to invest in quality rods and curtain rings to go with it. Upgrade your look by skipping the plastic rings and choosing a metal one that coordinates with your bathroom hardware. A metal rod is an instant luxury upgrade to your bathroom, too. You'll be surprised at the difference these tiny details will make in the overall look of your bathroom. If you already have a shower curtain that you love, try simply upgrading your hardware and see the impact that it makes on the room.
Coordinate your accessories with the shower curtain.
Make your shower curtain stand out even more by coordinating your bathroom accessories. Choose a colour that appears in your shower curtain and purchase towels, toothbrush holder, and soap dishes in a matching colour. This will make the entire space feel cohesive and make your bathroom look more expensive. The best part is you don't have to spend a ton of money on these little pieces and they'll make a big impact on the overall look. You can even change out accessories in another coordinating colour when you want a change but are on a budget!
Two shower curtains are better than one.
Sure, one shower curtain is probably fine. But two shower curtains is luxurious! Hang the shower curtains on the same rod and part them in the middle, more like curtains on a window. This is an especially effective tip if you have a shower or bath that's recessed in an alcove. It looks super posh and like you must have hired a very skilled designer to come in and spruce up your bathroom. Thanks to the low prices of our shower curtains online, it won't hurt your budget to get twice as many shower curtains.
Suspend your rod from the ceiling.
We often recommend hanging your curtains as high as possible to make your windows look bigger. The same concept applies to your shower curtain. Instead of hanging the curtain right at the top of the shower, keep going up. Installing your shower curtain rod right at the ceiling will make your shower and your entire bathroom look larger. You may need to purchase a shower curtain that's slightly longer than normal to pull this look off, depending on the height of your ceilings.
Make sure you use a liner.
Finally, don't neglect using a shower curtain liner. This will help keep the moisture of your shower where it belongs--in the shower--and not all over your floor and walls. Choose a white or clear liner. The liner will also help keep your (more expensive) shower curtain clean and free from mold or mildew. You can wash liners when needed and throw fabric ones into the washing machine to extend their life. It's a great way to protect your shower curtains and avoid having to replace them more often.
We Have Shower Curtains & Accessories Online
Ready to upgrade your shower curtain and make your bathroom look better than ever? You'll find everything that you need to get the job done at Quickfit. Along with our vast selection of curtains and blinds, we also have a great selection of shower curtains, rods, and rings all online and ready to order now. You'll get to take advantage of our great prices and flat rate shipping within Australia. Place an order online today and we'll get your new shower curtain and accessories to you in no time at all!