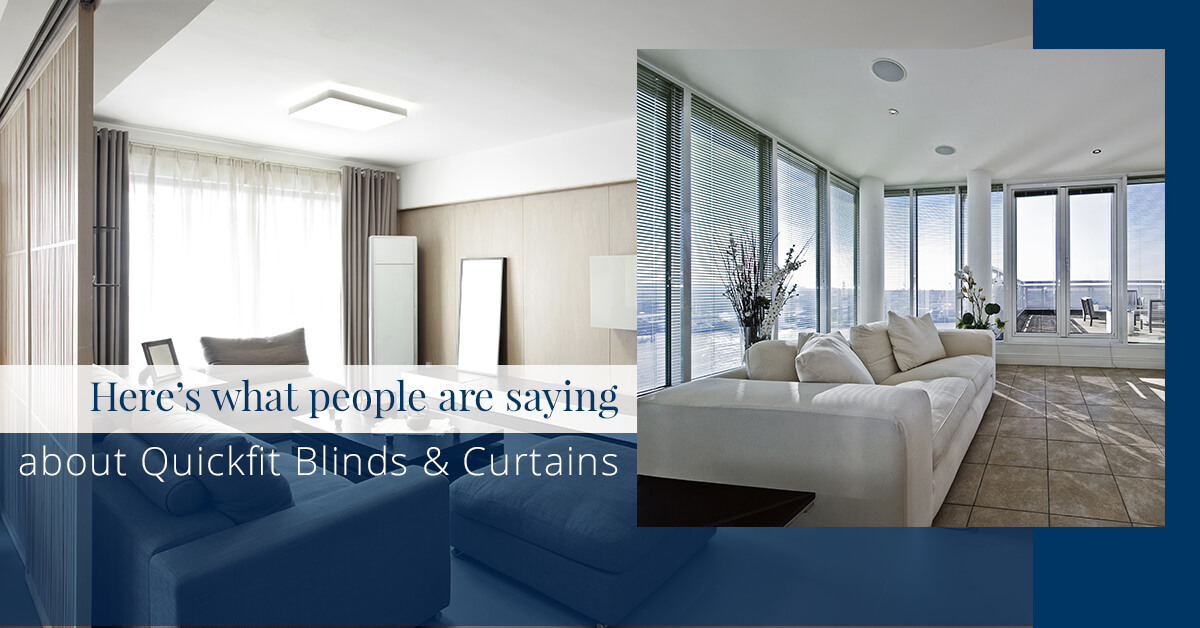 Do you take the time to do research before you shop online for blinds and curtains? We love collecting reviews (both good and bad) for our products and customer service so that we can continually serve you to the best of our abilities and with superior products. Take a gander at the reviews posted by our previous and returning customers, or keep reading below for a quick synopsis of some recent reviews to which we would like to respond.
Review Title: Worth the wait
Stars: 4/5
Notable Points: This anonymous reviewer purchased BOND Room Darkening Soft Drape Eyelet Curtain Panels and adores them! At the time of order, the navy curtain panel was back ordered, and the reviewer said it was worth the wait for the good quality.
Quickfit Response: How glad we are that you waited! It is never our intention to keep customers waiting, but for high quality products at affordable prices, it is sometimes the reality. Thanks for waiting! We are happy you are satisfied.
---
Review Title: Surprisingly Good Quality
Stars: 5/5
Notable Points: Angelo B. left a review commenting on the ease of order and the quality of the curtain panel compared to the price. "Much better than I was expecting would recommend this company," writes Angelo. Angelo ordered a BRISTOL Sheer Eyelet Curtain Panel.
Quickfit Response: We are thankfully shocked at Angelo's surprise to the good quality for a decent price. We strive to keep costs minimal and pass savings on to our customers because curtains and blinds should not have to be a hefty investment for good product. Thanks for the recommendation!
---
Review Title: Great Service
Stars: 5/5
Notable Points: Leanne took advantage of the custom-made blinds at Quickfit and purchased four classic black blockout blinds. Leanne said the ordering process was easy, the delivery was quick, and it all fit perfectly. "I would use and recommend Quickfit Blinds & Curtains to others," said Leanne.
Quickfit Response: We are so pleased that Leanne found ease with ordering custom blinds from our online store. Shoutout to Jane for helping Leanne on her way!
---
Review Title: Couldn't use them
Stars: 1/5
Notable Points: An anonymous reviewer purchased an extendable curtain rod set 80 cm to 300 cm but was sent different curtains. The reviewer returned the product and waited for a refund. "I needed them urgently so wasn't happy," said the reviewer.
Quickfit Response: Boy, are we sorry to hear this! We wrote to the customer alerting him/her that the warehouse mistakenly sent the wrong size because the necessary size was out of stock. We recognized this is a problem and have corrected it instantly.
---
Review Title: Cheap good product
Stars: 4/5
Notable Points: M Kelsey purchased custom made blockout curtains with textured Westwood latte fabric asd was overall satisfied with the price and delivery speed. M Kelsey mentioned there is one spot on the fabric with a slight flaw.
Quickfit Response: Quickfit strives to send picture-perfect curtain panels, but we are sorry this was not this case in this instance! Our Returns Policy allows custom curtains to be returned for this problem (but not for poor measurements, change of mind, or incorrect colour choice). Send us a return form 14 days from purchase, and you can have a replacement!
Thanks for tuning in to some of the latest reviews about our online blinds and curtains store.