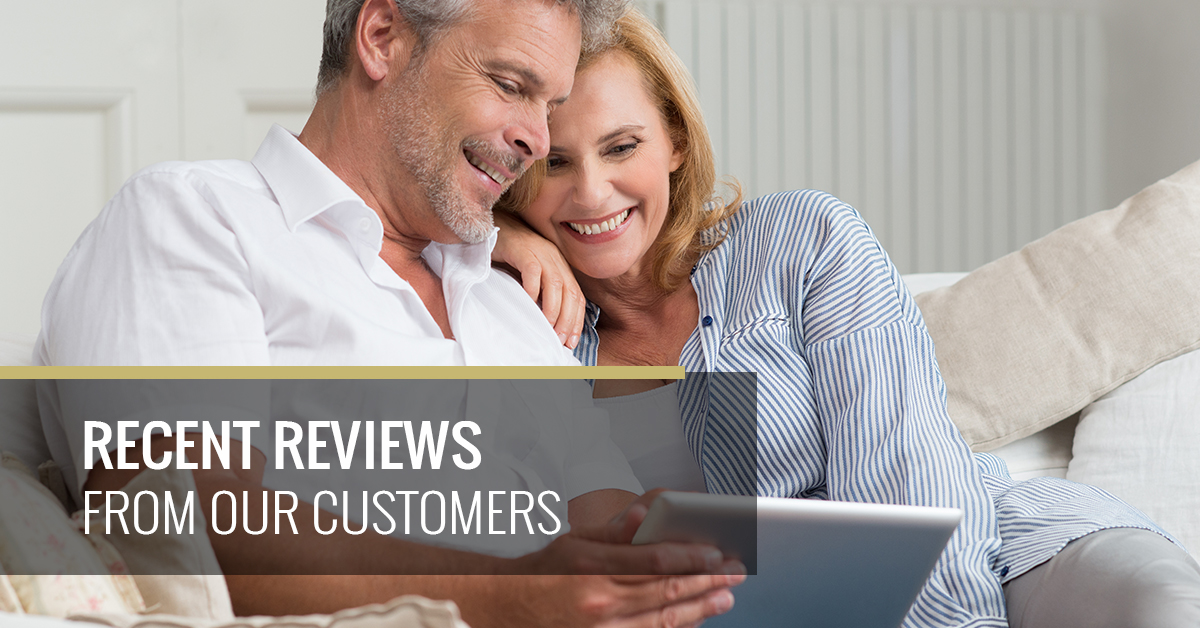 Every so often, we like to take the time to recognize our thoughtful, loyal customers who have given us a review - be it a good review or a bad review. We thank our people for taking the time to give feedback, and we also enjoy sharing these reviews with our readers. So without further ado, here are some of the recent reviews from customers who have purchased curtains and/or blinds online from Quickfit. Thank you for your business and your feedback.
Happy Customer
An anonymous customer gave five stars in response to receiving the WAVE Thermal Eyelet Curtain Panel in Grape ($28.95 per panel). The user wrote, "These are so soft and fall really nicely. The colour is perfect as in photo. They hang beautifully. Posted quickly with no issues." We are thrilled that the website is a reliable tool for purchasing the curtains online.
Great Value
Sunita recently purchased the MONTAUK Sheer Check Eyelet Curtain Panel ANTIQUE GOLD ($17.95 per panel) and said "A really good quality curtain. I thought they were cheap and had average expectations, was very pleased and they look fantastic in my loung room. The colour is subtle because it is a sheer. Thank you. I would happily buy from this company again." We are thrilled that you are happy with the quality of the curtain provided at our low price. By skipping store retailers and selling curtains online, we are able to pass these savings onto our customers.
Perfect
An anonymous customer recently purchased the Custom Made Double Blind BLOCKOUT Classic SUNSCREEN Charcoal Grey (custom prices vary by project) from our online blinds collection. Rating it five out of five stars, the customer said, "These blinds are made very well and the cost is by far the best I could find online." We are very proud to offer customers an option to create a window covering that fits their size needs exactly - and for an affordable price!
Great Quality and Excellent Service
Hannah encountered a hiccup in her order and rated Quickfit four out of five stars. She purchased BOND Room Darkening Soft Drape Eyelet Curtain Panel Avail in 4 Sizes NAVY ($29.95 per panel) which were delivered to her home with a stain on the panel. She said, "I called them up and they sent out a new one to replace it that day! Was so simple and hassle free. Will purchase off this site again without a doubt." We are glad that Hannah took advantage of our customer satisfaction guarantee and did not settle for a curtain of low quality. While we strive to avoid these types of mistakes, we will do everything necessary to meet your expectations with our window coverings should a mistake occur.
Inconsistent Length
An anonymous customer recently purchased BOND Room Darkening Soft Drape Eyelet Curtain Panel Avail in 4 Sizes LATTE ($39.95 per panel) and was a bit disappointed with the product received. They said, "Material is nice. Sewing is puckered. Inconsistent in length. I bought 5 panels and all are a different length varying in 5cm from shortest to longest. Very frustrating." One thing that may be causing the differing lengths is that the ready-made curtains are sent in very tight packages, which can cause creases in the fabric. These creases can make it seem like the curtains are different lengths, so we recommend ironing the fabric prior to hanging the panels. However, we always offer full customer satisfaction and are willing to be in touch personally to resolve the problem.
We greatly appreciate all feedback for Quickfit about your online blinds or curtains purchases or customer service experiences with our team. Please leave a review of your own after making a purchase.