Posted by Emily Wang on 30th Jan 2023
All you DIY home designers out there may already know that choosing between double curtain rods and single curtain rods isn't as simple as one may expect it to be.
Finding the right curtain rods to pair with your new set of modern curtains requires a little bit of conscientious planning. Not only should you be considering the types of curtains or drapes you're looking to hang, but also the deeper functionality behind those curtain styles, as well as how you'd like your window coverings to compliment your home's wider interior design scheme. Were you looking to layer your curtains to add a sense of depth to your windows? Or were you hoping to install double curtain rods to hang sheers and blockout curtains as a way of boosting the thermal regulation capabilities in select interior spaces, like bedrooms?
By answering these questions (and a handful more), you can help simplify the process of selecting between double curtain rods and single curtain rods when looking to hang your newly purchased Quickfit curtains.
Our design specialists here at Quickfit are happy to help provide you with some direction when selecting between double curtain rods and single curtain rods. Read on for our exploration into selecting the right curtain rod style to install over your home's windows!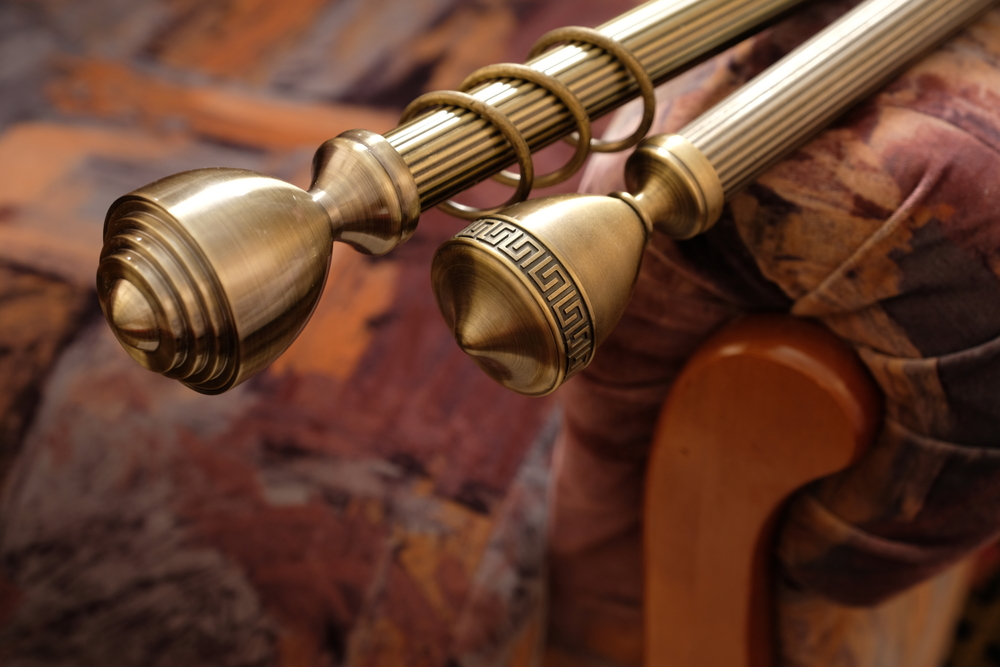 What Are Double Curtain Rods?
Before you begin making your rod selections, you'll first want to equip yourself with a working understanding of these two distinct types of curtain rods. Let's start with the double curtain rod.
As its name suggests, double curtain rods generally consist of two separate curtain rods, allowing homeowners to hang multiple drape panels over a single window. Double curtain rods can either be installed with curtain rods being positioned one above the other, or as a single fixture that comes with two rod brackets that run parallel to each other. Opting for the double curtain rods that run parallel to each other can help keep your layered curtains at an even length, producing a clean, uniform hang.
If, however, you'd prefer for one of your layered curtains to hang longer than another, the tiered double curtain rod style is likely to be the perfect choice for you.
What Are Single Curtain Rods?
Unlike double curtain rods, single curtain rods consist of only one rod that's used to hang just one drape panel. Single curtain rods are available in a range of classic tones here at Quickfit, including gold, silver or chrome, brass, and jet black. When looking to install a single curtain rod, all that must be considered is how your selected style and colour will pair with your selected curtain panels.
Although single curtain rods don't really allow for curtain layering, they are great for making a statement. You can find single curtain rods in a wide variety of rod styles, ranging from romantic 'antique' styles, to more striking, solid, modern looks. Eclectic home designers may even opt to add some decorative curtain rod ends or curtain finials to their single curtain rod.
Best Ways To Style Your Double Curtain Rods
Now let's take a closer look at how to effectively style your double curtain rods. As these particular rod styles are an essential part of practicing curtain layering, you'll first want to select two curtain panels that will pair well together. By 'pairing well', we don't just mean aesthetically pleasing, but also in how these curtain panels enhance their individual functionality when paired together.
A great evergreen example that we briefly touched on earlier is pairing your blockouts with sheer curtains. As blockouts are perfect for providing superior light control and even thermal regulation capabilities to interiors, they are naturally an asset to any room in your home. The only downside to these heavy curtain panels is that they can also darken your home whenever they're drawn, forcing your household to choose between light or privacy. Thankfully, layering sheers underneath your blockouts can help your household enjoy the best of both worlds, and easily reduce your household's carbon footprint by cutting down on your energy usage when it comes to home heating.
As for styling your double curtain rods to match the rest of your home, it's important to consider what interior design styles you're drawing inspiration from. Double curtain rods can pair very well with loud, vivacious schools of design like the bohemian or maximalism styles. That being said, your double curtain rod can also feel right at home in a modern contemporary setting, so long as the curtain rod possesses a fittingly sleek design and is paired with similarly monochromatic drape panels.
Best Ways To Style Your Single Single Curtain Rods
Styling your single curtain rod will naturally require a little consideration for the wider design elements and accents that are used throughout your home. For instance, if you already have some chrome fittings in your home, then it's highly likely that a silver or chrome single curtain rod will pair perfectly with this existing aesthetic.
In this sense, styling your single curtain rod can feel a lot simpler than maintaining balance with your double curtain rod. After all, you only really need to consider one curtain panel over trying to gauge the effects created by layering two separate panels.
But there is one potential drawback to styling with a single curtain rod: functionality. Interiors with a single curtain rod must pay more attention to the functionality behind the selected drape panel, primarily because it'll be the only window covering you'll be installing in that space. If you opt for a sheer curtain panel, for instance, you'll need to make your peace with the fact that you won't be able to experience the improved privacy or temperature control of blockout or thermal curtains in that interior space.
This is why single curtain rods work very well in smaller, more functional rooms in the home like kitchens, bathrooms, and laundries. This isn't to say, however, that your single curtain rods should be isolated to these spaces in the home. You can still hang a simple, elegant single curtain rod in your living room space, so long as you consider how best to keep that space comfortable alongside hanging your selected window coverings.
Double Curtain Rods Vs. Single Curtain Rods: Which Is Better?
At the end of the day, deciding whether to install double curtain rods or single curtain rods throughout your home will likely rely on what feel and functionality you're hoping to achieve in all your interiors. You may find that some rooms in your home are fitted with double curtain rods, and some with plain and simple single rods. For instance, bedroom spaces are likely to benefit more from having a double curtain rod installed, because sound sleepers can enjoy the comforts that come with layering their window coverings.
All things considered, it's not so much a question as which is better, but which is better for that particular interior space. And with all this newfound knowledge at your disposal, you DIY home designers should have no issue making those decisions for yourself!