Posted by Emily Wang on 19th Nov 2023
Curtains can be a secret weapon when it comes to interior decor. Whilst you may think installing curtains means measuring the necessary length, finding a decent fabric and calling it a day, there's actually so much fun and creativity to be had in choosing the curtains that best fit into your home as an authentic representation of you and your personal style. Textures, colours, lengths and fabrics all play a role in adding to the overall look and feel of your bedroom, so it's not a step to be skipped over.
Top 20 Best Bedroom Curtain Ideas
With so many styles to choose from, selecting bedroom curtains that match the rest of your room can be some what of a brain sore. So, to ensure you make the right purchase, we've drawn on our decades worth of experience and consulted with interior designers across Australia to compile a list of 20 classic and unique bedroom curtain ideas to give you some inspiration. Ready to jazz up your sleeping space, or put together the finishing touches for a cohesive theme or aesthetic? Read on to discover our favourite interior design ideas for your bedroom curtains.
The best bedroom curtain ideas are: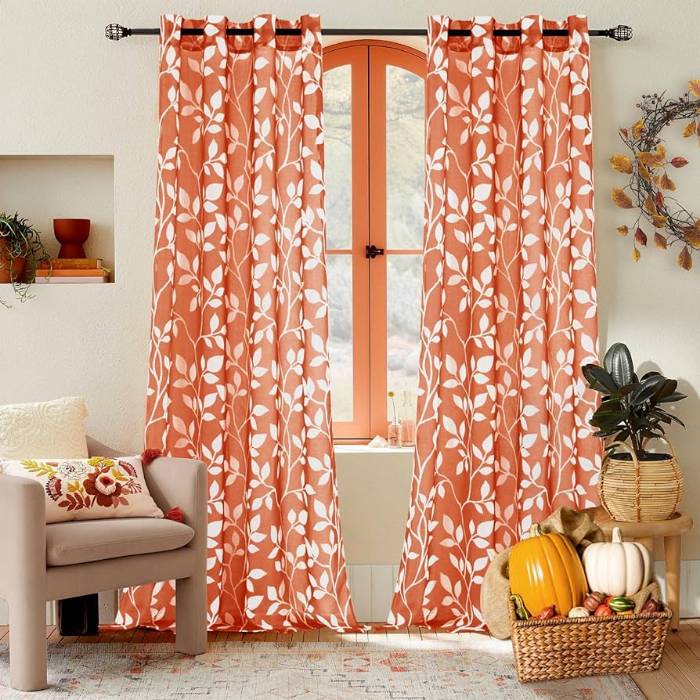 1. More Is More
If you're a self-confessed maximalist, then why not convert it into your bedroom decor? It can be a little harder to pull off, but with some discretion on what colours, curtain fabrics, or patterns you're matching, big statement curtains could be a fun way to take your bedroom to the next level. Add some drama with a bold, sweeping print or bright, funky colours to amp up the energy.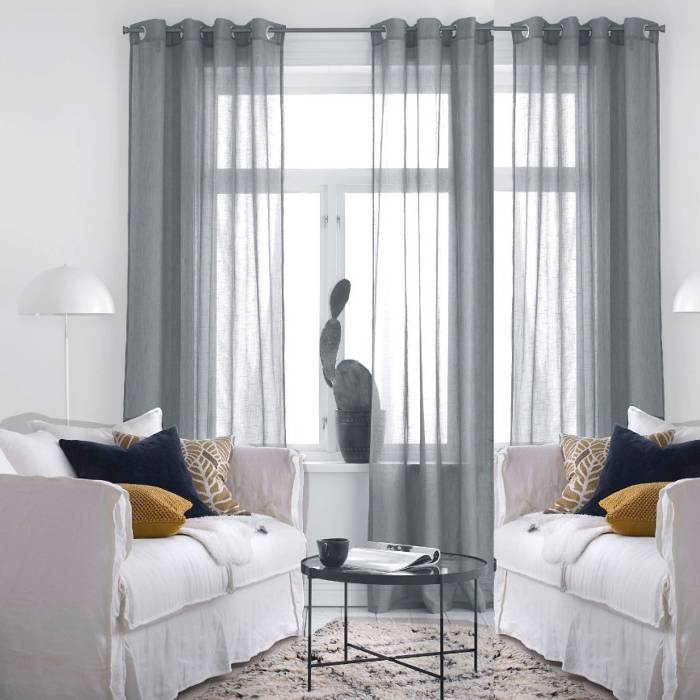 2. Classy Sheer
A timeless, elegant classic, sheer curtains in your bedroom will create a dreamy, calming environment that makes relaxing as effortless as it should be. This is a great choice if your bedroom isn't overlooked by neighbours or other buildings so doesn't require complete privacy, or if you're someone who isn't affected by morning light, or indeed is happy to be woken up by it.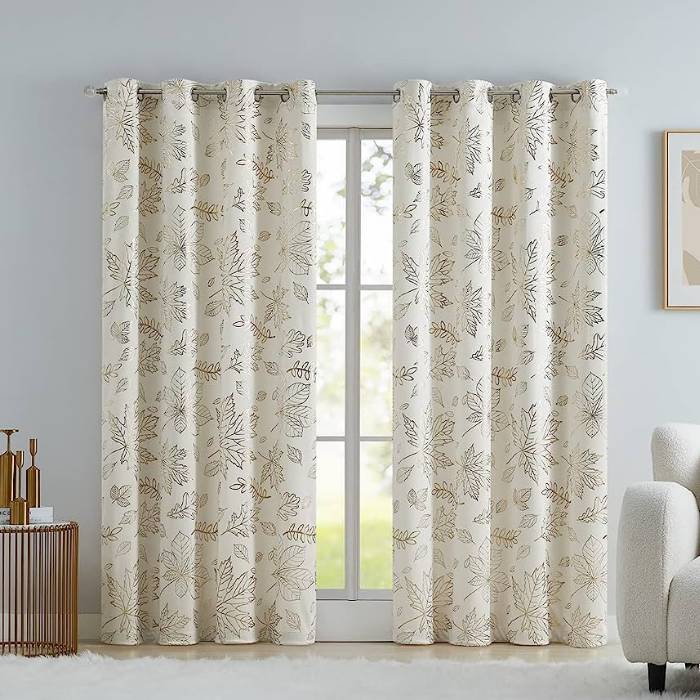 3. Play With Patterns
Curtains aren't merely functional. They can also act as statement pieces in your bedroom, all the more appealing when you consider that they're generally easier to replace than say a heavily printed wallpaper, when you decide it's time for a change. You could even choose a curtain design first, and use the pattern and colours in the fabric as a springboard to plan your entire bedroom around.
4. Lift The Eye
If you're stuck with low ceilings or small windows, your bedroom might creep towards feeling small and boxy. To reverse this, install curtains that go intentionally higher than the windows, even to the ceiling. It might sound strange at first, but this is a classic trick of the eye to make your room feel taller, and give the impression of more light being let into the space.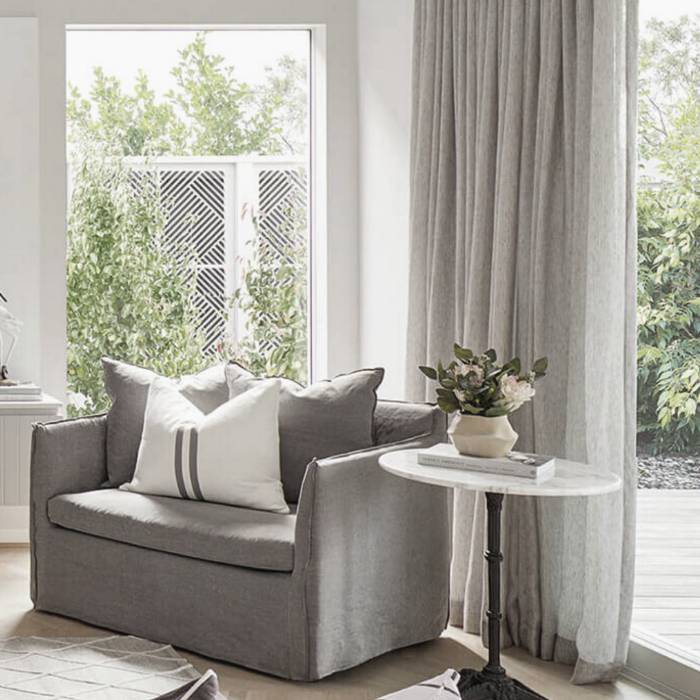 5. Pooling Fabrics
It's all about working with what you've got. If on the other hand, you're blessed with windows that span the length of your wall, adding an extra inch or two to your curtains to let them billow around the floor will create a warm, cosy feeling, giving the impression of refined nonchalance, especially if you use a light fabric that won't get too crumpled. Take it from us – extra long curtains can really add that extra touch of luxury to your bedroom spaces.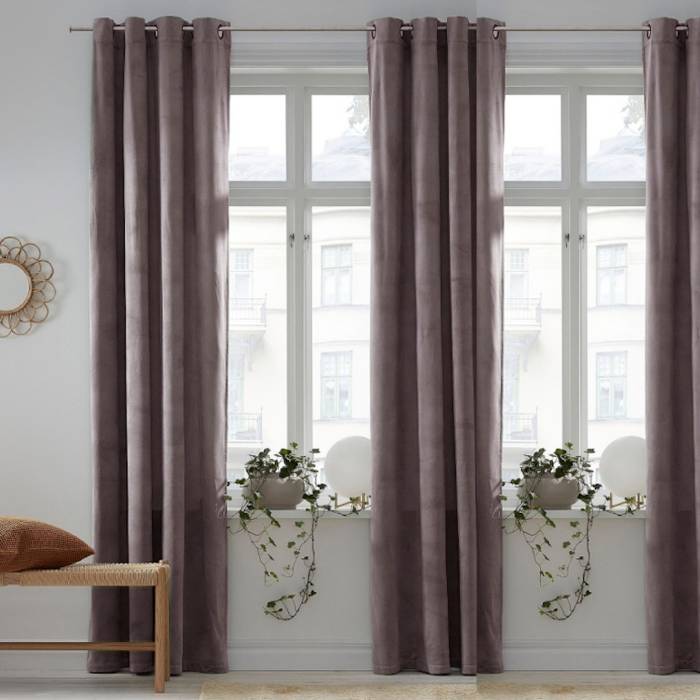 6. Play With Texture
Your choice of curtain material is an easy way of seamlessly incorporating different textures into your bedroom, and will really influence the kind of vibe you're creating. For instance, velvet curtains will make your room feel more sultry, while linen and woven fabrics will give it a clean, bohemian-esque feel. Mix and match textures around your room for a more modern approach.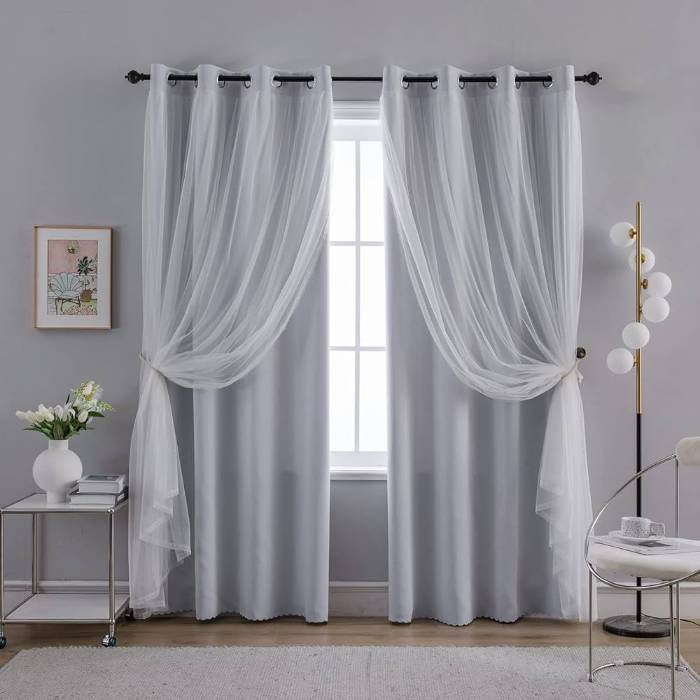 7. Double Up
A similar way of adding depth to your bedroom is by placing a couple of different curtains over your windows, a design practice that's also known as curtain layering. Having a sheer fabric against thicker and darker curtains will add more dimension to your room, and give you the option to adjust how much light you're letting in too. It's also the perfect option if your bedroom faces onto a street or somewhere that people can see into from.
8. Separate Your Space
If you live in a studio or apartment, it's good to feel like your sleeping space is separated from your living or cooking area as much as possible. Installing a curtain divider is a great way to partition off your space without making it too closed off or restricted. Sheer curtains are probably the best choice for this, as they won't cut out too much light from anywhere in the room.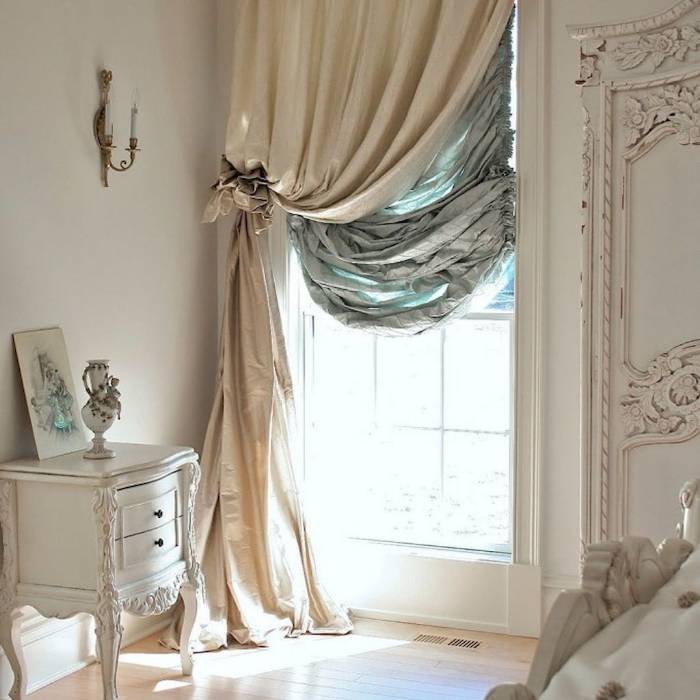 9. The Finer Details
If your room is feeling a bit plain or lacklustre, there are some simple tricks you can add to your curtains to create a little more pizazz. For example, curtains with ruffles, trims or rope tiebacks will bring some life into your bedroom if it's a little too on the minimalist side. These subtle additions will add charm and character without you really having to make any major upgrades.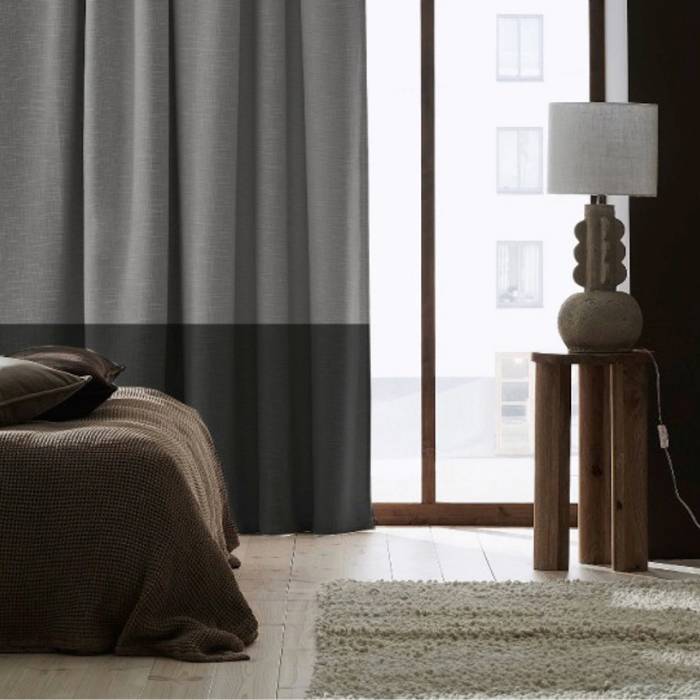 10. Camouflage
Colour blocking makes minimalism and statement making possible in the same space. It's a good idea for windows that are in awkward places, or that perhaps put the symmetry of the room off-balance. You can still add creativity and depth by playing around with different shades and textures, or go ultra-simple and pick an identical shade to your walls if you want your curtains to really blend in.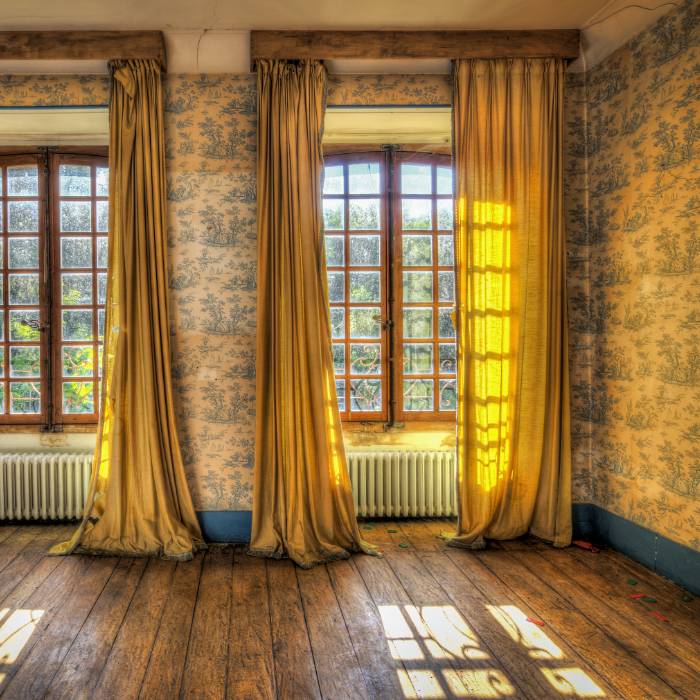 11. Borrow From The Decades
Everyone loves a bit of vintage, and if done tastefully, incorporating an element or two from your favourite period style can bring some richness and history to your bedroom aesthetic. For example, if you're a fan of the art-deco era, you can display it through gold and teal tones, or if you're a 70s lover, a crazy colourful print could turn your curtains into the focal point of your room.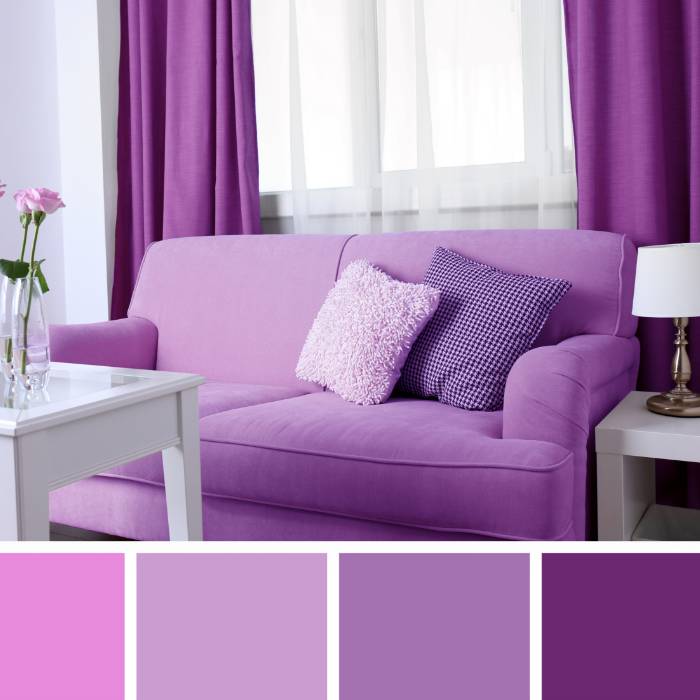 12. Matching Sets
If you want your bedroom to feel neat and tied together, a simple way to achieve this is by matching the fabric or colour of your curtains to other elements in your room. If you have a navy blue duvet, source the same shade for your curtains. Or if your centrepiece is a fuzzy rug, have a look for curtains with some dimensionality too. As long as you don't overload your room with too much of one thing, it can be a nice way to bring clarity to your space.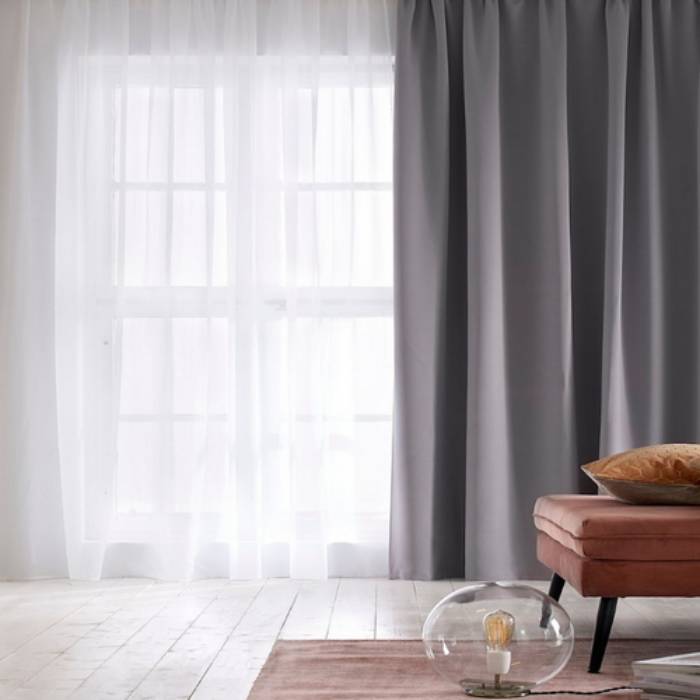 13. Keep It Classic
There's nothing wrong with sticking to plain, white curtains that do the job. If your room is already full of big patterns, statement furniture, or you simply have stand out windows that deserve to be admired, sometimes the best way to honour this is to allow your curtains to take a back seat. You can't really go wrong with white, and if you decide to switch up your decor in the future, your curtains will still be complimentary to your new style.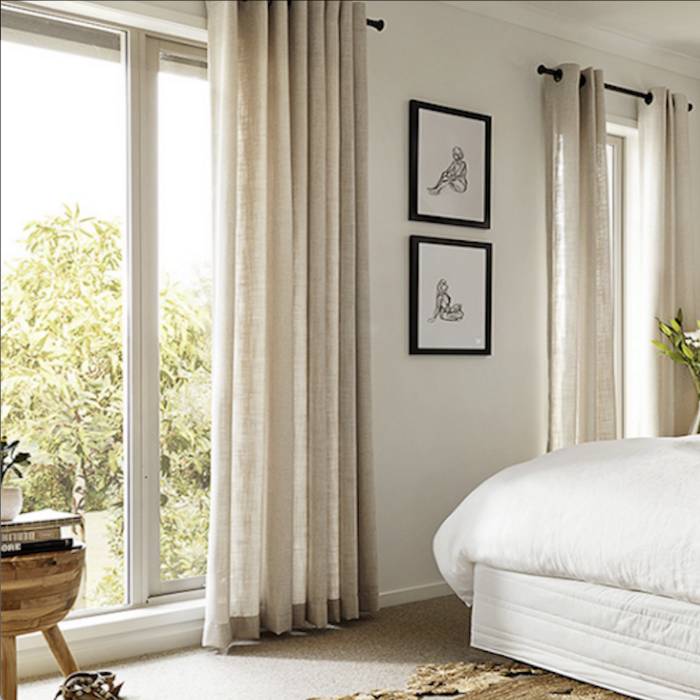 14. Create An Oasis
Curtains don't have to be just for windows. If you're inspired by those Mediaeval, grand four-poster bed styles, adding drawstring curtains around them is a sure fire way of bringing the luxury. Investing in rich colours and fabrics such as purple velvet or deep red hues will add some drama, whilst billowing neutral toned linens will create more of a beach sunbed retreat feeling to help you shut off from the world for a while.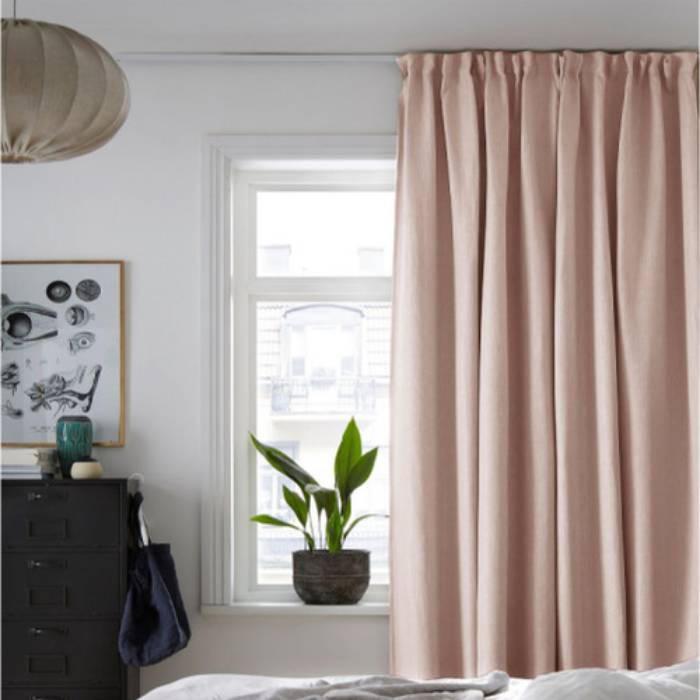 15. Colour Schemes
If your bedroom aesthetic relies on a strict colour scheme, then bring your curtains into the mix too. This is a great way of marrying up blocked colours as well. For example, if your room is filled with green and pink furniture, finding a green and pink curtain print for your room will bring some vertical style to the overall look, and add a splash of cohesive fun.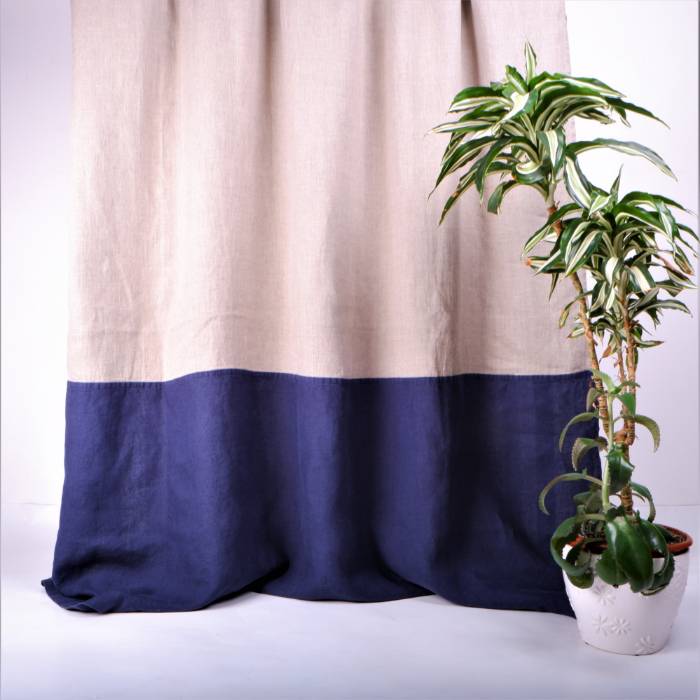 16. Show Restraint
On the other hand, if your bedroom is already looking pretty busy from all the meticulously chosen furniture or existing patterns, simple, fuss-free curtains can bring a bit of balance back to your room - leaving it feeling more confident, rather than a freefall of colours and patterns thrown into one big jumble. Block colour curtains that match your room will display an appreciation of knowing when to stop.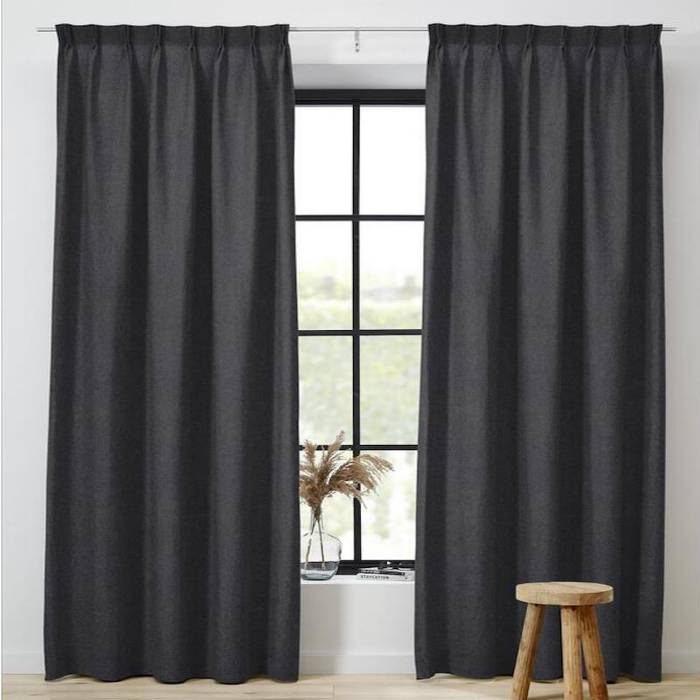 17. Black Is Back
Sometimes wishy-washy colours and gentle fabrics don't tick all the boxes. Thick black or navy blue curtains will certainly add some boldness to your room, and create a more striking atmosphere. Perhaps more importantly, they'll do a much better job of blocking out the light, so if it wakes you up in the mornings, this could be a perfect choice.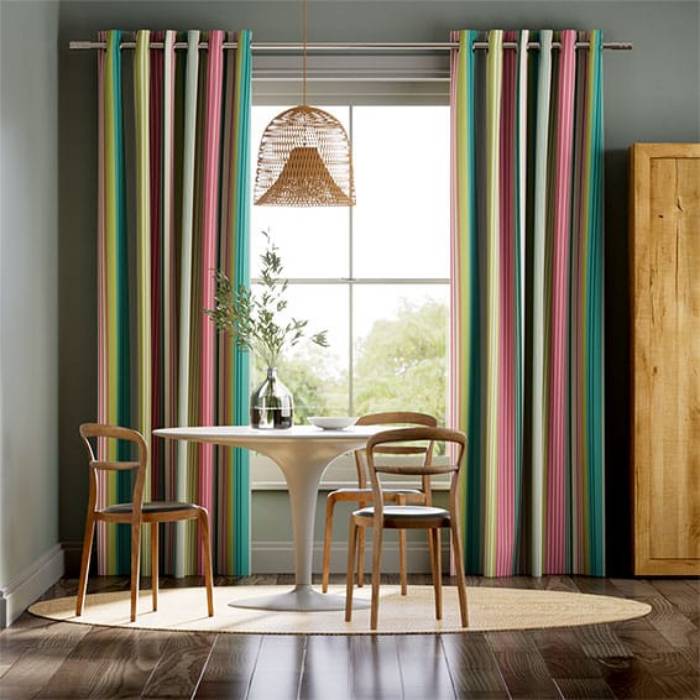 18. Turn To Art
Many of us think of curtains as the things we use to cover light, and give privacy. Whilst they certainly do both those things, they also take up a large part of what we see when we walk into a room. If you want your curtains to be the most noticeable thing in your bedroom, source a design from an artist or renowned interior designer. You might find an entirely new landscape pop up in front of you when your curtains are drawn.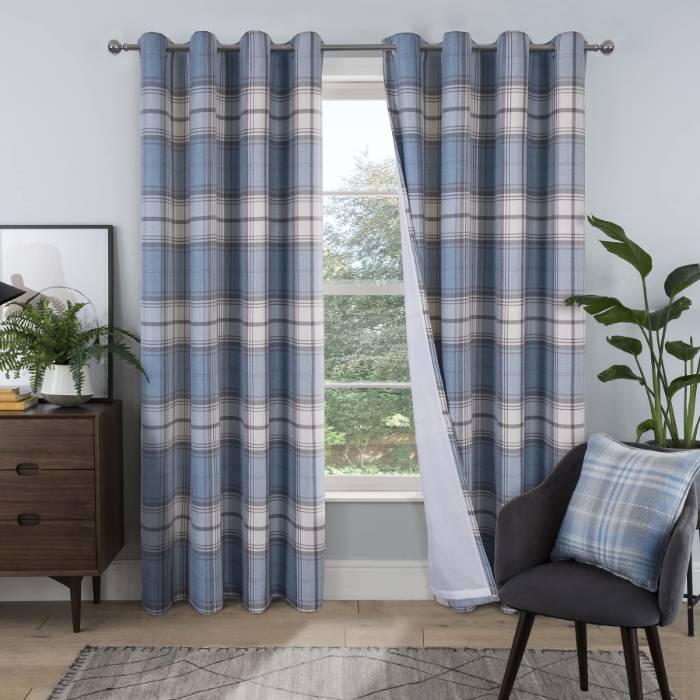 19. Pretty In Plaid
There's something so effortlessly cosy and warm about plaid patterns. Bring a touch of Gaelic charm into your room, and sink into bed with your favourite pyjamas and a hot mug. In the warmer months they'll act as a nod to a classic retro print, and with different decorations can be made to feel more summery. The good thing is they're easy to tie into existing themes, as you'll find plaid designs in a range of colour combinations.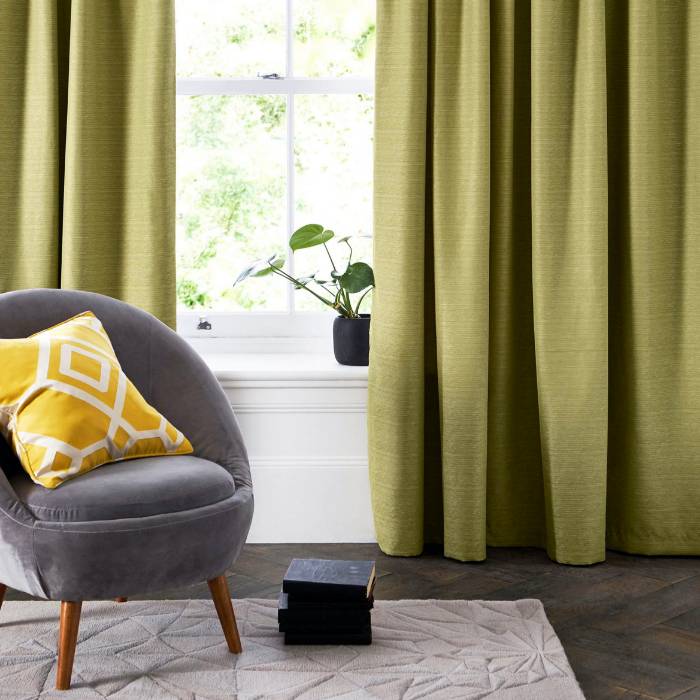 20. Environmental Inspiration
If you want your curtains to really feel tailored to your house, then consider the area that you live in. Are you surrounded by trees? Then consider a leaf print to mirror the views from your window. Is your home by the sea? Blues and whites will embellish that coastal feeling and make you feel more in touch with where you live.
The Final Word
Hopefully this extensive list of bedroom curtain ideas has given you an idea of the sorts of aesthetics or concepts you could let your imagination run wild with. At QuickFit, we have curtains to fit all styles and budgets. If you want to talk with one of our friendly representatives on getting started on purchasing your dream curtains, give us a call on 0422 584 155 today.
Or browse our entire range of affordable and custom curtains and blinds online, and you'll be sure to find something that fits the brief.
Looking for something a bit different? Read about our tips on picking the right curtains for each room, or if you already know exactly what you want, have a look at our customisable range.
Enjoy this guide? Take a look at our other curtain guides including: