Posted by Emily Wang on 11th Apr 2023
When it comes to home decor, selecting the perfect curtains can make a significant impact on the overall aesthetic of a room. In Australia, there are numerous brands offering top-quality curtains in a wide range of styles, materials, and designs. These top brands consistently deliver luxurious, durable, and stylish window treatments to complement any living space.

Some of the best curtains brands in Australia distinguish themselves through their attention to detail, high-quality materials, and versatility in their product range. By understanding the characteristics of these brands and the types of curtains they offer, one can make an informed decision when investing in window treatments for their home. This article will introduce the top curtain brands in Australia, exploring their unique features and the benefits they bring to home interiors.
From classic, timeless designs to innovative, trendy patterns and fabrics, these brands cater to a wide variety of tastes and preferences. With options for both residential and commercial applications, these Australian curtain brands offer a diverse selection that ensures each customer can find the ideal window treatment solution for their needs.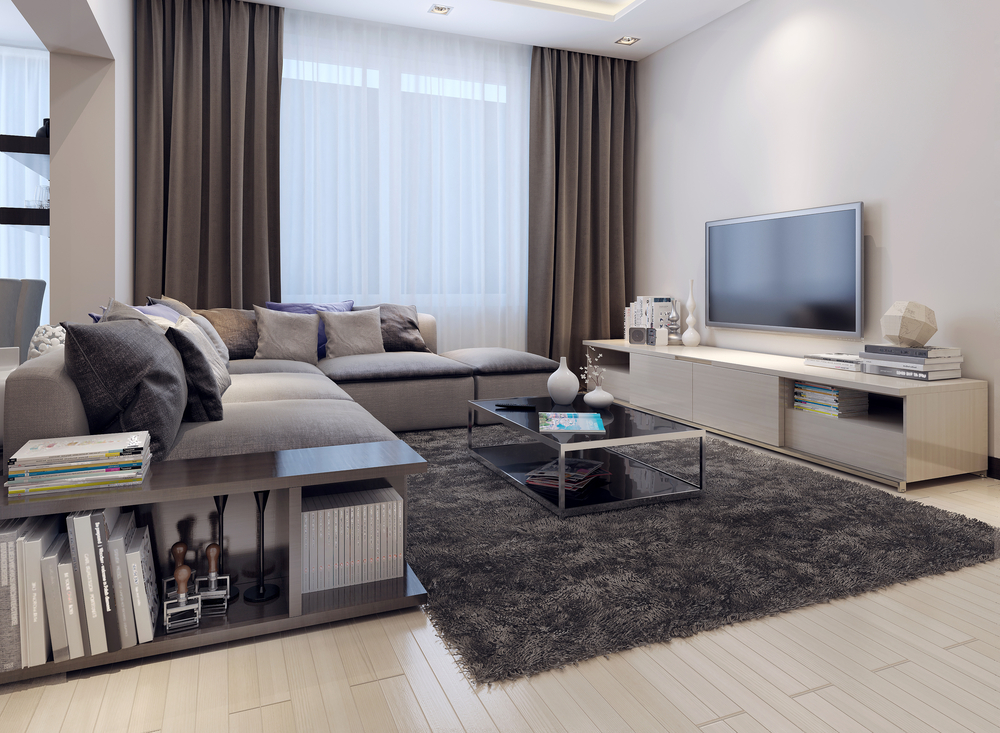 Quickfit Curtains Overview
Quickfit Blinds and Curtains is a popular choice for affordable, high-quality curtains in Australia. With a wide range of styles and designs available, they provide both ready-made and custom-made curtains to customers across the country. Their online store offers an easy shopping experience, along with Australia-wide shipping.
One of the key features of Quickfit's offerings is their blockout curtains. These curtains are designed to effectively block out light and provide additional insulation, making them suitable for bedrooms or rooms where light control is a priority. They are available in custom-made and ready-to-hang styles, ensuring that different customer preferences are catered to.
Customers can also choose between various curtain styles, such as pinch pleat, pencil pleat, or eyelet curtains. This variety allows homeowners to select the perfect style that matches their interiors and preferences. Additionally, Quickfit offers a selection of sheer curtains, providing an alternative for those who prefer a softer, more delicate aesthetic.
Some of the key products available at Quickfit include:
Bond Pinch Pleat Blockout Curtains: available in various colours, including white, black, and latte.
Villa Textured Shantung 100% Blockout Eyelet Curtains: available in ivory and cream.
Natural Linen Look Light Filtering Sheer Eyelet Curtain Panel: a versatile option for those looking for light filtration.
Westwood 100% Blockout 3 Pass Coated Eyelet Curtain Pair: available in pink, offering a colourful option for rooms needing complete light blockage.
Quickfit Blinds and Curtains has received favourable reviews on sites like ProductReview.com.au, with customers praising the high quality of their products and exceptional customer service. They have earned a reputation as one of the best curtain brands in Australia for their commitment to quality and affordability.
| | | | |
| --- | --- | --- | --- |
| | Customer service and product knowledge | Ease of ordering | Delivery timeframe |
| Quickfit | ⭐⭐⭐⭐⭐ | ⭐⭐⭐⭐⭐ | ⭐⭐⭐⭐⭐ |
| Spotlight | ⭐⭐ | ⭐⭐⭐⭐ | ⭐ |
| IKEA | ⭐⭐ | ⭐⭐⭐⭐⭐ | ⭐⭐⭐⭐⭐ |
| Kmart | ⭐⭐ | ⭐⭐⭐⭐ | ⭐⭐⭐⭐⭐ |
| Dollar Curtains | ⭐⭐⭐⭐⭐ | ⭐⭐⭐ | ⭐ |
Spotlight Curtains Overview
Spotlight Australia is known as one of the best curtain brands in the country. With a wide range of both traditional and contemporary styles available, there is something to suit every home decor taste and style. Understated neutrals, eye-catching designs, and various colours to choose from, make their curtains a popular choice for Australian homes.
Not only do they offer ready to hang curtains, but they also have a range of blinds to complement and enhance the look of the interiors. The colour palette and textures of the blinds add a unique touch to match the mood and style preferences of the customers.
Some of the key features that make Spotlight curtains a go-to choice include:
Wide variety of styles and designs
High-quality materials and craftsmanship
Competitive pricing
Readily available in store and online
Spotlight Australia's commitment to providing quality curtains, blinds, and home interior products has allowed them to build a strong reputation and customer base throughout the years, making them a reliable choice for customers seeking the best curtains in Australia.
| | | | | |
| --- | --- | --- | --- | --- |
| | Ready to hang value for money | Ready to hang selection | Custom made value for money | Custom made selection |
| Quickfit | ⭐⭐⭐⭐ | ⭐⭐⭐⭐⭐ | ⭐⭐⭐⭐⭐ | ⭐⭐⭐ |
| Spotlight | ⭐⭐⭐⭐ | ⭐⭐⭐⭐ | ⭐⭐⭐ | ⭐⭐⭐⭐ |
| IKEA | ⭐⭐⭐⭐ | ⭐⭐ | | |
| Kmart | ⭐⭐⭐⭐ | ⭐ | | |
| Dollar Curtains | | | ⭐⭐ | ⭐⭐⭐⭐ |
IKEA Curtains Overview
IKEA is a well-known brand in Australia, popular for its affordable and stylish curtains. The company offers a wide array of curtains to suit various preferences, including ready-made curtains, drapes, and blinds. The curtains come in different styles such as sheer, light filtering, room darkening, and block-out curtains, providing options for different levels of privacy and light control.
One of the best-selling curtains in IKEA is the SILVERLÖNN sheer curtains, which are well-regarded for their elegant appearance and versatility. The HANNALILL curtains, another popular choice, provide light filtering capabilities, suitable for those wanting to soften the natural light entering a room. For customers looking to block out sunlight completely, the MAJGULL block-out curtains are a top choice.
IKEA also offers a range of lace curtains, with the ALVINE SPETS being an excellent example of a sheer lace curtain. For those on a budget, LILL curtains are one of the most affordable options, providing a simple yet effective sheer white curtain. Additionally, customers can choose from the ANNAKAJSA room darkening curtains, which come in a smooth black colour and feature a striped pattern at the top, perfect for those who seek an eye-catching and functional curtain.
A notable trait of IKEA curtains is their user-friendliness, as they are easy to install and maintain. These curtains offer great value for money and can be a stylish addition to any Australian home.
| | | | | |
| --- | --- | --- | --- | --- |
| | Ready to Hang | Custom made | Curtain rods and tracks | Product Quality |
| Quickfit | ⭐⭐⭐⭐⭐ | ⭐⭐⭐⭐ | ⭐⭐⭐⭐ | ⭐⭐⭐⭐ |
| Spotlight | ⭐⭐⭐⭐⭐ | ⭐⭐⭐⭐ | ⭐⭐⭐⭐ | ⭐⭐⭐ |
| IKEA | ⭐⭐ | | ⭐⭐ | ⭐ |
| Kmart | ⭐ | | ⭐ | ⭐⭐⭐ |
| Dollar Curtains | | ⭐⭐⭐⭐⭐ | ⭐⭐⭐ | ⭐⭐⭐⭐ |
Kmart Curtain Overview
As a popular retail brand in Australia, Kmart offers a wide range of curtains and curtain rods to cater to the varying needs of their customers. With their extensive selection of curtains and rods, shoppers can effortlessly find products to complement their home décor.
Kmart provides curtains and rods in different designs, materials, and sizes. Some of their curtain types include sheer, blockout, eyelet, and tab curtains, suitable for usage in living rooms, dining rooms and bedrooms. The brand prides itself on offering products at affordable prices, making it easier for customers to upgrade their home's appearance without breaking the bank.
Buyers can explore Kmart's selection of curtains and rods both online and in-store. For added convenience, Kmart offers delivery Australia wide and free click-and-collect services, ensuring a seamless shopping experience for all their customers.
Dollar Curtains + Blinds Overview
Dollar Curtains + Blinds is an established Australian company known for its craftsmanship and high-quality window coverings. With a history that spans over 50 years, the company has gained a reputation for providing custom-made indoor and outdoor window coverings at value-for-money prices.
As one of Australia's leading window covering manufacturers, Dollar Curtains + Blinds has a legacy of serving generations of families who trust their expertise in designing, crafting, and installing curtains. Their product range includes various types of blinds, shutters, curtains, and outdoor window covering solutions.
Beyond their extensive product range, the company also prides itself on being an all-Australian business with locally sourced and manufactured products. Their commitment to quality is evident in the fact that they have been a part of the Australian Made Campaign and have successfully maintained their reputation as a trusted manufacturer.
With a nationwide presence and numerous retail outlets, Dollar Curtains + Blinds has made a significant impact on the Australian window covering market since its inception in 1967. Their commitment to innovation, quality, and customer satisfaction, along with their ever-expanding range of designs and materials, has firmly cemented their status as a top curtain brand in Australia.