Posted by Emily Wang on 11th Apr 2023
When it comes to window treatments, Ikea and Quickfit Blinds and Curtains are popular choices for many homeowners. Both of these brands offer a range of styles, materials, and functionalities to suit various preferences and needs. This comparison guide aims to provide an overview of the key differences between these two brands, aiding customers in making an informed decision for their homes.
Ikea, a well-known furniture retailer, offers a diverse selection of curtains designed to cater to different tastes and budgets. These curtains are easy to install and come in various designs, colours, and lengths. Quickfit, on the other hand, is a specialist in window furnishings, providing a comprehensive range of blinds and curtains. They pride themselves on delivering high-quality, affordable, and customisable solutions for both domestic and commercial spaces.
In order to select the best window treatment option, it is essential to consider factors like ease of installation, light control, privacy, and aesthetics, as well as the overall cost. Comparing Ikea Curtains and Quickfit Blinds and Curtains can help homeowners discover the perfect mix of style, functionality, and value for their window dressing needs.
IKEA Curtain Overview
Ikea, a well-known furniture retailer, offers a variety of curtain designs and styles to suit diverse customer preferences. Their curtains come in different materials, colours, and patterns, ensuring that there is something for everyone.
One of the primary selling points of Ikea curtains is their affordability. While maintaining quality and style, customers can find curtains to fit their budget. Moreover, Ikea curtains are designed to be easily adjustable, allowing buyers to customise the length according to their window size. A variety of hanging options are available, such as rod pockets or hooks, providing flexibility in installation and appearance.
Ikea also focuses on sustainability in their product range, offering eco-friendly options like curtains crafted from recycled polyester. Maintaining their curtains is relatively easy, as most can be machine washed and are designed for easy care, contributing to their practicality and durability.
In terms of variety, Ikea's catalog includes several types of curtains, like:
Blackout curtains: These curtains block out a significant percentage of light, ideal for bedrooms or home cinemas, providing privacy and energy efficiency
Sheer curtains: Lightweight and translucent, these curtains allow natural light to filter through while maintaining some privacy
Layered curtain solutions: Combining blackout and sheer curtains for adjustable light control and diversified aesthetics
When considering Ikea curtains, it's essential to factor in the measurements, style, and functionality to ensure they align with individual preferences and requirements.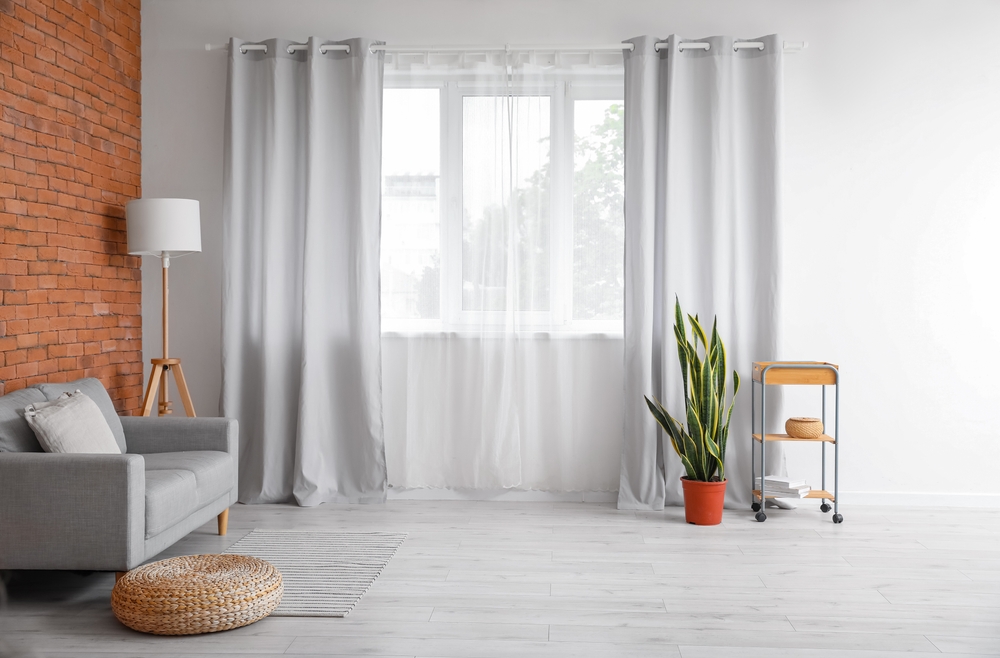 Quickfit Blinds and Curtains Overview
Quickfit Blinds and Curtains is a reputable company that specializes in providing a wide range of window coverings, including blinds and curtains. They are known for their high-quality products, affordable pricing, and convenient online shopping experience.
Quickfit offers a variety of curtain styles, including eyelet curtains, pencil pleat curtains, and custom-made curtains. They cater to different preferences and interior designs with their extensive product range.
One of the key selling points of Quickfit Blinds and Curtains is their made-to-measure service, which allows customers to have window coverings tailored to their specific requirements. This service ensures a perfect fit and a professional look for every installation.
Another advantage of Quickfit is their straightforward online ordering process. Customers can easily select and configure their desired window coverings and then purchase them directly through the secure website. This convenient approach saves time and minimizes the hassle of traditional in-store shopping.
In addition to providing quality products and services, Quickfit also offers helpful resources on their website, such as installation guides, measuring tips, and style inspiration. This makes it easy for customers to find the information they need to make informed decisions and achieve the desired look for their homes.
Ikea Birtna Vs Quickfit Alesund - Ready Made Eyelet Blockout Curtain Comparison
When comparing the Ikea Birtna and the Quickfit Alesund ready-made eyelet blockout curtains, there are several aspects to consider, including material, design, and effectiveness in blocking sunlight.
Ikea Birtna
Quickfit Alesund
Price range
$99 (pair)
$55- 119 (panel)
Size range
145 x 250cm
140 x 230cm

180 x 230cm
240 x 230cm
300 x 230cm

Colour options
Beige

Light grey / turquoise

Pebble

Nature
Truffle
Grey

Star ratings
⭐⭐⭐⭐
⭐⭐⭐⭐⭐
Delivery fees
$9 Metro

$5 Collection

$9.95 flat rate
Value for money
Good
Very good
The Ikea Birtna curtains are made from a thick, triple-layered fabric that effectively blocks light, while the Quickfit Alesund curtains utilise a triple weave polyester fabric that also provides excellent light-blocking capabilities. Both options are suitable for those seeking effective blackout curtains.
In terms of design, the Ikea Birtna curtains are available in a limited range of neutral colours, whereas the Quickfit Alesund curtains offer a more extensive selection of colours and patterns. This allows greater flexibility in matching your curtains to your room's décor.
Both curtains feature an eyelet design, which ensures a quick and easy installation process. The eyelets are made of quality materials, preventing rust and maintaining their appearance over time. As for maintenance, both Ikea Birtna and Quickfit Alesund curtains should be cleaned gently and safely, following the respective manufacturer's instructions to ensure their longevity.
Overall, the Ikea Birtna and Quickfit Alesund curtains have their unique features and benefits. While the material and light-blocking capabilities are similar, the design options differ significantly. Therefore, when choosing between these two options, consider your personal preferences and the intended room's overall style.
Ikea Silverlonn Vs Quickfit Aalborg - Ready Made Tape Wave Sheer Curtain Comparison
The Ikea Silverlonn curtains are a popular choice for those looking for a simple and elegant design. These curtains feature a subtle, wavy pattern and come in a variety of colours to suit any room's décor. The Silverlonn curtains are made of 100% cotton, which is a durable and easy-to-clean material, making them particularly well-suited for busy households.
Ikea Silverlonn
Quickfit Aalborg
Price range
$39 (pair)
$39.95 - 75.95 (panel)
Size range
145 x 250cm
130 x 230cm

270 x 230cm
130 x 250cm
270 x 250cm

Colour options
White

Light green
Beige

White

Sand
Dove grey
Grey

Star ratings
⭐⭐⭐⭐
⭐⭐⭐⭐⭐
Delivery fees
$9 Metro

$5 Collection

$9.95 flat rate
Value for money
Good
Good
The Quickfit Aalborg Ready Made Tape Wave Sheer curtains, on the other hand, offer a more modern and stylish look with their unique wave design. These curtains are available in a range of sizes and colour options, allowing for greater flexibility in decorating your space. Made from 100% Easy Care Polyester, the Aalborg curtains offer a soft and luxurious feel while maintaining durability and easy maintenance.
When it comes to installation, the Ikea Silverlonn curtains utilise a traditional hanging method with a rod pocket, making them easy to install with a standard curtain rod. The Quickfit Aalborg curtains feature a tape top and hooks, allowing for a more contemporary wave-style hanging. This may require some additional hardware and adjustments during installation, but the result is a more visually striking curtain display.
In terms of pricing, the Ikea Silverlonn curtains tend to be more affordable, making them an attractive option for budget-conscious shoppers. The Quickfit Aalborg curtains, while slightly more expensive, offer a unique design and a high-quality material blend, which may justify the higher price point for some consumers.
In summary, when comparing the Ikea Silverlonn and Quickfit Aalborg Ready Made Tape Wave Sheer curtains, it's essential to consider individual design preferences, material composition, ease of installation, and budget. Each option offers its own advantages, so choose the one that best aligns with your specific needs and aesthetic preferences.
Ikea Vs Quickfit - Ready Made Sheer Curtain Comparison


Ikea offers a variety of sheer curtains in different designs, ranging from simple to more elaborate patterns. Quickfit, on the other hand, boasts an extensive collection that caters to various tastes and room styles. Both brands provide options for those who prefer minimalist designs, as well as those searching for a more intricate style.
Ikea Sheer Curtains
Quickfit Sheer Curtains
Fabric selection
⭐⭐
⭐⭐⭐⭐⭐
Delivery fees
$9 Metro

$5 Collection

$9.95 flat rate
Sold as
Per pair
Per panel / per pair (depending on curtain)
Free swatches?
No
Yes
Header style options
Tab top

Rod pocket
Multiband

Eyelet

Pinch pleat
Pencil pleat
Multiband / tapewave

Drop lengths
250cm
213cm

230cm
250cm
Regarding materials, Ikea sheer curtains are often made from lightweight fabrics like polyester, cotton and linen blends. Quickfit also utilises similar materials, but may additionally offer curtains made from more luxurious fabrics such as silk or velvet. It is essential to consider the material when deciding on curtains, as it affects not only the look and feel, but also the maintenance requirements and durability.
Size-wise, both Ikea and Quickfit provide a range of dimensions to suit various window sizes. Ikea typically offers standard sizes, while Quickfit goes a step further, allowing for customisation upon request. This added flexibility from Quickfit may be an advantage for customers with non-standard window dimensions or specific size requirements.
In terms of pricing, Ikea is known for its affordable products, and this extends to their sheer curtains as well. Quickfit's prices may vary depending on the materials and customisations, but they too offer competitive pricing for their ready-made sheer curtains.
If you want to compare other brands, feel free to read our full curtain brand comparison article.