Posted by Emily Wang on 6th Apr 2023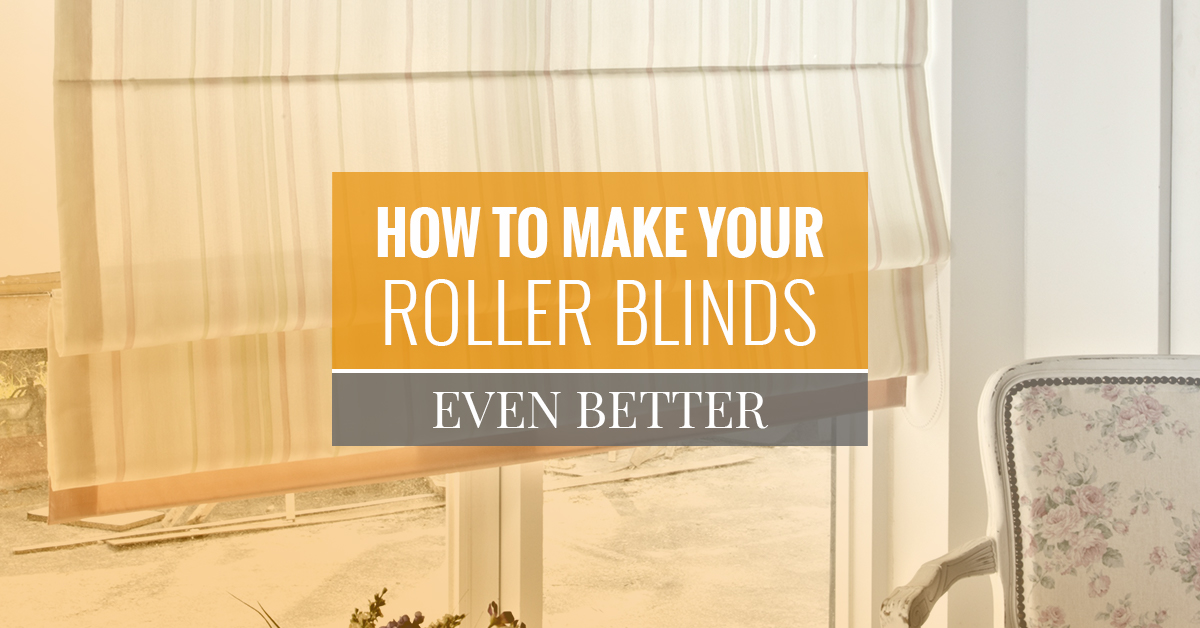 Roller blinds are already a great item for your home without doing anything to them. They come in tons of great colors, are perfect for blocking out sunlight, are easy to keep clean, and are one of the most affordable options out there when it comes to your window treatments. They also create a clean and modern look for your home decor, something that's highly in demand with today's professional home designers. There is plenty to love when it comes to roller blinds!
And while our roller blinds are amazing right out of the box, there are a couple of things that you can do at home to make them even better! Check out some of our suggestions and see if they are right for your home.

Want to Improve Your Roller Blinds?
Add magnets to the sides.
If you purchase our blockout roller blinds, you'll be well on your way to keeping out unwanted light when your blinds are closed. But even the best blockout roller blinds can't stop a little light from sneaking in through the sides. But magnets can! If you are bothered by natural light coming in through the sides of your roller blinds, add magnets to your window casing and the edges of your blinds. That will hold the blind securely in place when it's down and prevent light from leaking in. This is a cheap and easy way to make great blockout blinds even better at their job!
Add casing to the sides.
If you want to create a really modern or polished look for your window treatments, consider adding a small edge of trim to the sides of your windows in front of your roller blinds. This gives the window treatment a custom-fit look and hides the edges of the roller blinds. It will help block out unwanted light pollution, too, but offers a more polished look than the magnet suggestion above.
Create a recess in your ceiling.
This requires a little more work on your part, but the final effect is really nice. This is an especially good idea if you are building or remodelling your home, because it can be easily incorporated into your home design. Instead of simply placing your roller blinds at the top of your window, create a small recess in the ceiling where the rolled blind can be hidden away. Not only does this create a neat and clean appearance, it allows the maximum amount of natural light to come into your space when you want it.
Add a valance at the top.
If you don't want to take on the work or the expense of creating a recess in your ceiling, you can hide the rolled blinds by adding a valance at the top of your windows. Be sure to hang them as high as possible so you don't make your windows look shorter than they actually are. Valances can be found in a variety of styles, patterns, and colors, and can even be made out of wood or metal if you'd like a more modern touch. Look for a valance that will coordinate with your roller blinds and compliment your decor.
Pair them with sheer panels.
Roller blinds look terrific in your window on their own. But adding sheer panels to your window treatment adds a touch softness to your window treatment. Sheer panels allow you to filter the sunlight, giving you an option to allow the sunlight to come into the room without it becoming to hot or harsh. You'll also be able to get the sunlight you want while still maintaining some privacy. The combination of roller blinds and sheer panels gives you plenty of options to work with in your windows.
We Sell Quality Roller Blinds Online
If you purchase your roller blinds online from Quickfit, you'll be getting high-quality blinds for your home with tons of colour and feature options (including blockout blinds!). That means you can get a great set of roller blinds without draining your bank account.
Do you have more great ideas about how to use roller blinds in your home? We'd love to hear them! Email us or contact us through our website. We may share your suggestions with other readers on our blog in the future.