Posted by Emily Wang on 6th Apr 2023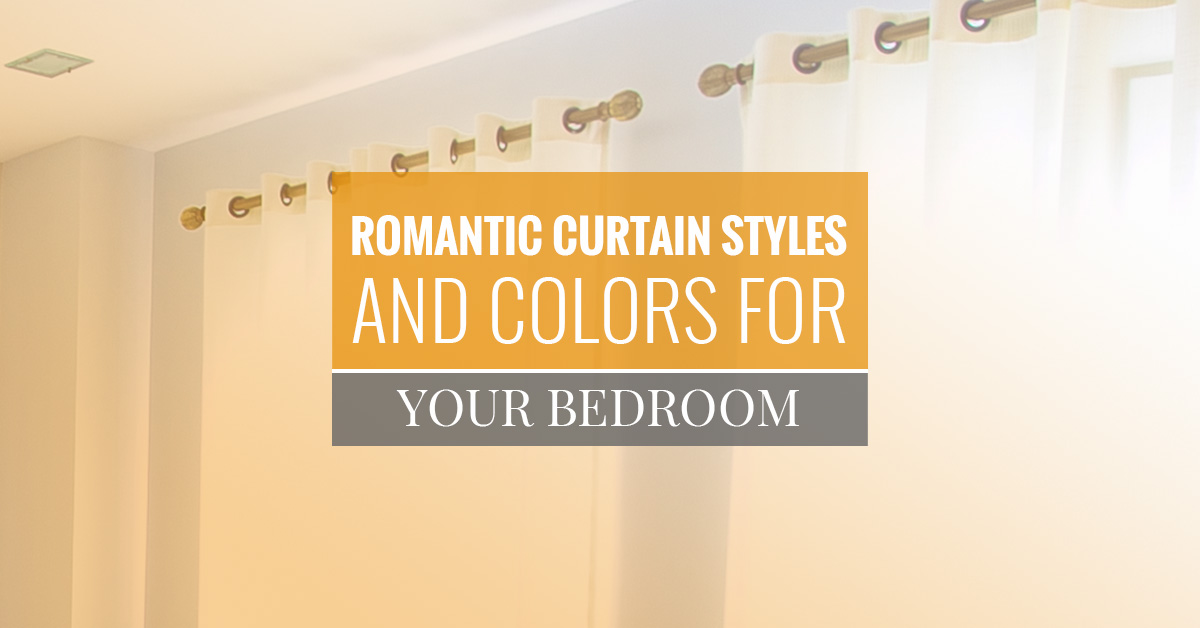 If you want to boost the romantic feel of your bedroom, choosing from a wide range of bedroom curtain inspirations are a great place to start. Your window treatments, and your curtains in particular, can set the tone of the room. Create a romantic window treatment and it creates a romantic aura for the rest of the room. If you boost the romance factor of your curtains, the whole room is going to feel more like a luxurious romantic getaway. Here are some of our favourite tips to make your bedroom feel romantic and look like it should be on the cover of the hottest romance novel. Put these tips to work in your own bedroom!

Tips to Make Your Bedroom Window Treatments More Romantic
Use sheer panels.
There is something inherently romantic about sheer curtains. Maybe it's the soft draping fabric or the fact that it gently filters bright sunlight into something more flattering. If you are on a super-tight budget and still want to increase the romance, go for sheer panels. They'll help you retain privacy, soften harsh sunlight, and look beautiful as they flow down your window. Choose light colours for an airy feel. Pair it with a blockout curtain or roller blind when you need more privacy and less light.
Layer, layer, layer.
Don't be afraid to layer your window treatments for the best romantic effect. While sheer curtains are a great starting place, to maximise the romance, look for curtain panels you can pair with your sheers. Heavier blockout curtains are great for keeping the light to a minimum (so you can light those candles even in the middle of the day), but they'll also add drama to the entire window treatment. Full curtains are going to provide a more dramatic touch to your decor, too, so make sure you err on the side of too many panels rather than not enough.
Choose the right colours.
Colour matters when it comes to choosing the right curtains for your bedroom. You can stick to the traditional colours of romance and pick curtains in tones of red and pink. Don't be afraid to put your own twist on what's romantic, though! Any jewel tone is great for a passionate look, with plums and emerald greens a great choice that's not quite so expected. If you already have a colour palette for your bedroom, look for curtains that coordinate in slightly darker tones.
Let it drape.
Romantic curtains should run long, to the point they end up in a little puddle on the floor. There is something about this look that's automatically romantic, so embrace it. If you don't like the thought of letting your curtains pile on the floor, make sure they at least hit the floor. Short curtains give a breezier, more casual feel, and that's not what you are looking for when it comes to romantic decor. For the "puddled" look, measure the length from your curtain rod to the floor and add 3-4" to the length. You can order customised curtains so you can get the precise length that you need.
Choose the right pattern.
Patterns can be very romantic! Stay away from anything that's too geometric or has too many hard lines. While those curtains definitely have their place in modern decor, that place isn't usually in a romantic bedroom setting. Look for patterns that are subtle or floral in nature. Adding these patterned curtains in with your other layers can add interest and excitement into your final window treatments.
We'll Help You Find the Perfect Curtains Online
Ready to create that aura of romance in your bedroom? Then it's time to shop for curtains online with Quickfit. We can help make sure you get curtains that are absolutely perfect for you, made-to-measure just for your windows. Visit our Measure and Install page to learn more about measuring the perfect curtains, then choose your fabrics and we'll get to work! Your new curtains can be at your door in as little as 10 days. We'll even ship them anywhere in Australia for just $9.95 flat rate shipping! Create the romantic bedroom of your dreams with Quickfit today.