Posted by Emily Wang on 17th Jan 2022
It's the height of summer here in Australia once again, and we're really starting to feel the heat in our household and office spaces. Given that it's a La Niña summer, however, we're also being hit hard with some extra humid days. Naturally, this weather can make our home interiors feel unbearably hot at the worst of times, which can prompt many of us to keep our air conditioners continuously running throughout the day and ultimately driving up your household's utility bills.
But there are definitely more eco-friendly options when it comes to keeping your home's internal temperatures nice and low this summer. For instance, did you know that we tend to lose a lot of heat from uncovered windows in winter? In summer, those same uncovered windows can absorb a lot of heat, leading to your home's interior temperatures rising to stifling heights.
For this reason, many Australian households invest in window coverings well before thinking about costly home heating and cooling systems. In fact, a selection of the curtains and blinds that we stock here at Quickfit, may actually play a quintessential role in allowing you and your family to naturally regulate your home's internal temperature year-round and on a long-term basis.
So what window coverings will prove to be your home's best method for keeping cool this season? Read our full breakdown of our most summer-friendly curtains and blinds below so that you can answer this question all on your own.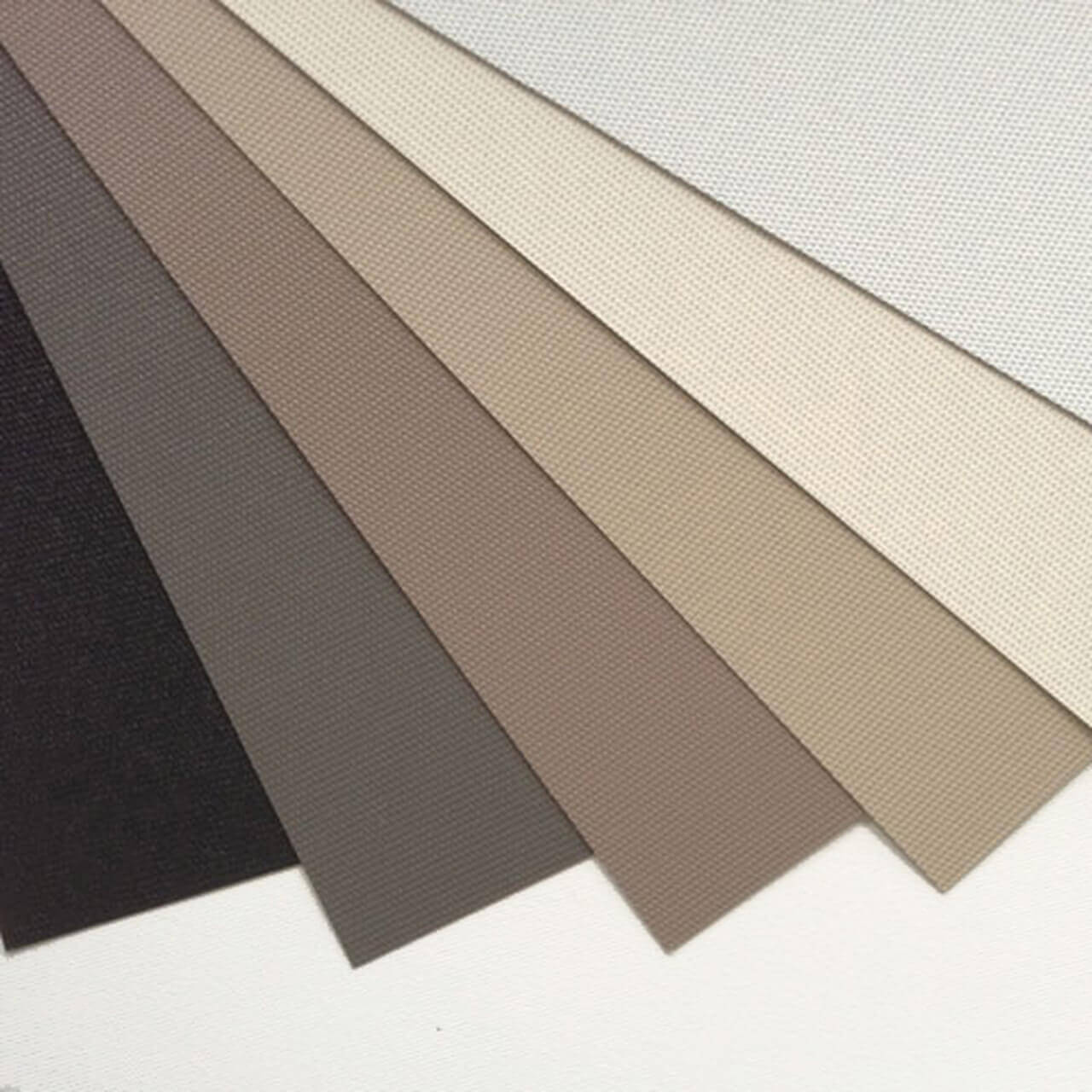 Minimising sun exposure with sunscreen blinds
If any of your interior spaces boast east or west-facing windows, you've likely already had some issues with furniture fading due to sun exposure. Harsh UV rays can cause fabric fading for a plethora of different materials, including cotton, polyester, silk, and other fabrics commonly used in the production of furniture, decor, and bedding. Leather can be particularly susceptible to sun damage, as harsh light, heat, and excess moisture caused by humidity can lead to the cracking and stiffening of your furniture.
Whilst you can combat sun damage by simply keeping coloured furniture or bedding out of spaces that do receive prolonged direct sunlight, a good set of sunscreen blinds may be a more elegant solution here as well. Sunscreen blinds are naturally UV-resistant, heat-reflective, and light-filtering due to their loose mesh, vinyl weave. These blinds are effectively designed to be pulled down over your windows during daylight hours to ensure that your home can enjoy natural sunlight without worrying about UV damage, nor even sacrificing your home's natural temperature regulation capabilities.
It's important to note, however, that as these blinds are more for filtering light over providing privacy, you will likely need a second set of window coverings to ensure that your home's interiors stay hidden from street view. Thankfully, the double roller blind design of our sunscreen blind sets here at Quickfit allow you to enjoy the protection of specially woven screen blinds alongside the privacy of thicker blockout blinds.
Reflecting harsh sunlight with venetian blinds
If you're not a fan of roller blinds, then never fear! Even a good set of venetian blinds can work wonders when it comes to keeping your home naturally cool in harsh, summer weather.
Aluminium venetian blinds can reflect external heat with great efficiency, allowing you to keep your home's internal temperature down without the need for costly air conditioning. Even timber blinds can be effective heat regulators, despite timber itself being susceptible to warping or fading when exposed to harsh light. This is precisely why our designers here at Quickfit opted to stock white timber look venetian blinds over natural wood venetians.
With their versatile white colouring and sturdy PVC construction, our selection of white timber venetian blinds are essentially tailor-made to fit the unique temperate climate that we have here along Australia's east coast. Both their colouring and fabrication allow our white timber venetian blinds to reflect external heat and effectively minimise heat transfer through your home's windows. Having been produced with PVC, these versatile venetians will also never fade, warp, buckle, or bend, allowing you and your household to enjoy these timelessly stylish window coverings for decades to come.
And if you do want a little warm sunlight to filter into your rooms, then a quick and easy adjustment of your venetian slats is all that you'll need to have some vibrant bars of sunshine colouring your cool interiors.
Sheer curtains to help you go with the flow
Of course, blinds can be great if you want total control over your room's light availability, making both our sunscreen blinds and white timber venetian blinds perfectly suited to bedroom or home office spaces. If you're not looking to minimise the light availability of your interior space, however, then some soft, summery curtains may be just the way to go.
And when it comes to soft, shimmery, summery curtains, there really isn't anything better than an elegant set of sheer curtains. Sheers can be incredibly attractive in summer months simply because of their ability to organically filter light, allowing a natural dispersion of summer daylight in the morning and afternoon, and bathing your interiors in mesmerising, warm glow as the sun begins to set.
Both our regular sheer curtains and specially extra long sheer curtain panels here at Quickfit may also use super soft yet undeniably sturdy materials like cotton and voile as well, which are perfect for swirling gently in the breeze of an open window. If you'd like your curtains to match neutral coloured furniture and decor, some of our natural tone cotton sheer curtains may be just what you'll need to tie your whole room together.
If you're looking to decorate with white, in a monochromatic style, or maybe even using Hamptons coastal elements in your room design, then our white, opaque sheer curtains are likely to be perfectly suited to adding an extra soft element to your meticulously designed interior space. You can also shop our entire collection of sheer curtains online year-round, as our sheer curtains can be just as attractive in colder months too, being greatly complementary to soft, winter light.
Thermal curtains for combating weather extremes
Speaking of year-round window coverings, quite honestly no other curtains or blinds here on Quickfit compare to our selection of thermal curtains if you're looking to keep your home totally protected from harsh weather conditions on either side of Australia's hot and cold weather spectrum.
Our climate along the east coast is certainly unique, in the sense that we can experience hail and harsh sun on the same day. As a result, you may find that purely 'summery' curtains may be poorly suited to your home's needs, especially when it comes to temperature regulation, as external temperatures can drop as suddenly as they may rise.
Thankfully, our double-layered thermal curtains are built for both temperature regulation and light control above all else. With their white foam backing, our thermal curtains are the optimal window covering for reflecting all external heat on hot, sunny days. Their triple weave yarn design also ensures that no harsh sunlight finds its way into your interior spaces either, making these curtains perfect for home living spaces with screens and other electronics that will require year-round protection from the elements.
If you're at all worried about your thermal curtains blocking out too much light, however, you can absolutely pair your thermals with a set of sheers to reap the best of both worlds in a similar fashion to our double roller sunscreen blinds.
As you can see, Aussie homeowners do actually have a lot of options to choose from when it comes to keeping their home cool this summer. Air conditioning systems don't have to be the first line of defence against oppressive summer heat, even on 40 degree days.
Invest in a good set of curtains or blinds today to ensure that your home is well-equipped to maintain a comfortable temperature, not just in summer but year-round. Believe me, your investment in your window coverings will pay off a lot sooner than you may think!