10 Budget Decorating Tips For Savvy Home Designers
There's no denying that decorating a home can be incredibly satisfying. As you make a new space for yourself, or bring new life to old, outdated interiors, you may find yourself experiencing a mixture of emotions along the way, namely just happiness to sheer frustration.
Sometimes inspiration can strike easily, and on other occasions, it may just take hours and hours to get an interior space to click into place.
One thing that's consistently for sure about home decorating is it can get pricey quickly if you're not careful. Whether you're looking to buy curtains online, update the decor of an entire room, or replace fixtures like roller blinds or door handles, there are secrets to decorating on a budget that everyone should know.
We want to save you some change as you change, so check out these ten budget decorating tips we've laid out below!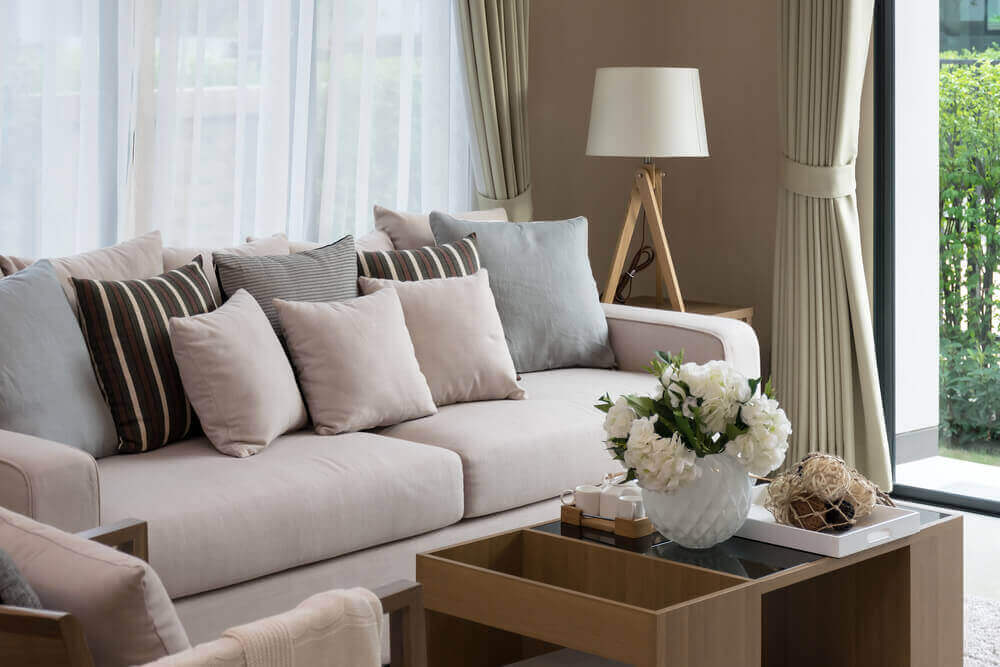 Tip #1 - Set Yourself A Budget For Your Home Design Project
The first and most important step to decorating a home on a budget is simply setting a budget for your home design project, and then making sure to stick to it. What are you comfortable spending on decor? What new design elements are you looking to incorporate into your space? What will you absolutely need to spend big on?
Answering these questions is key when you're looking to determine a budget for your DIY home design project.
It's also important to set your budget by knowing how much money you have to spend, rather than how much of it has been allocated to select purchases. For instance, if you know you're looking to buy white timber venetian blinds to help put together an airy contemporary or coastal Hamptons style interior, then you should subtract the amount of these venetian blinds as well as the overall costs of other decor needed to achieve this interior design scheme from your total budget.
Keep in mind that discipline is key when it comes to sticking to your budget. When you're ready to splurge on something you know is out of range, do what you can to walk away. That's why determining priorities is a good way to start, as you'll ensure your home design budget will be sure to cover all the decor and fittings that you'd like to incorporate into your fresh, new space.
Tricks For Pinching Pennies
Shop responsibly and affordably by doing research and comparing prices. Pro tip: Quickfit happily sells affordable blinds and curtains online!
Find a credit card with rewards that match your goals; think cards that benefit retail shopping, online shopping, or credit back to the bill. Spend responsibly!
Save change in a bucket or piggy bank to dedicate to projects.
Audit your home for other money-saving opportunities, such as turning off lights, using less heating, etc.
Tip #2: Jump Online for Inspiration
Nowadays, the world is truly at your fingertips! Google, Bing, and websites like Pinterest and Instagram, can also help you put together a design scheme for your home in next to no time.
There are a few great ways you can use these free sources when decorating on a budget, but browsing online home decor stores can also help finetune your home design dreams. Searching the online market for blinds, unique pieces of art, style trends, product reviews, and more, can be quite productive and budget friendly, which are always welcome additions to any home design project.
Use the Web to Help Craft Your Vision Board
Whether you're looking for design inspiration, instructional how-tos, or product reviews for furniture, fixtures, or kitchen net curtains, you can count on a source from the web to provide an answer. We here at Quickfit know just how important thorough reviews of products can be, so we've made it our duty to ensure that you can find reliable reviews of our products right here on our website at any time.
Watch YouTube For DIY Design Walkthroughs
Reading directions for a DIY project is a good solution, but watching a video can be so much better. Not only can you see exactly how something is being done, but you can pause, rewind, and watch again at your leisure. You may even want to make your own YouTube account about your decorating adventures to pass the virtual support forward.
Ask For Advice On Social Media
Turn to Facebook groups, Pinterest, and Instagram (to name a few), and ask your friends and family for more tips, tricks, and advice on home decorating. Maybe someone will have a piece of decor they no longer want, or maybe they'll be willing to help with any work.
No matter which free resources you choose to use, you'll be sure to find support or even a valuable change in perspective online.
Remodeling a house is one of the most fun projects any dedicated DIY designer can do, even if you're decorating on a strict budget. This project will be your opportunity to create interiors that excite and awe.
After searching for curtains online, putting together a vision board on Pinterest, and looking into replacing your linoleum with tiles, you may just glance down at the clock to learn three days have gone by and no real remodeling progress has been made. This can be one of the biggest struggles of remodeling a home: spreading resources in too many directions at once.
It's important to remodel by completing one project at a time.
Not only can focusing on one project at a time help save money along the way, but it prevents too many different home design projects from happening simultaneously and turning your interiors into a den of chaos. Imagine having to readjust routines in the morning and evening because both the bathroom and kitchen are out of order! This is, of course, less than ideal.
An easy way to prioritise tasks is to do a small project that you want to do first rather than what you've deemed to be purely necessary, that is unless these necessary tasks are crucial to the functionality of your home, such as repairing broken shower fixtures or installing new bedroom curtains.
By focusing on one project that you'd like to achieve first, you'll be able to tick a major personal item off your budget decorating plan, and this win will hopefully keep you motivated and excited to continue on with the rest of the little projects that make up your overall design scheme.
Tip #4: Shop Thrifty and Shop Smart
A typical shopping trip often leaves me feeling exhausted, broke, but still happy because of the new things I got to bring home. What makes me even happier during a shopping trip, however, is knowing I've gotten the best bang for my buck.
The most satisfying shopping trips are by far thrifty ones in which I get to shop through the best forgotten trends and gems (i.e. home decor, furniture, and other items that have gone unnoticed and unloved over the years), and then get to enjoy the extra cash in my purse upon my return home.
I love thrift shopping, and I like shopping online for new things too.
There are a few different ways to shop thrifty: visit a thrift store for unique and nostalgic items, and shop frugally online for things you want to be new, such as curtains, blinds, appliances, electronics, and more.
Shopping thrifty for items that don't necessarily need to be new, can help make more room in your budget for items that do need to be purchased brand new, such as your window coverings.
Thrifty and Used Home Decorations
When looking for opportunities to reduce, reuse, or recycle when upgrading home decorations, shopping thrifty is the way to go. There will absolutely be wonderful pieces that deserve a place in your living space. Take them home. Add your own touch. Take pride in the new life you've created for items that have seen eras before your own.
When Buying From Thrift Stores, Consider:
Is the item still in good or fair condition?
Do you have a great idea for it?
Will you need any functionality of the item that may be broken or misplaced?
Is the item a conversation starter?
New and Affordable Home Decorations
While it's important to stick to your budget, there are certain home decorations that must be purchased new. Thankfully, you'll be able to source most of these with an affordable price tag too. Buying new is suggested for areas of the home with custom measurements like lounge room curtains, items that must adhere to specific styles to suit your DIY design scheme, or even tech upgrades that will absolutely need to stay up-to-date.
Tip #5: It Does Not All Have To Match
Whilst monochromatic design schemes can be all the rage, they aren't the only recipe to craft gorgeous interior spaces. In fact, a lot of modern interior design styles like the Bohemian style, encourage home designers to create eclectic interiors that pop with different colours and truly have a life of their own.
I, like most people, like more than one thing! There's more to life than the colour red, mountain getaways, and blue ocean oases. Those are all wonderful things, but I just can't bring myself to limit my decor to just one of those styles. So instead of choosing all red appliances to match red curtains with some red sofa cushions, I chose to use hand-me-down kitchen appliances from my grandmother in a green kitchen with soft wave fold curtains, juxtaposed beside my bookshelf-lined living room, with all its many hardbacks and solid edges. Upon the shelves (that frame the centrally located 75-inch television) are novels, ornaments, framed photos, painted dragons, coloured pictures, and foreign picture books.
My point here is there is absolute beauty in the order and chaos of two contrasting decorating styles, and both of these design styles can be easily budget friendly.
Aside from making the place totally my own, decorating without a theme also leaves me free to change it up as I go, and ensures that my interiors stay highly personalised and reflective of me, their inhabitant.
As you can see, there are an abundance of ways that you can create gorgeous interior spaces whilst adhering to a strict budget.
Want to see some more budget decorating tips from the team at Quickfit? You can find 5 more tips right here!