Posted by Jane Dodge: Textile Designer Quickfit Blinds and Curtains on 12th Aug 2014
There is no arguing, window coverings are expensive. We know. Thats why we started Quickfit Blinds and Curtains. The prices in the department stores seemed crazy. Its not like they were branded PRADA or ARMANI. It was spotlight for goodness sake. So we set about changing things..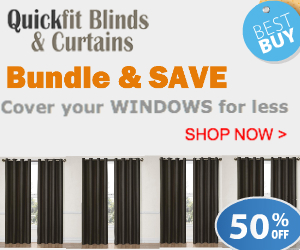 The BULK PACK. 8 Curtains for the price of.... well under $150.00 some as low as &129.00
This month we have 10 designs. All modern styled eyelet top curtains. And better still 100% blackout. Save on heating, save on cooling. Protect your furniture from sunlight and sleep in until midday... And get the baby to sleep during the day. Not bad for under $150. You might even be able to cover 4 windows with the 8 curtains in the pack..
The fabrics are over runs from commercial projects (Yep we always make too much) and being the environmentally aware people we are.. we could not stand to let it go to waste.. So we save it all and put it into these bulk packs..
They sell fast.. If you like them they might not be there next time you visit so better get in quick.
Check them out here >> BULK PACKS OF CURTAINS