Posted by Emily Wang on 6th Dec 2022
Are you a serial home re-designer? Because welcome to the club! We know that mixing up your home's decor and interior design schemes can be quite a treat, especially if you like transforming your home with the seasons. But just swapping out your decor shouldn't mean having to strip your walls, floors, and windows bare with every transformation.
We love truly evergreen curtain and blind styles here at Quickfit, which is precisely why our collection of modern window coverings includes some designs that work well in a range of different interiors. One of our most timeless window coverings, however, has to be our collection of timber-look venetian blinds.
Constructed with heavy-duty PVC, our timber-look venetians are simply built for contending against harsh sunlight and all the other characteristics of our temperamental climate here along Australia's east coast. The superior light control capabilities and classic colouring of these timber-look blinds make them a highly popular window covering that's utilised by Aussie home designers across the country. And thanks to the ultra durable design of our own timber-look blinds, you can enjoy your white venetians for years if not decades to come, and across a myriad of different design styles to boot.
But how exactly can you best style a window covering that's already so versatile to begin with? Today, our own in-house designers will be sharing their top 4 different ways to style our timber-look venetian blinds. Read on to help kickstart your adventures into styling our venetians.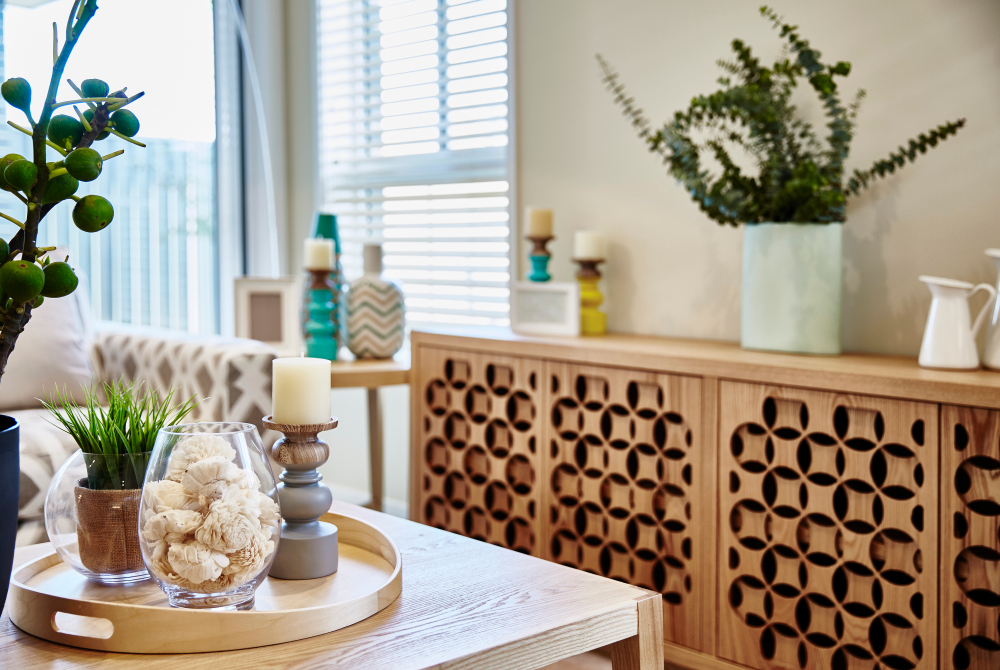 1. Hamptons Coastal interior styling for beachy vibes
A beachy keen interior design scheme that's taken Australia by storm, the Hamptons Coastal style is all about pairing predominantly white and blue ocean tones with furniture made from natural fibres, like pale timbers, wicker, wool, and straw. With the style often being characterised by its whitewashed wood elements, the ocean vibes of the Hamptons Coastal style are intrinsically suited to the look of white timber venetian blinds installed across sunkissed windows.
As Quickfit's blinds are actually designed to give a timber-look, being made of high-quality PVC, they are also far better suited to coastal homes than your traditional timber blinds. This is because traditional timber blinds are prone to warping when exposed to the elements, and coastal homes tend to be accompanied by biting sea winds, harsh sun, and in some cases, even salt spray.
Thankfully, the PVC slats of our blinds won't have any issues contending with any of the environmental factors that accompany ocean living, allowing you to enjoy sparkling Hamptons Coastal interiors without having to worry about your blind slats warping or buckling in the slightest.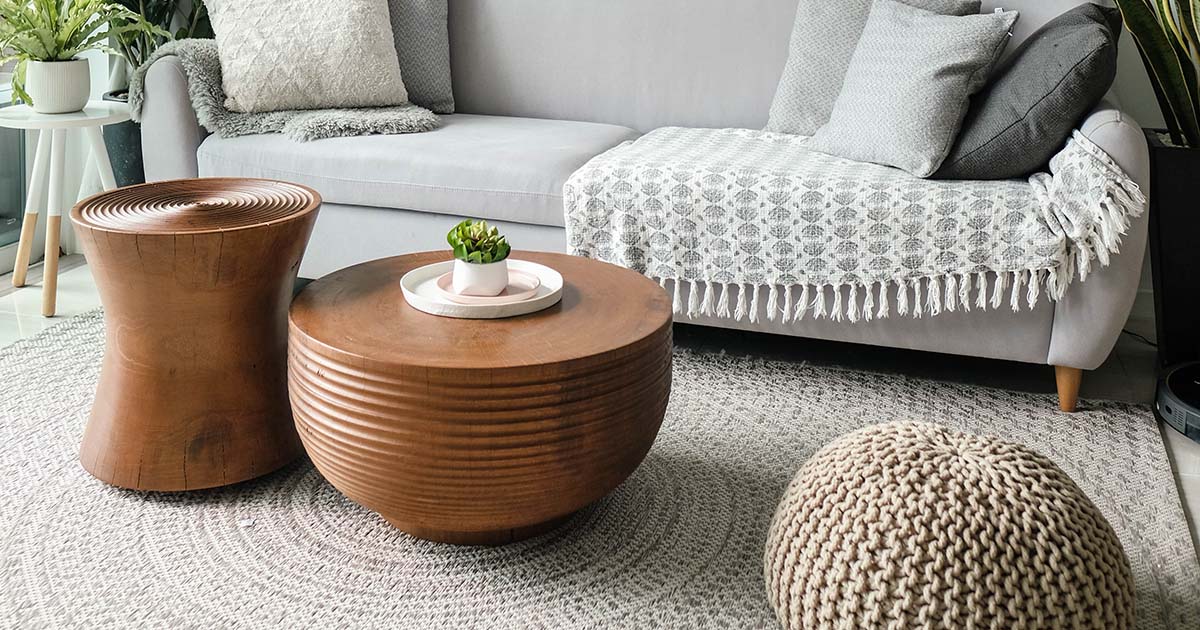 2. Modern industrial interiors to complement contemporary living
The modern industrial style has been growing increasingly popular with the rise of contemporary modern interior design. Characterised by organic, darker neutral colours like stone and charcoal, and featuring processed yet still atmospherically 'incomplete' elements like exposed brick, concrete floors, copper piping, and glass, modern industrialist interiors are a fantastic setting for playing with shapes and perspective.
With this in mind, the geometry of timber venetian blinds make them a great addition to any industrialist interiors. The uniform bars of natural light created by venetian blind slats in full sunlight perfectly compliment the angularity and innate geometry of the modern industrialist design scheme and its emphasis on 'man-made' shapes.
The neutral, white colouring of Quickfit's timber venetian blinds is also highly suitable to the look and feel of modern industrialist interiors, which are known for being monochromatic as well, albeit on the slightly opposite end of the colour spectrum. Simply put, incorporating white timber venetian blinds into your modern industrialist interior can help both compliment the natural structure of that space alongside providing a splash of not colour, but colour contrast!
3. Biophilic interior design for bringing the outside in
'Biophilic' (or nature-loving) interior design schemes have also been very popular amongst the designers of today for a few key reasons, but most notably because:
Indoor plants are beautiful, and
They make us happy and healthy!
With so much of our daily lives entering the digital world, many DIY designers are more keen than ever before to incorporate some indoor greenery and other natural elements into their home's interior design schemes. Thankfully, keeping your indoor plants happy and healthy is easy to do with the right window coverings in place!
Because of the easy manoeuvrability of the blind slats, venetian blinds are a superb home accessory for interiors that house a few happy pot plants and thus, want to introduce varying levels of sunlight to encourage plant growth. The light control capabilities of venetian blind slats effectively allow for homeowners to easily switch between direct and indirect lighting conditions for plants, based both on the positioning of blind slats and the placement of pot plants themselves.
Window coverings that offer exceptional light control capabilities are also perfectly complementary to all the selling points of biophilic interior design principles. As biophilic interiors often utilise natural light as much as possible over artificial light sources, other window coverings that allow natural light to elegantly filter into the home are also well worth including in your biophilic design plans. We recommend sheer curtains, or perhaps even some sunscreen blinds for additional UV protection.
4. Making a bold impression with Art Deco interiors
Characterised by its strong patterns, rich colours, and bold geometry, art deco interiors are making a comeback in the 2020s, being reminiscent of the 1920s a hundred years ago. Both the external facades and interior architectural presentation of art deco-inspired houses are developed to be a sheer celebration of human achievement through design. In the simplest terms, the art deco style is all about going grand because we can!
In a similar fashion to the angularity of modern industrialist interiors, the geometry of white timber venetian blinds makes them shine in any art deco-inspired interior. The melding of the inorganic barred shape of the organic element that is sunlight, perfectly complements the natural oxymorons of art deco itself, as a design style that's both a celebration of creativity and fluidity through rigid, man-made elements.
For those seeking to emulate art deco and the 'flapper' era in their own home design scheme, your white timber-look venetians will pair perfectly with some old movie posters or perhaps even some avant-garde art prints like some of Picasso's Cubism or the colourful bars of a Rothko painting, if you'd like to move forward in time for a more eclectic feel.
~
Although we've only mentioned four interior design styles today, the universal look of our white timber-look venetian blinds makes them the perfect window covering for a wide range of interior spaces. Don't believe us? Well why not try styling them for yourself? You may just find yourself with a winning interior design scheme on your hands!