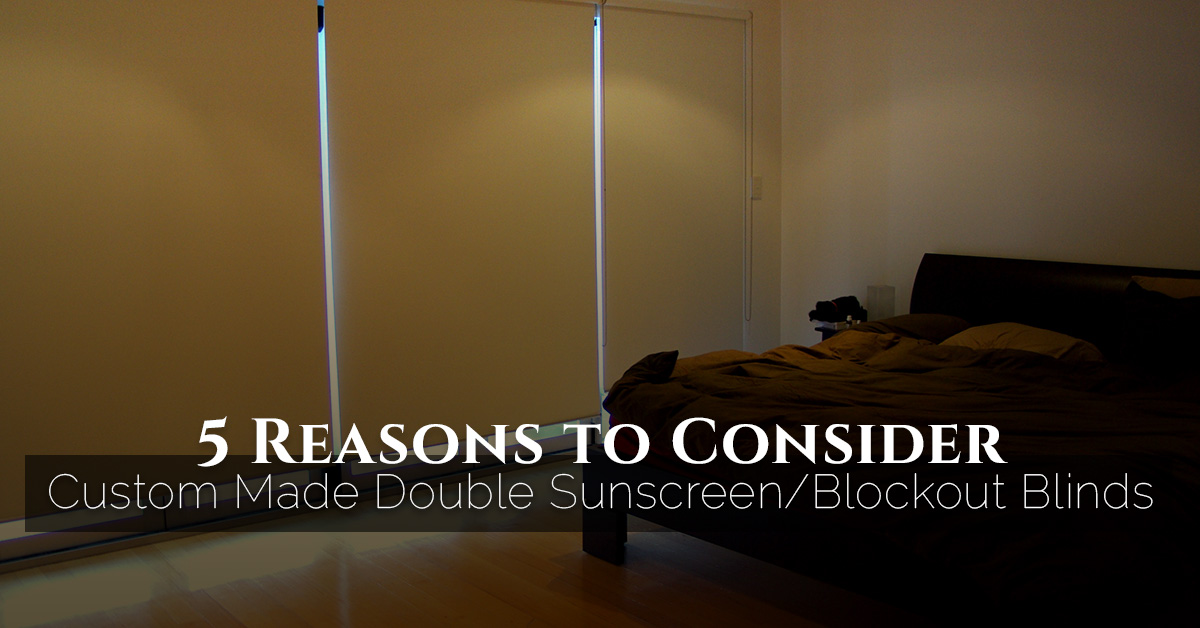 Many of our customers love to use sheer curtains in their windows along with a pair of blockout curtains. This allows them to truly customize the amount of sunlight that's entering their room. If they want to enjoy the natural light but maintain their privacy, then sheer curtains can help with that. If they want to block out the sun or artificial light from outside, then they can pull the blockout curtains closed and do that, too. It gives them plenty of options based on their personal preferences, and that's a common reason so many of our customers choose this look for their windows.
But if you prefer the look of roller blinds to curtains, does that mean you'll never get to enjoy that level of sunlight customization in your home?
Consider Double Roller Blinds For Your Home
That used to be the case. Roller blinds are a popular choice for many home owners, especially those who like a more minimalist style or modern aesthetic in their home. But roller blinds only gave you a few options for sunlight and privacy. If you needed privacy, you have to completely roll the blinds shut. If you want more natural light, you had to leave the blinds open. That was pretty much it when it came to the options involved with your roller blinds. And while that might be enough for some people, others wanted more from their window treatments.
That's why Quickfit now has an option that gives you more choices while still providing the roller-blind-look that you love! These blinds have two layers. The first layer is a sunscreen layer, with small perforations that allow the sunlight to come through. You can pull this layer down to softly filter the sunlight while maintaining a bit of privacy, much like you'd use your sheer curtains. This layer can help you keep your space cooler and prevent fading of rugs and upholstered furnishings, too. The second layer of the double roller blinds is the blockout layer. This is the same material that's already used in our blockout blinds. The material is excellent for completely blocking the sunlight or artificial light from your room. They are especially great for the bedroom, helping your children sleep longer or giving you more restful sleep when you need it. They are great for the lounge, too, especially if you are trying to block glare from the television screen!
This level of customization isn't all there is to love about these new blinds, though. Here are a few more reasons you should consider these double roller blinds for your home!
They are affordable.
Like all of the window fittings sold by Quickfit, you'll find the materials used to create the roller blinds to be high-quality, but you'll discover that our prices are super affordable! These incredible blinds start at just $110, meaning you can afford to get the blinds that you want for every room in your home.
They come with high-quality components.
If you've ever had roller blinds before, you know how important those components are to your window treatments. We make sure that all of the components sent to our customers are made from quality materials that are going to withstand the test of time. You'll be pleased with the quality and the fact that we include everything you need to hang your blinds, including the screws.
You get to choose the component color.
We allow you to choose the color of your components when ordering your blinds! Pick from black, white, or silver to customize your look and coordinate with the rest of your decor. We want to make sure you are happy with every facet of your roller blinds when you order online, even the color of the components!
They are made locally in Australia.
Our roller blinds are made right here in Australia so you can be proud of supporting local businesses and local manufacturers. We take a lot of pride in the items that we make, whether it's our roller blinds or our curtains because we know these items are going out to our fellow Aussies. We want you to be proud that you purchased them from our online shop!
You can get them in just five days.
That's right; we send your custom blinds to you in just five days. We know that once you place your order, you'll be eager to get your new blinds as soon as possible. That's why we waste no time in creating your order and getting them sent out to you right away. You could be hanging your new double roller blinds in your windows in five short days!
Ready to Fall in Love With Your New Custom Blinds?
We're ready to take your order. You can find our Custom Made Double Blind BLOCKOUT Milan SUNSCREEN in black, gray, latte, white, ivory, and two different options in charcoal gray. Choose the colour that's right for your space, pick your component colour, send us your measurements, and we'll get to work.
Have questions about any of the products that are available on our website, including our double roller sunscreen/blockout blinds? Just give us a call or send us an email through our website. We'll get back to you with the answers that you need so you can place your order right away!