Posted by Emily Wang on 6th Apr 2023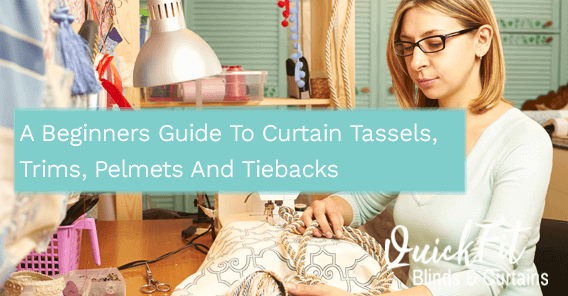 It's no secret that curtains can make or break a room. The colours, patterns and style are an essential part of trying a room together and creating a particular mood. However, there's more to a perfect curtain than just the fabric and cut. As interior design trends move away from clean, minimalistic Scandinavian styles - no curtain is complete without a tassel, trims, pelmet or or tieback. In 2021, it's all about more glamorous styles like Modern Luxe and Modern Classic. Feeling confused? Don't worry, we've put together a beginners guide on all these finishing touches so you can make the right choice for your curtain style. Read on to find out more!
Tassels

Tassels are an elegant cluster of strings or cords that are clumped together at one end and hang free at the other. Suitable for curtains rather than blinds, these finishing features are actually a practical decoration. The tassel's shape acts as a weight at the bottom of the cord which helps keep the curtains pulled back without the need for bulky knots. Tassel's come in a variety of colours and styles to suit any decor. However, they are on the flashier end of curtain finishings, so they'd best suit a living room or bedroom.
Trims
So, you've selected a style of curtain that sounds your decor - now it's time to choose a trim. Trims refers to the decorative elements that add a touch of ornateness to your curtains, and the sky's the limit when it comes to style, pattern, colour and embellishments. Types of trim include:
Valances

You've heard of valances on beds, but when it comes to curtains and blinds a valance refers to the fabric or panel added above a window. Typically valances are used to hide a rod or track and add a touch of chic to any room. The style options are endless - you can add embellishments like beads or pom-poms. However, avoid adding anything to the sides of your roller blinds, though, as this can become entangled in the roller blind mechanism at the top and prevent them from rolling and unrolling properly.
Fringes

Take a close look at the strings that hang from the bottom of a curtain tie back or are on the edge of a blanket - that's a fringe. They're typically attached to the bottom of curtains, under pelmet or on valances.There's an enormous range of fringe options, with each one creating a particular effect. For a luxurious theme, opt for a ball or tassel fringe. Or if you're aiming for a more simplistic decor, go with a ribbon or string fringe.
Pelmets
Pelmets are similar to valances and are perfect if you're looking for an elegant finish to your curtains. Not only do pelmets add a touch of glamour, they also help to control a room's natural light. Their 'roof' design also helps trap heat and cold which plays an important role in insulating your home during winter and summer. Pelmets are custom made to fit your window perfectly and come in a huge range of fabrics, materials and colours to suit all decors. For example, adding a wooden pelmet to your window can create a modern, warm look. Or if you want a polished look, opt for a pelmet that matches the fabric of your roller blinds. Want to add a little more creativity to the mix? Go for a contrasting fabric on your pelmet instead. Opt for something bright and bold against a neutral-coloured roller blind.
Tiebacks
Similar to tassels, tiebacks are both practical and decorative. They are typically made from similar, if not the same fabric you've selected for your curtains. Tiebacks have loops on the end which attaches to a hook on the window frame. This particular type of curtain finish allows you to add to a room's decor even when the curtains are open. Since it's made to match your curtain's style and colour, tiebacks work great in almost any room. Or if you're looking for a more decorative touch, you can finish off your tiebacks with piping or decorative trims. At Quickfit Blinds and Curtains, we also offer a wide range of magnetic tiebacks that add a simple yet elegant touch to any curtain design.
We hope that the information above has made navigating your way around the world of tassels, trims, pelmets and tiebacks much simpler. Quickfit Blinds and Curtains believes that buying any type of window treatment online should be an easy process. If you need assistance in choosing the right finish for your curtains or blinds, our expert team is here to help. Please don't hesitate to reach out to us at 0422584155 or browse our online range for more information.