Posted by Emily Wang on 6th Apr 2023
Add a bit of designer chic to your room this weekend. Create a statement that pops. Nothing adds drama to a room better than key pieces strategically placed against contrasting backdrops. Think black sofa, white fluffy rug, and the black curtains to tie it all together, and you have yourself a gorgeous, modern, and monochromatic interior space.
One of the easiest ways to facilitate this dynamic contrast of black against white, is by placing black curtains or blinds up against white walls. Lets face it, 99% of homes have a window placed in a huge white wall. The perfect starting point for creating your bit of WOW is giving the room a little contrast.
Here are 6 spaces that ooze sophistication and drama. You can create this look in your home with the simple addition of black curtains or drapes. These 6 spaces can easily be created in your home.
Black Sheer Curtains

A soft yet sophisticated addition to living, bedroom and dining spaces, sheer curtains are a fantastic way of ensuring that your window coverings don't take up too much visual noise in any defined interior space. You can also use sheer curtains in your home as a method of light control that isn't too oppressive.
Colourful sheers like these flowy, charcoal panels we have available at Quickfit, are also superb when it comes to filtering soft and coloured light into your interior environments at the height of summer. Sheers against an open window are also a sight to behold, as the light material that these window coverings are made of look their best when they're fluttering in a soft, summer breeze.
Solid Black Blockout Curtains
Its all about the drama when you team black with white. This dynamic, monochromatic colour scheme is as classic as it gets, and when you're able to balance these contrasting elements with total equality, you'll have curated some truly breath-taking interiors.
Black blockout curtains are a superb addition to any interior that you're looking to transform into a monochromatic haven, as these thick, high-quality curtain panels can act as a solid backdrop upon which you can add your other grey and white decor, furniture, or other style elements.
These window coverings won't just look beautiful, however, but they can be incredibly functional and a useful addition to your home as well, as blockout curtains are also incredibly effective at light and sound control, as well as being a natural insulator.
Black Pinch Pleat Theatre Curtains
The ultimate home theatre addition, our collection of pinch pleat curtains here at Quickfit are designed to awe and impress. This timeless panel style can add a touch of dynamism to any interior space in your home, but they definitely come alive in areas built for entertaining guests. Coupled with some snazzy downlights, and a large, plush sofa, these pinch pleat panels will ensure your home feels cosy, inviting, and undoubtedly elegant all year round.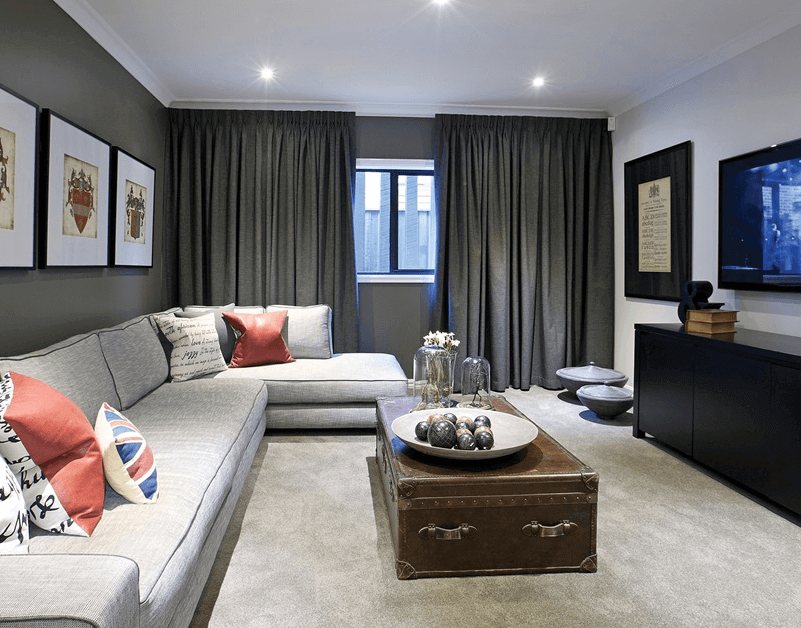 Find your favourites today for a price you'll love right here at Quickfit Blinds and Curtains.