Posted by Quickfit Blinds & Curtains on 10th Nov 2018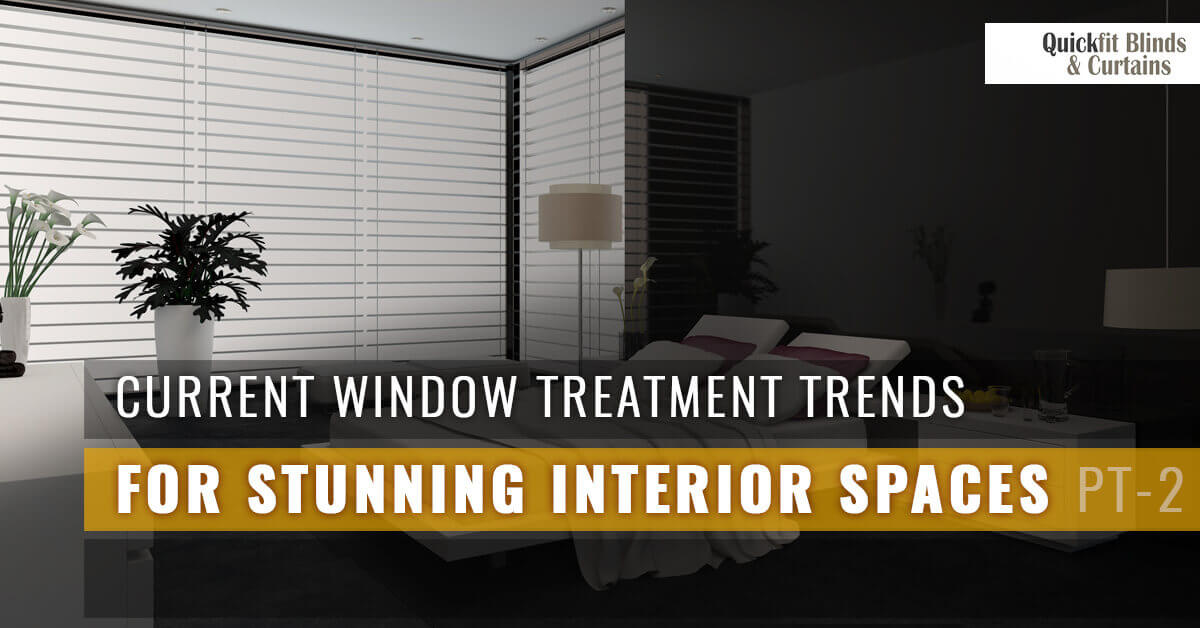 Are the blinds and curtains in your home looking a little dated, or have they suffered some kind of damage that has affected their beauty? If so, then it may be time to consider purchasing new window treatments, and when that time comes, our online curtain store is here for you. In our last post, we reviewed a few of the latest trends in curtains and blinds, including using them to create an amazing focal point in your home, incorporating luxurious fabrics into your treatments, and experimenting with bold colour palettes.
Today, we will continue our review of current window treatment trends by reviewing how sheer panels, sleek lines, bold patterns, and hypo-allergenic fabrics can add affordable beauty and functionality to your interior spaces. Read on to learn more and shop Quickfit Blinds & Curtains today for all the hottest window treatments.
Hot Trends in Window Treatments
Consider Sheer Panels
When you think of sheer window treatments, you might be reminded of the white or cream panels that your grandmother had in every room of her home. We believe that sheer curtains are still beautiful enough to be used in virtually every room, and current window treatment trends agree. Today's sheers are not the boring panels that were adored by previous generations, but rather, they are incredibly versatile coverings that serve a variety of purposes.
You can choose to use sheer panels as the outer layer on a multi-layer window treatment to add a touch of elegance to your windows, or you may choose to use them on their own to add an element of warmth and softness to a room. Sheer curtains even provide a light layer of privacy to rooms like formal dining rooms and they do a wonderful job of diffusing natural light in home offices.

Choose Modern, Sleek Lines
If you are someone who prefers a more contemporary look for your window treatments, or if you have a fairly modern design aesthetic in your home, then you're sure to love the look of blinds and curtains that have clean, sleek lines. Choosing a window treatment that creates a streamlined silhouette around your windows is a great way of creating a focal point in a room, and the right design can even enhance the size and shape of your window.
While you are searching for just the right panel for your space, don't be afraid to experiment with bold colours. We know from our previous post that bright-coloured curtains are one of the other current window treatment trends, and you can't go wrong incorporating lines and colour. Our Homespun Two-Tone Eyelet Curtain Panel strikes the right balance of colours and lines, and it comes in several colour variations. Likewise, our ready-made Eton Velvet Eyelet Curtains are available in four different colour patterns, making them the perfect addition to any room.
Don't Rule Out Interesting Patterns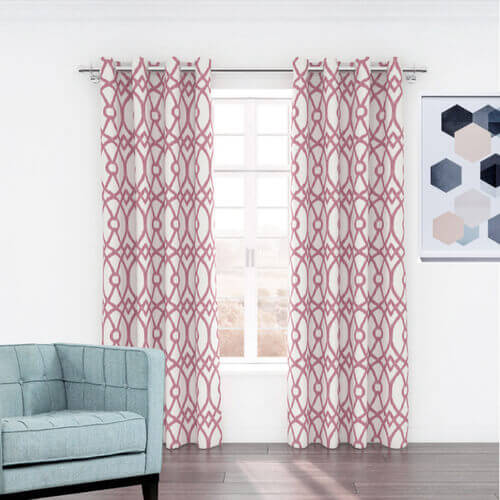 Window fashions come and go just as often as clothing fashions. One of the latest trends in curtains and blinds has been around for a while, and it's not likely to fall out of favour anytime soon. Similar to modern, sleek lines, window treatments that have unique patterns are a popular choice among homeowners. Patterned curtains inject instant visual appeal to a window covering, making them ideal for virtually every room in your home.
Looking for a curtain panel that offers a unique pattern and bold colour? Our Linda Eyelet Curtain fits the bill perfectly with its clean, crisp white background and bright pink geometric lines. For a window treatment that provides both visual interest and elegant warmth to a space, you can't go wrong with our Bristol Sheer Eyelet Panels. These curtain panels boast a unique linear pattern that is sure to provide an element of visual interest that you'll love.
Allergy-Friendly Materials
Traditional curtain panels allow homeowners to choose from a wide variety of colours, styles, and materials. Historically, roller blinds have not been considered as versatile as curtains, but they offer an excellent solution for those who have allergies. Choosing window treatments that provide you with a comfortable living environment will always be in style, and roller blinds offer a stylish window treatment solution to those who have severe allergies.
Because of the types of fabrics that they are made from, curtains have been known to collect contaminants from the air around them. The roller blinds that we sell at Quickfit Blinds & Curtains are all made with fabrics that resist dirt, dust, mold, and other allergens. Our roller blinds clean up quickly and easily, often just with a damp cloth and mild cleaning solution, allowing you to breathe easy as you kick back and relax.
Find the Latest Trends in Curtains and Blinds Online!
Are you ready to give your living room, bedroom, or any other room in your home a simple and affordable face lift? New window treatments can accomplish this task better than any other type of interior decor, and Quickfit is your go-to source for all the latest trends in curtains and blinds. From sheer panels and decorative curtains to energy-efficient blockout panels, we have all of the on-trend styles, colours, and materials you are looking for. What's more, we are happy to provide you with free fabric swatches and hassle-free returns on all ready-made items to make sure you have the most convenient shopping experience possible. Shop our expansive inventory to find your new window treatments online now!