How To Choose The Right Curtains For Your Dining Room
We're very vocal here at Quickfit about the importance of selecting your curtains and blinds based on the needs of your space over simply adhering to an interior design scheme. It can be all too easy for people to just fall in love with a pair of curtains and then go on to purchase sets of those curtains for each room in their home, only to realise that that same design might not work for specific spaces.
For instance, bathrooms are notorious for being seemingly easy to style, when in reality, you may find that your selected window coverings end up clashing with your bathroom fixtures, or the materials themselves don't mix well with moisture. The best bathroom curtains are generally monochromatic, come in muted or easy-to-style colours, and made of moisture-repellent or other sturdy materials.
And then of course, there's dining rooms! Many of us may not even think of curtains and blinds when designing a dining room. Most of us think about tables, chairs, buffets, and chandeliers when we think about dining rooms, but did you know that curtains are just as important? Amidst all of the furniture that normally fills the dining room, curtains add a touch of softness.
With one of the largest selections of curtains online, Quickfit Blinds & Curtains is here to help you choose the right curtains for your dining room.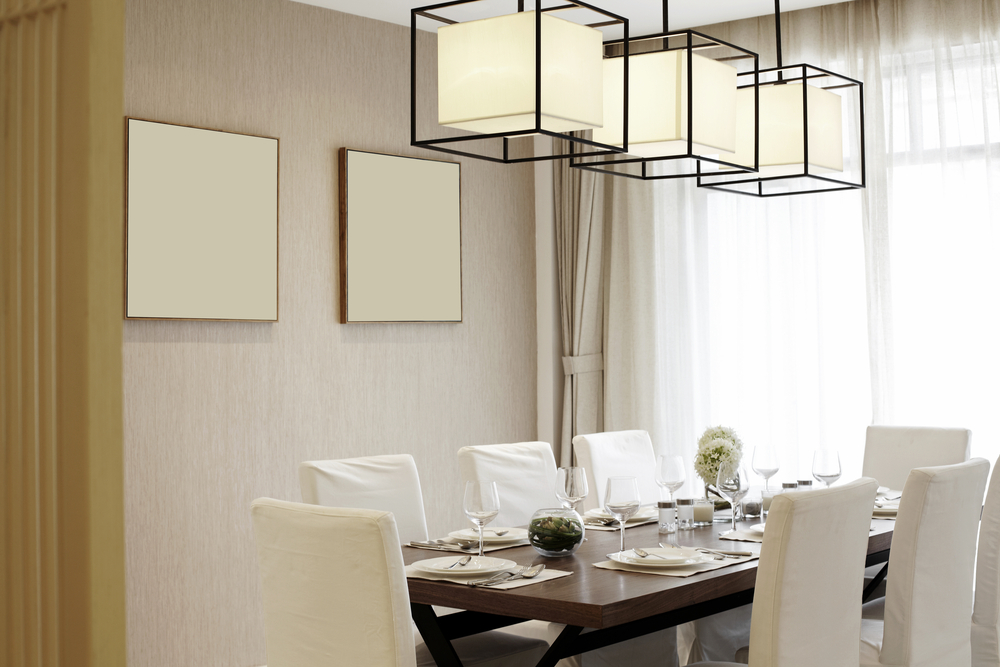 Curtains To Fit Your Dining Room Style
Firstly, you must consider the style of your dining room and what will and won't work. Like big, billowy curtains that pile on the floor? Maybe invest in an elegant set of extra long drop curtains. Want something more streamlined for a more tailored look? A stunningly suave set of pinch-pleat curtains may be just the ticket!
Be sure to look at a myriad of different curtain styles to make sure that your selected curtains or blinds fit in well with not just your dining room's overall interior style, but also the style of your tableware or table settings as well. That way, your Christmas and other family dinners are always bound to look superb in your family photo albums.
Purpose Makes Perfect
We touch upon the importance of considering the purpose of your window coverings when it came to selecting curtains for your master bedroom. Purpose is also just as important when it comes to selecting your dining room curtains or blinds. Are you looking for curtains or blinds that will adequately block out light? Or are you looking for more decorative window coverings, like cascading sheer curtains to act as a delicate backdrop for holiday photos? Do you want a mixture of both?
Asking yourself these questions will help you find the right window coverings for your dining room with minimal fuss.
Fabrics, Patterns, & Colours
A popular, yet traditional look for dining rooms is to use the same fabric for your window treatments, cushions, and tablecloth (if you're using one). However, you don't necessarily have to achieve this level of uniform interior design in order for your dining room space to feel both warm and luxurious.
Another option is to pull a colour from a piece of art or other decor in the room and use that. You also have the option to use curtains that have a pattern as a means of adding an extra dimension or added texture to your dining room set-up. Just make sure your interior design scheme all ties together in some way.
~
Remember, the key to a good interior design is balance. When you have a room with a lot of hard furniture, such as your dining room, adding a touch of softness with curtains is always a great idea. Ready to start looking for your dining room curtains online? Shop today and save!