Posted by Emily Wang on 6th Apr 2023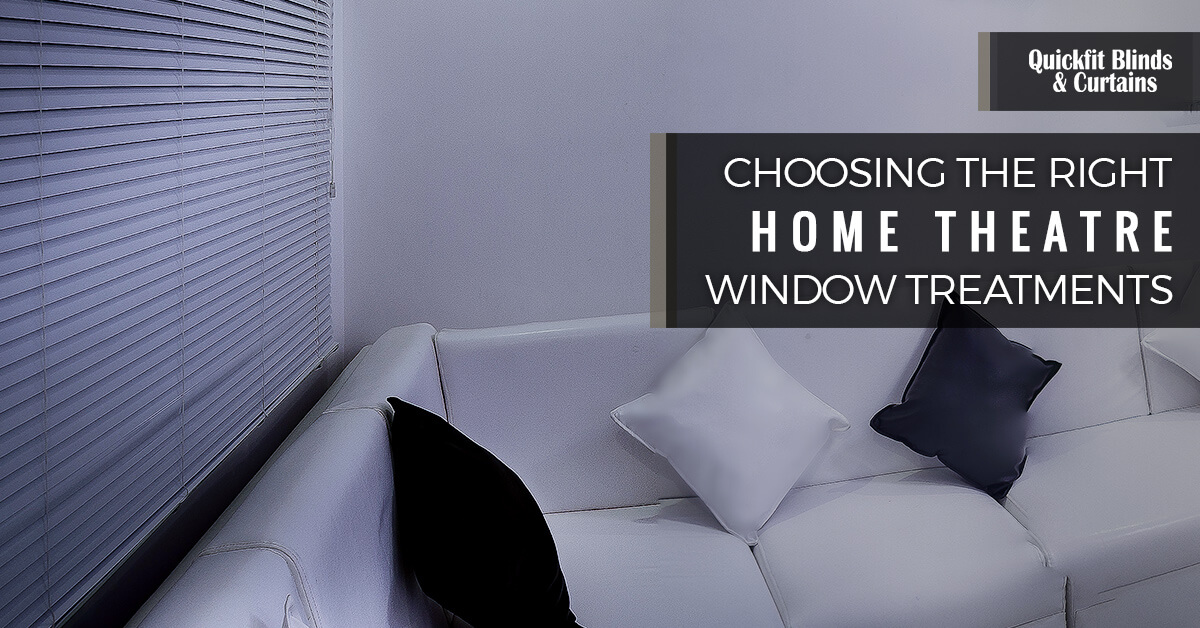 If you are thinking about building out a home theatre in your basement or another part of your Melbourne home, you might be feeling a little overwhelmed by all of the design choices you have to make. Window treatments for home theatre rooms are one of the most important factors to consider as you plan your entertainment space, and Quickfit Blinds & Curtains is here to help. We offer a wide variety of window coverings that are sure to put the perfect touch on your theatre room. Shop our entire selection online today to receive $9.95 flat-rate delivery on all ready-made items.
You have many options when it comes to window treatments for your new theatre. To help make your shopping experience easier, we will review a few of them in today's post. Read on to learn more about the various options available to you!
Window Treatments for Home Theatre Rooms
Nothing is worse than experiencing glare from an improperly covered window as you try to watch your favourite movie. The following window treatments reduce glare and are perfect for your home theatre room:
Blockout Roller Blinds
Because of their uniform surface, roller blinds provide a simple, clean-looking window treatment. Even better, when you purchase made-to-measure roller blinds from Quickfit Blinds & Curtains, you get the benefit of edge-to-edge coverage that is essential for blocking out any type of light from your windows. Featuring a premium metal chain and a heavy-duty top tube, the Aiken Blockout Roller Blind is an excellent, durable window covering for theatre rooms. Its acrylic coated fabric provides incomparable thermal protection and effectively blocks out sunlight to create the perfect environment for enjoying your new space. Because this style is available in three different colours (latte, white, black), you're sure to find the shade that suits your decor.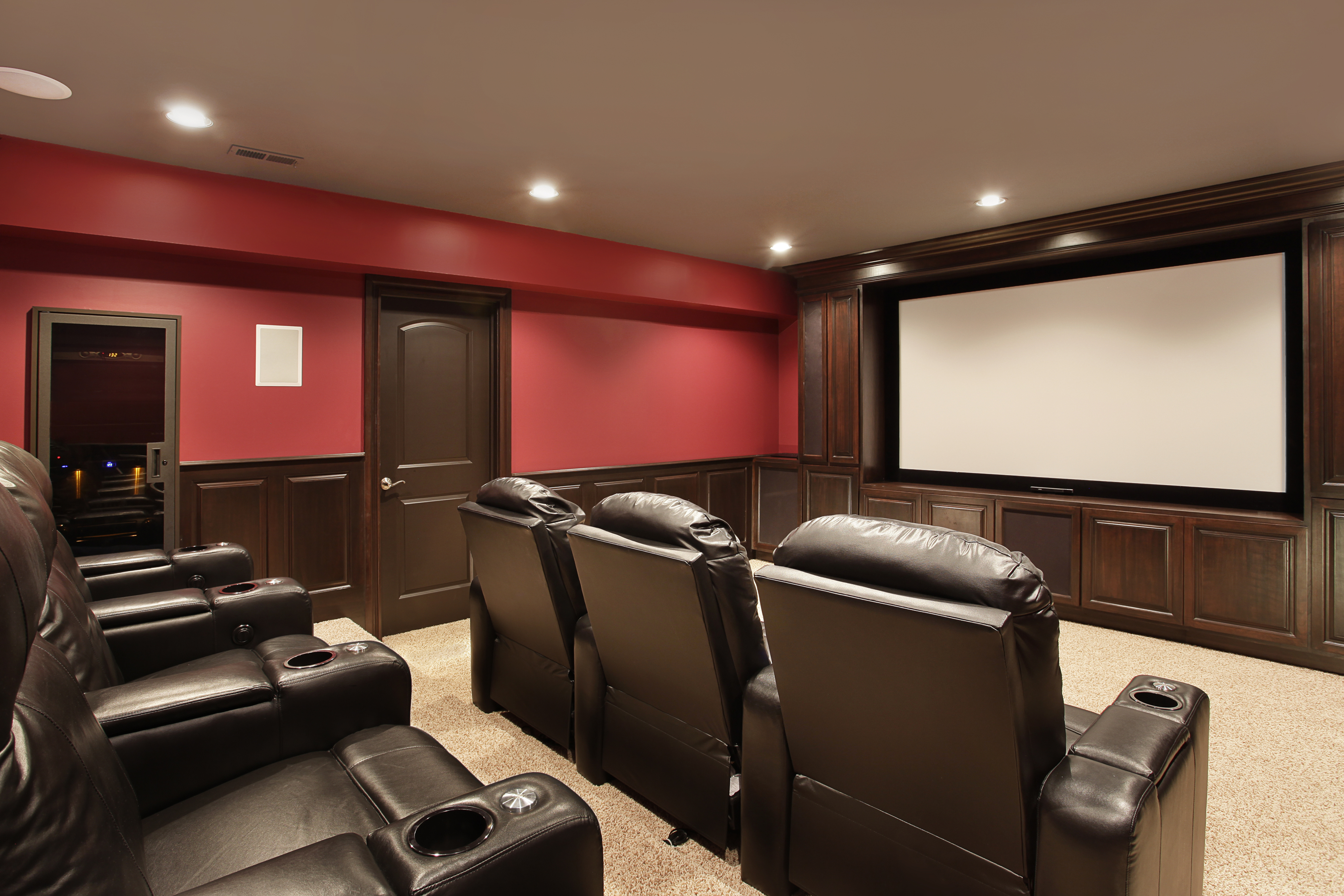 Blockout Curtains
If roller blinds don't suit your theatre's decor or if you prefer curtains over blinds, finding the right window covering for your entertainment space is easy. In addition to high-quality ready-made and custom roller blinds, Quickfit Blinds & Curtains proudly offers a wide variety of blockout curtains that make perfect home theatre curtains. Our blockout curtains come in two different varieties. If you would like to allow a slight amount of light in, our thermal-coated curtains feature one bonded layer of fabric to help regulate the temperature of your room. We also offer many blockout curtains that feature three bonded layers of fabric for 100 percent light-blocking coverage. Because all of our blockout curtains are machine washable, you'll enjoy the easy care and maintenance they offer.
Layered Window Treatments
When you think of a home theatre room, do you envision a space with plush carpeting, ornate decor, and opulent window coverings? Roller blinds and blockout curtains are very effective ways to avoid glare from the windows in your theatre room, however, when they are installed by themselves, some homeowners find them to be a little boring in terms of aesthetic appeal. In order to achieve a more lavish feeling in your entertainment space, it may be helpful to install a layered window treatment that combines roller blinds, blockout curtains, and other elements, like sheer curtains, to create a window treatment that is as functional as it is beautiful. The possibilities are endless in terms of colours and textures when you choose a layered treatment.
Other Home Theatre Considerations
Aside from your window treatments, there are a few other details to consider as you design the entertainment space that you have been dreaming about. Don't forget to weigh your options in terms of the following room features:
Lighting. Wall sconces and recessed lighting that is on a dimmer switch allows you to quickly and easily adjust the level of illumination in the room.
Seating. While you might enjoy your theatre room with your family a large majority of the time, be sure to choose adequate seating for the time you have guests over.
Audio and visual components. No home theatre is complete without a high-quality television or projector and well-planned speaker design.
Soundproofing. No matter which room your entertainment space is in, make sure it is well insulated to avoid disrupting occupants in other rooms of your home.
Decor. Movie posters, film reels, and other entertainment-related decor can be fun, but be careful to avoid introducing reflective surfaces into the room to reduce glare.
Shopping for Home Theatre Curtains and Blinds?
Are you tired of searching for home theatre curtains and other window treatments in Melbourne, Sydney, or any other part of Australia only to be disappointed by the lack of variety in local stores? Shop online with Quickfit Blinds & Curtains today to discover stylish and affordable light-blocking blinds and curtains for your new home theatre space. We gladly offer free fabric swatches and a no-hassle return policy to ensure you are 100 percent satisfied with your purchase. Visit our inspiration gallery and shop today!