Posted by Quickfit Blinds & Curtains on 5th Nov 2018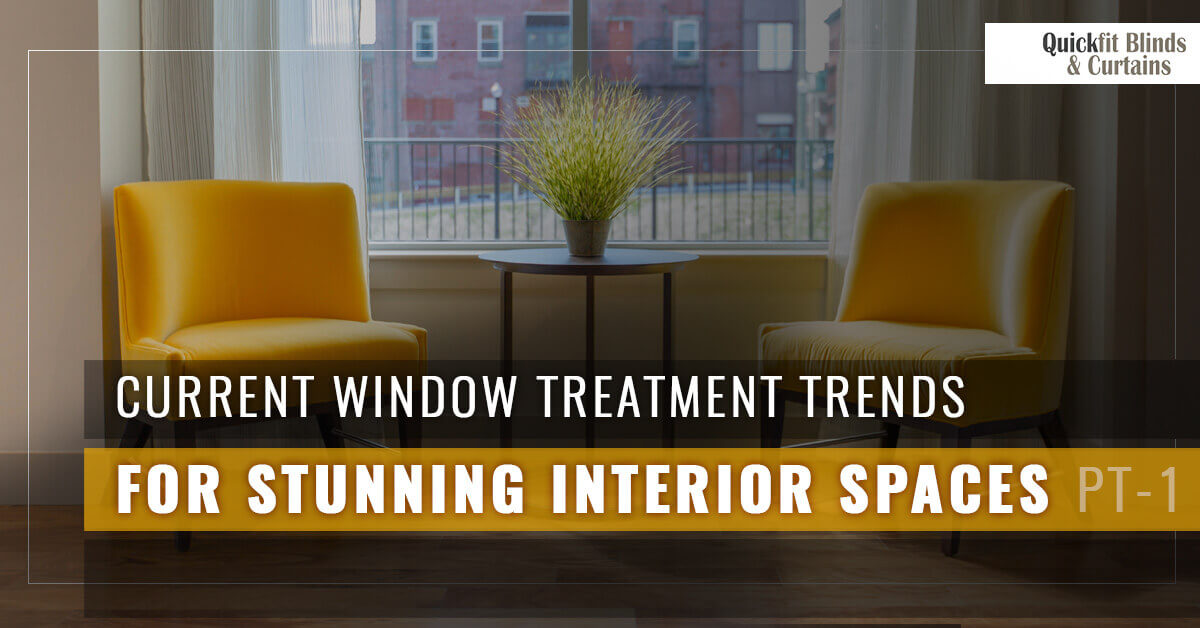 Not so long ago, we reviewed some of spring's most popular trends for curtains and blinds. While pastels, metallics, and a few new neutral shades are ideal for those who are searching for new window treatments right now, we thought we would cover current window treatment trends that are guaranteed to remain popular no matter when you are shopping for new window coverings. In part one of this series, we'll review how you can use your window treatments to create an incredible focal point, and we will discuss a few must-have materials and colours. Continue reading to learn more and then shop for affordable, on-trend window coverings with Quickfit Blinds & Curtains online!
Hot Trends in Window Treatments
Using Windows as a Focal Point
Different rooms serve different purposes, and what seems like an appropriate focal point for one room might not be so great for another. For example, in your family room, you may want your big-screen TV to be the focal point of the room. On the other hand, in your formal dining room, you probably want something a little more refined. One of the hottest design trends in the window treatment world right now is using your window as a focal point.
You might decide to flank the window in your formal dining room with a plush treatment complete with a pelmet and tie backs, or you might go for a more understated aesthetic in your living room. No matter which type of room you are buying blinds and curtains for, keep this in mind as you browse through various styles and colours and decide whether or not you would like to use your window as a focal point in the space.

Choosing Organic Materials
In the last decade or so, the world has come to love all things organic. We look for this phrase in the food we buy, and we love it when our cosmetics are organic. The idea of manufacturing all-natural items has even made its way into the clothing and home decor sector, contributing to the current window treatment trends related to choosing blinds and curtains that are made out of organic materials.
Naturally, this leaves you with a lot of options because there are many organic materials that make great window treatments. Linen, hemp, jute, and other natural fabrics look great, but they can be challenging to clean. If you are like most homeowners, you want your window treatments to be as easy to clean as possible. We offer several varieties and colours of linen-look curtains that provide a natural appearance that is easy to clean and maintain.
Incorporating Bold Colours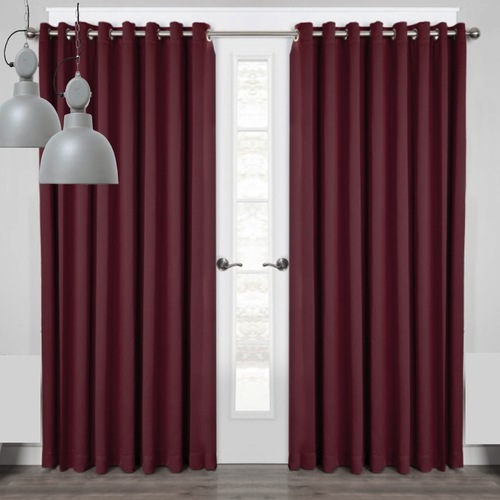 Neutral tones will always be in style, especially if you change your decor throughout the year to coordinate with the four seasons. However, in sharp contrast to greys, creams, and tans, bright, bold colours are making a name for themselves in current window treatment trends. Some home decor experts are even saying that blue is becoming a new neutral in terms of interior design, meaning that it pairs well with just about any other colour.
In addition to blue, there are several other popular colours that are becoming more and more popular. Jewel tones like ruby and emerald are sure to make a statement, as is a classic metallic gold. Searching for a rich, deep red curtain panel to add a bit of romance to your bedroom? Our Miami Eyelet Room-Darkening Curtain is sure to suit your needs. For delicate gold detail, nothing beats our Premium Jacquard Curtain with a gold scroll design.
Selecting Luxury Fabrics
In addition to using window treatments as a focal point, opting for organic materials, and playing around with bold colours, selecting luxurious fabrics is another popular design concept in current window treatment trends. Nothing adds a classic touch of elegance and warmth to a room like velvet, suede, and damask fabrics, and whether you prefer solid-colour panels or those with panels, these materials are undeniably sophisticated.
However, like organic materials, luxe fabrics require a little TLC when it comes to cleaning and maintaining them. If you don't have the time to commit to this task on a regular basis, then selecting window treatments that provide a similar appearance. Our Eyelet Thermal-Insulated Curtain features an elegantly embossed damask design to provide the look and feel of leather, but it is made out of 100% polyester fabric for easy cleaning.
Find All the Current Window Treatment Trends Online!
Creating a focal point with your window treatments, incorporating luxe fabrics like velvet, and experimenting with different colours are just a few ways to ensure that your window treatments provide you with both style and function. In part two of this series, we will review even more of the current window treatment trends that are sure to transform your interior spaces into places you love spending time. Check back soon, and in the meantime, shop for all of the latest trends in curtains and blinds online!