Posted by Quickfit Blinds & Curtains on 28th Feb 2019
Shopping for new curtains can be an exciting venture. After all, imagining how your new drapes will alter the appearance of your interior spaces can be fun, so much so that in all of the excitement of looking for new curtains, some customers forget all about the various accessories they need to complete their new window treatment. Thankfully, Quickfit Blinds & Curtains has all of the curtain rod accessories you need to create one-of-a-kind treatments that are sure to add beauty and elegance into any space in which they are installed. Be sure to check them out in our online store before you complete your purchase! In the meantime, let's take a look at a few must-have accessories that you will need to create stunning window treatments in your home.
Must-Have Curtain Rod Accessories
The Rod Itself
This might seem obvious, but you don't want to buy a new shower curtain set of curtain panels without buying a curtain rod on which to hang them! The curtain rod that you choose for your new treatment is just as important as the panels themselves because, without it, you won't be able to hang up your beautiful, new curtains.
A tension curtain rod is a must for your new shower curtain, as this type of rod allows you to securely suspend the rod in the opening of your shower. Our shower tension curtain rods extend from 70 centimetres to 120 centimetres, ensuring a snug fit for virtually all standard shower stalls. For bedroom curtains, you want a rod that is extendable and strong. Our Moderna Stainless Steel Curtain Rod is available in chrome and black and it extends from 80 centimetres to 300 centimetres, making it as durable as it is sleek and stylish. In addition to this style, we carry several other styles of curtain rods that are both extendable and available in chrome, matte black, or antique brass.
Brackets
In addition to the curtain rod, you want to be sure that you have the right brackets to securely mount the rod to the wall. Many of the rods that we sell at Quickfit Blinds & Curtains come with brackets included, but we understand that there may come a time when you just need brackets. We gladly offer chrome brackets in our online curtain store that are strong, durable, and affordable, and they can be used with rods up to 25 millimetres in diameter. Our brackets come in a three-pack and are a steal at only $8.95 per set.
Finials
In some rooms, a simple curtain rod with a traditional cap or ball-shaped finial will do. However, there are other rooms in your home that you might want to dress up a little bit more. Unique finials are a great, inexpensive way to add a tasteful touch of style to your window treatment, and Quickfit Blinds has a couple of unique finials in our online store. Our urn-shaped finials add a wonderful element of formality to window treatments in dining rooms, dens, and sitting rooms, and our square-ended finials work great for adding modern beauty to a window treatment. These finials are available in chrome, matte black, and antique brass to coordinate with the curtain rods we sell, and they are both less than $20 each.
Curtain Rings and Hooks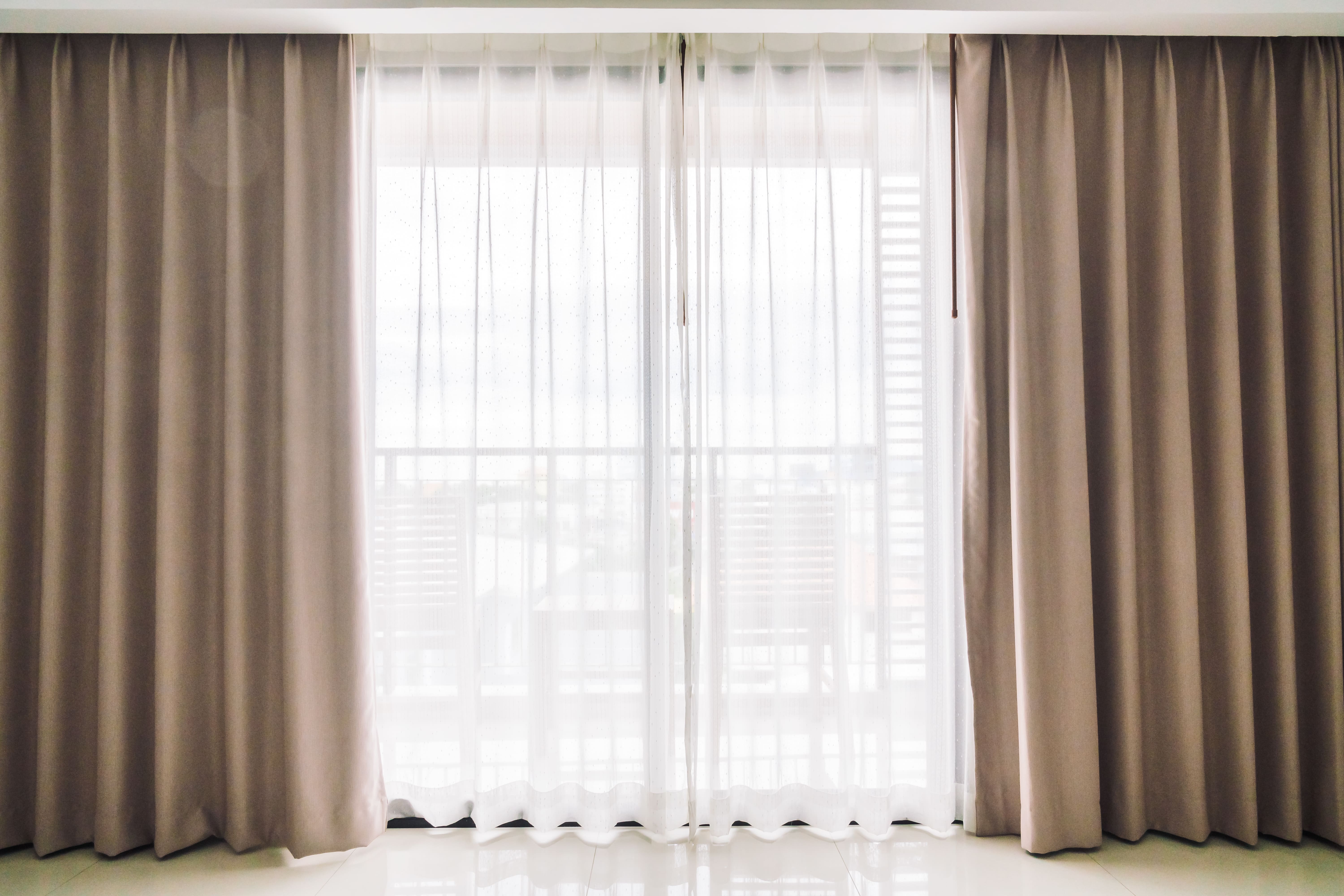 If you have purchased our blockout eyelet curtain panels, then you are in luck. The curtain rod for these curtains goes directly through the grommets at the top of the panel, eliminating the need for hooks or rings to hang the curtains. That is not to say that our pencil pleat, pinch pleat, and some of our sheer curtains are not equally as beautiful, they just require a different means of installation. As with all of our other curtain rod accessories, you can always count on Quickfit Blinds & Curtains to have the hooks and rings that you need to install your curtains, and we are just a phone call away if you need some help!
Hold Backs
Last but not least, don't forget to pick up a pair of stylish hold backs for your new curtains. These must-have accessories allow you to open your curtains and keep them open without having to worry about cumbersome ties or strings. We carry a couple of different sets of hold backs in our inventory, both of which are available in black or chrome to match your curtain rod and existing finishings in the room. You can't beat that!
Beautiful Affordable Curtains Online
Once you have found the perfect curtains for your home, don't forget to buy the curtain rod accessories that you will need to install your new window treatment. Not sure which accessories your particular window treatment will require? Don't worry! Our expert team is available seven days a week by phone to help you out. Simply give us a call at 0422574155 to speak with a helpful member of our team. As always, thank you for shopping Quickfit Blinds & Curtains for all of your curtains and curtain rod accessories — we appreciate your business!