Posted by Quickfit Blinds & Curtains on 22nd Dec 2018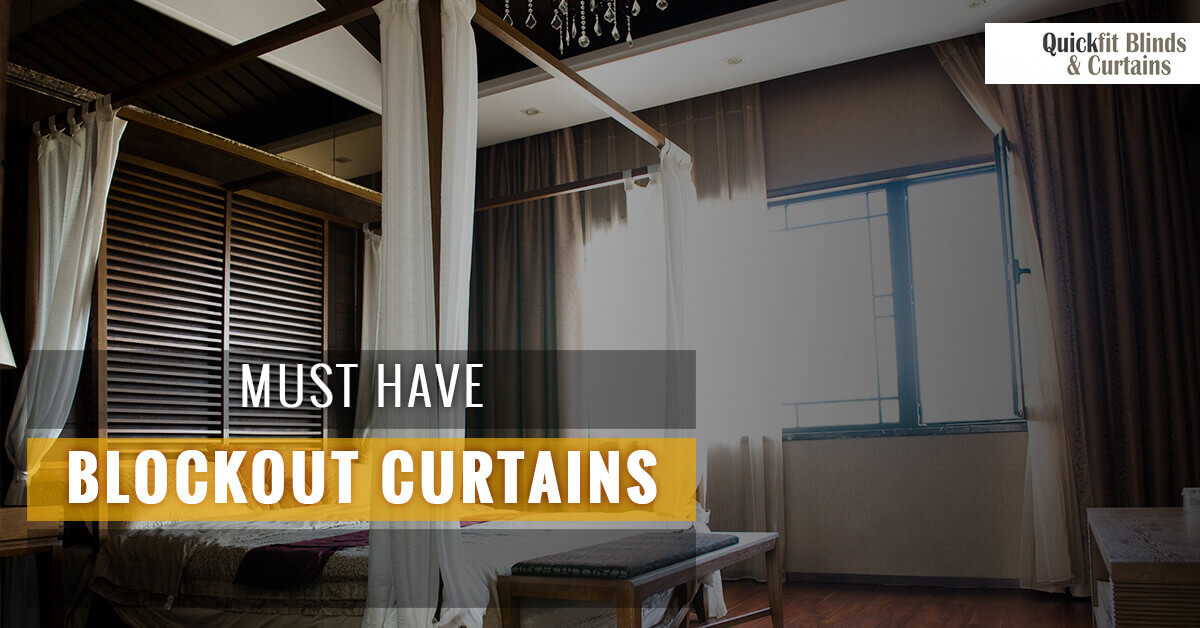 Once you have made the decision to hang new curtains in your home, the next factor you'll need to consider is what kind of curtain will best suit your needs. Sheer curtains offer classic elegance to any space, but they don't tend to provide very much privacy. Custom-made curtains offer incredible amounts of variety, but you might not need a made-to-order window treatment in every room of your home. Blockout curtains strike the right balance between form and function, and Quickfit Blinds & Curtains is your go-to source for stylish blockout curtains in Australia. Today, our curtain experts will review a few reasons why homeowners love blockout curtains and we'll highlight a few of our must-have styles. Read on to learn more!
Why Choose Blockout Curtains?
You might have heard your friends and family talking about their new blockout curtains and found yourself wondering what all the buzz is about. As it turns out, there is a lot to love about blockout curtains, including their:
Light exclusion. Do you love to sleep in, or do you work nights and sleep during the day? Blockout curtains exclude troublesome light from outdoors to almost completely darken your space.
Beauty. Many types of window treatments lend beauty and elegance to a space, but there is nothing like the opulent aesthetic that is created by a luxurious window treatment.
Versatility. Blockout curtains come in a wide variety of styles, colours, and fabrics to provide homeowners with a versatile window treatment that looks incredible in virtually any room.
Privacy. No other window treatment offers complete privacy like blockout curtains. Thanks to their multi-layer construction, you can rest assured that no one will see into your home at night.
Temperature regulation. True blockout curtains are made from three bonded layers of fabric. This durable construction makes it easy to maintain a comfortable temperature in your home all year long.
When combined with a pelmet, blockout curtains have the power to transform the even the brightest rooms into a dark haven that is ideal for sleeping and watching movies while enjoying unsurpassed privacy.

Stylish Blockout Curtains for Your Home
Now that we have reviewed a few of the features that make blockout curtains so great, let's take a look at a few of our hottest, must-have styles. At Quickfit Blinds & Curtains, we sell blockout curtain panels with three different header types: eyelet, pinch pleat, and pencil pleat.
The stainless steel eyelets at the top of these curtain panels make opening and closing your window treatment a breeze. Additionally, the eyelets are wide enough to accommodate virtually any curtain rod, allowing you to further customise the appearance of your treatment.
At $29.95 per panel, our Miami Eyelet Thermal Room Darkening Curtain is one of our most affordable eyelet panels, and it is available in burgundy, grey, and navy. What's more, the panels come in four different sizes so that you can choose the right size for your window opening. These thermal curtains are sure to keep your indoor space at a comfortable temperature while blocking out 90 to 95 percent of outdoor light, and they are made from soft draping, 100-percent easy-care polyester.
Looking for a good middle-of-the-road curtain panel that offers both thermal and light-blocking qualities? Our Arizona Blockout Eyelet Curtains fit the bill, and they come in four modern colours. These panels boast 40-millimetre stainless steel eyelets, a luxurious jacquard weave, and three layers of thermal foam coating to ensure your room is dark and comfortable when they are closed. Measuring 250 centimetres long, these panels complement long, tall windows like no other window treatment can.
Offering a contemporary, classic header style, nothing injects elegance into a room like pinch pleat blockout curtains. These curtains require curtain rings to install, so be sure to add some to your cart before you checkout.
If you are looking for a timeless pinch pleat blockout curtain for your home that blocks out 95 percent of outdoor light, our Bond Pinch Pleat Room Darkening Curtains are affordably priced at $79.95 per panel. These beautiful curtains are available in black, latte, eggshell, and charcoal, and four different sizes fit a wide variety of windows. They are made from plain-dyed, triple weave fire retardant fabric, and they are machine washable for easy care.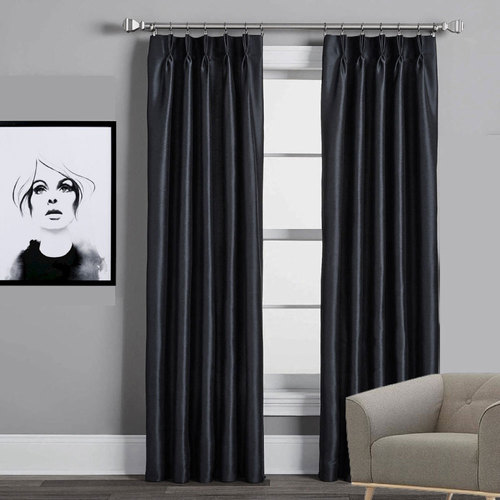 Our Villa Premium Blockout Pinch Pleat Curtains are ideal for those homeowners who want to add a little bit of glam to their interior design. This panel is available in vibrant navy, classic ivory, taupe, or black, and made from textured shantung fabric — a stunning silk fabric that exudes elegance. Blocking 100 percent of outdoor light and providing excellent thermal properties, this is an incredible, year-round window treatment to consider.
Similar to a pinch pleat header but with closer pleats, pencil pleat headers offer homeowners a timeless window treatment. This type of panel also requires hooks to hang, and you can easily add a package onto your order for just $9.95
Pencil pleat curtains are often the go-to choice for more formal rooms like dining rooms, libraries, and dens. Without a doubt, our Coast Blockout Pencil Pleat Curtain is a must-have addition to the formal rooms in your home thanks to its quality construction and luxurious shantung fabric. These panels offer complete light exclusion from outdoors, excellent thermal properties, and they are available in a wide variety of colours. Which will you choose?
Shop Affordable Blockout Curtains Online
The eyelet, pinch pleat, and pencil pleat blockout curtains we sell at Quickfit Blinds & Curtains are all made from high-quality material to provide you with a beautiful, long-lasting window treatment. No matter which style you choose, we are confident that you'll love the light exclusion and privacy they provide, and the energy efficiency they provide means a cool home in the summer and a warm home in the winter.
Ready to get started? Browse our incredible inventory online now. Not sure which style, fabric, or colour will best suit your needs? Request a free fabric swatch today!