Posted by Emily Wang on 6th Apr 2023
What curtains keep the warmth in your home during the cold winter months?
We always get asked which are the best curtains to buy to keep the heat in your home and reduce energy costs. So here are a few tips.
There are several types of what is known as "thermal" curtains or "Blockout Curtains". You can find a great selection of Blockout Curtains and Thermal Curtains here.
THERMAL WEAVE - Woven triple weave construction (Room Darkening).
These are curtains made from a polyester fabric that has been woven basically using a triple weave. There is a solid colour yarn woven on the top and bottom of the fabric with a black coloured yarn woven into the middle. This type of fabric has a soft drape and provides approximately 80% room darkening. It is the central black yarn that provides the room darkening or blockout properties. The thermal properties provided by this type of curtain are no greater than what you achieve using heavy weight fabric. They are good for darkening the room and will keep some heat in during winter and the sun out during summer. They also have colour on both sides which is not great as the outside colour absorbs the heat during summer and the curtains warm up. Ideally you would want the outside colour to be white to reflect the sun during summer. They are however better than no window coverings, have a nice soft drape and are the cheapest of the thermal curtains available. We rate these 7/10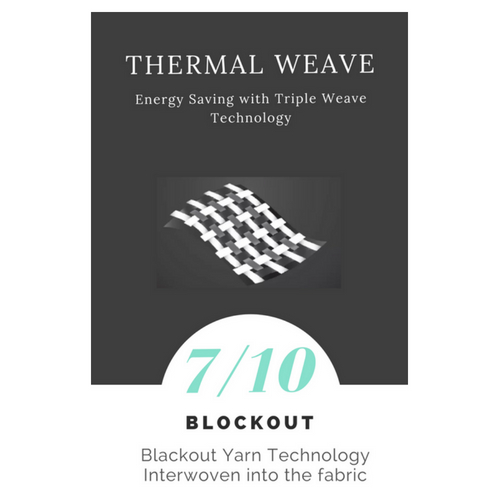 PITCH BLACK WOVEN TECHNOLOGY.
As technology has advanced the ability to weave fabrics using a triple weave technology has advanced and we can now weave quite fancy triple weave fabrics using a very tightly woven high density central yarn. The very tightly woven central or middle layer off yarn can now provide blockout, acoustic and thermal properties as effective as the traditional 3 pass foam coated fabrics. We rate these 10/10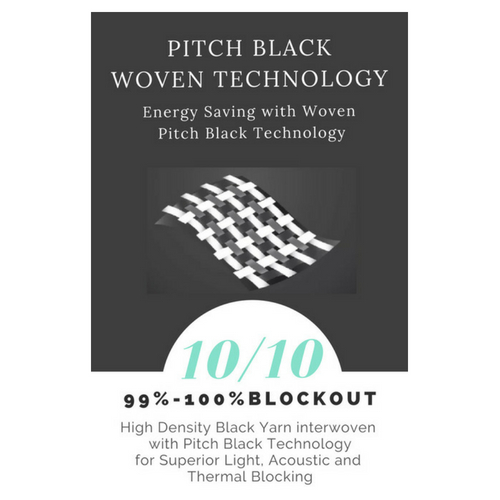 THERMAL LAYER / 3 Pass Foam Coated.
These curtains are among the best curtains on the market for keeping the warmth in during winter and the heat out during summer. They are made by putting a foam coated on the back of the woven fabric. The first layer applied is white, the second is black and the final layer is white. The black layer provides the room darkening properties and will blockout 100% of light. The white layers reflect the sun and stop heat absorption. Foam coated curtains are generally the most expensive on the market and will provide excellent thermal and energy savings in your home. We rate these 9/10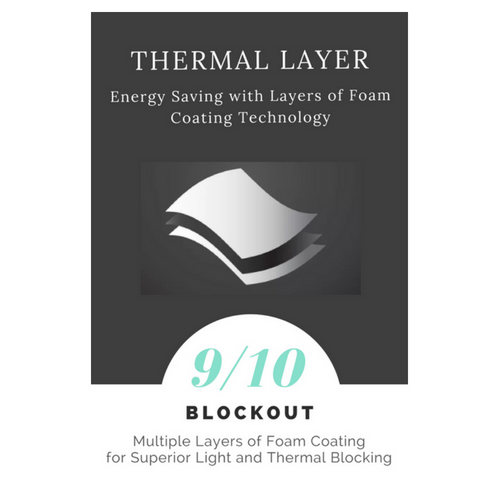 PITCH BLACK The Rolls Royce. These curtains are made in the same way as the 3 pass coated curtains. The difference is the quality of the foam coating. The traditional foam coating that provides excellent thermal and light blocking properties tends to be stiff. Todays fashion leans toward a more relaxed and soft flowing curtain so a more advanced coating has been developed. The new Pitch Black Coatings are thinner and more subtle whilst still having excellent thermal and light blocking effect. We rate these 10/10