Posted by Emily Wang on 6th Apr 2023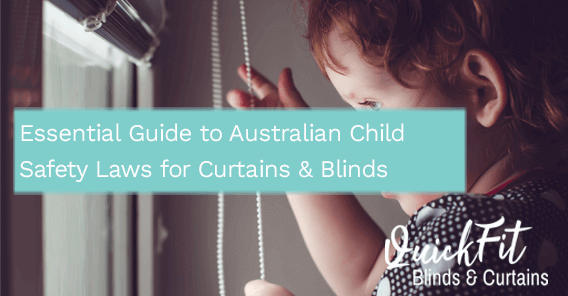 When you think of child safety hazards at home, your mind probably jumps to unfenced pools or knives in power outlets. Tragically, between one and two children die in Australian homes every year as a result of non-compliant corded blinds and curtains. Updating your tired and dated curtains and blinds is an exciting part of home renovation, but making sure they comply with Australian child safety laws is vital for keeping your family safe. That's why we've put together this essential guide to curtain and blind installation, including potential risks to watch out for and a guide to safe use.
National safety standards
In Australia, there are two national mandatory standards that apply to blind and curtain cord safety requirements. The mandatory standard for internal window coverings was declared in July 2010 and a separate regulation relating to installation services of window coverings came into effect in January 2015. These standards dictate the installation and labelling requirements suppliers must adhere to when selling and installing internal corded blinds and curtains. In fact, suppliers and installers who fail to comply with regulations could face prosecution and fines of up to $1.1 million. For more information on these standards, we suggest visiting the product safety page on the ACCC website.
Installation
The technician who installs your curtains or blinds should have a sound understanding of the safety requirements. However, it's always handing to be familiar with them yourself, particularly if you have young children in the house:
Corded blinds and curtains must be installed in a way that ensures a loose cord cannot form a loop 220 mm or longer at or less than 1,600 mm above floor level. This will help reduce the risk of a child getting tangled up and injuring themselves.
In addition to this, blinds and curtains must be installed in accordance with the installation instructions on any retail packaging for the covering. Not following the instructions could lead to the product coming loose or breaking. Having young children around is chaotic at times, and all it would take is a bump or stray toy to turn incorrectly installed curtains or blinds into a safety hazard.
Once the installation is complete, double-check tie-downs and tension devices are firmly fixed to the wall or window-frame so tiny hands are not able to remove them.
Labelling
It goes without saying that any warning labels or swing tags supplied with the corded blinds or curtains must not be removed. These provide essential information on how to use, handle and care for your new window furnishings.
During the installation process, the technician is required to attach a label to the curtains or blinds with the name and contact details of the person and/or company responsible for the installation.
Consumer Rights
Under Australian Consumer Law, you are entitled to certain information about any product you buy, specifically:
the way the product is made
what it contains
how it works
the tests it needs to pass
whether any warnings or instructions need to accompany it.
This is something to keep in mind when purchasing interior window furnishings. At QuickFit Blinds and Curtains, we believe in providing only the highest quality products to our customers. Having an understanding of the safety tests each product undergoes, its warning and instructions and even how its made gives you a better appreciation for the safety requirements and reduce the risk of accident or injury.
General Safety Tips
Making sure your new curtains or blinds are installed and labelled correctly is great to start to reduce any safety risks to your child. However, there are some additional safety tips to keep in mind:
Move furniture, cots and beds to beep blind and curtain cords out of children's reach, particularly those under six years old.
Every now then, do a walkthrough of your home and check for any blinds or curtains with long cords that are either loose or looped.
Accidental strangulation can happen very quickly, so never leave children alone in rooms where cords are unsecured if you're visiting someone's home, even for a short while.
Consider the furniture layout of each room - are there sofas, chairs, tables, shelves or bookcases near windows with corded blinds or curtains, or furniture that could easily be moved to a window?
Life, and kids, in particular, are unpredictable, but having an understanding of the basic Australian safety standards can help minimise the risk to your family. For more information on our products, feel free to browse our range online or give us a call on 0422584155 to speak to one of our friendly team members.
Disclaimer: The advice given in this article is general, and not meant to be a substitute for professional services/assistance in keeping your blinds and curtains safe for children and pets.