Posted by Quickfit Blinds & Curtains on 15th Mar 2018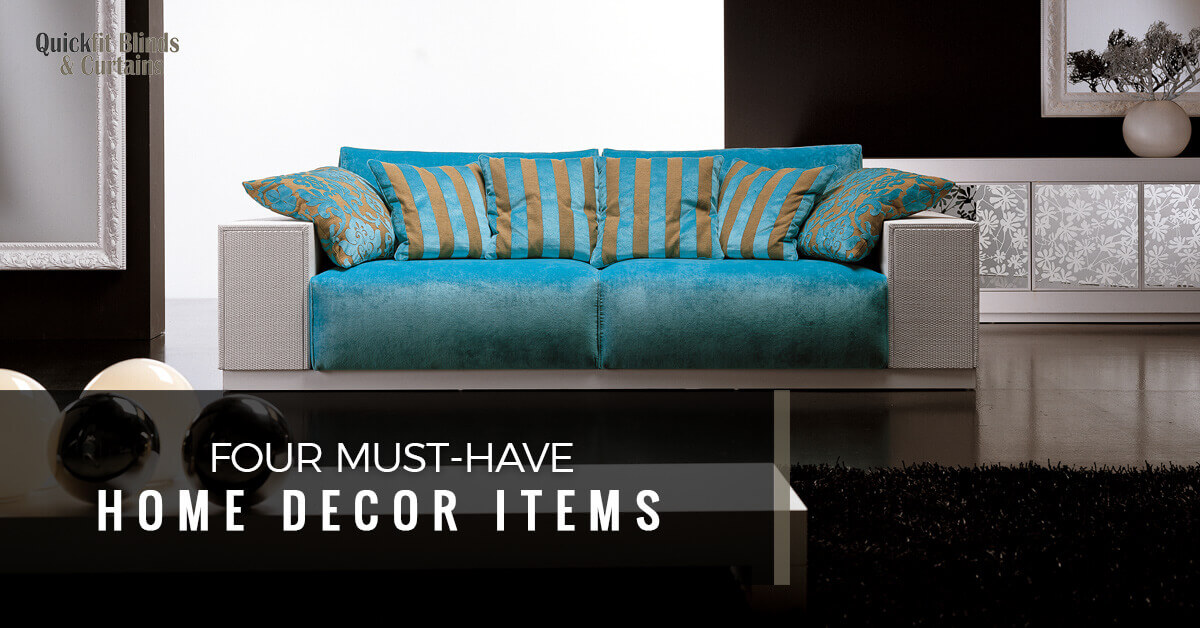 When you are considering various home decor ideas, it can be helpful to know what is currently trending in the world of interior design. It is not uncommon to feel slightly overwhelmed or in the dark if it has been a while since you changed up your interior spaces, and if you are ready for a change but uncertain how to get there, this post is for you. At Quickfit Blinds & Curtains, we specialise in creating made-to-measure window coverings and other fabric home decor goods, and we would love to help you achieve the custom look you have been searching for. Today, we will take a look at four essential interior design elements that are always in style, and we will review how you can turn your design dreams into a reality. Read on to learn more!
Essential Interior Design Elements
Stylish Shower Curtains
In the last couple of decades, bathrooms have transitioned from utilitarian spaces to spa-like retreats. As such, people are beginning to take their bathroom decor approach a little more seriously than they used to. No matter how big or small your bathroom is, there is no better way to inject some style and elegance into the space than with a stylish shower curtain. You'll never go wrong with a black and white damask shower curtain in your bathroom, as this pattern exudes opulence and sophistication. If you're more of a purist and prefer a solid-coloured shower curtain over a patterned one, you'll find several to choose from in our online inventory, and many of them come with coordinating decorative hooks.
Airy Bed Canopies
Some people may not consider a bed canopy to be an essential interior design element, but we'd beg to differ. If you have ever had the pleasure of having a luxurious bed canopy or mosquito screen hung over your bed, you understand the romantic, resort-like feel these unique hangings can lend to a room. When installed in a child's bedroom, bed canopies add a creative and fun element to the space that can be difficult to achieve with traditional bedroom decor like lamps, shelving, and wall hangings. Whether you have a single-, double-, queen-, or king-sized bed, you're sure to find a bed canopy that suits your needs and your budget when you shop with Quickfit Blinds & Curtains.
Stunning Window Coverings
Have you ever had the unpleasant experience of moving into a new home that had not yet had window treatments installed? If so, you may recall the empty and bland appearance of the walls and windows. Having the right blinds, curtains, and shades in a room is essential to creating the look and feel you desire, but choosing the right ones can be tricky. In bedrooms, blockout eyelet curtains are always on-trend and you can find a wide variety of them in our expansive inventory of curtains online. For the ultimate in custom home decor, many reputable curtain distributors allow you to design custom curtains that are specifically made to your design specifications, needs, and measurements.
Gorgeous Cushions and Throw Pillows
If you're struggling to come up with creative home decor ideas, it might help to start out small. Sometimes, all it takes is a few minor changes in your living room, bedroom, or den to have a major impact on the overall style of the space. For those homeowners who like to change out their decor with the season, for various holidays, or whenever the fancy to do so strikes them, incorporating decorative pillows and cushion covers is an easy and affordable way to add colour and personality to a room. No matter what your design preference is, you're sure to find a fun and colourful cushion to complement your existing decor when you shop with Quickfit Blinds & Curtains — from bold patterns to botanical-themed cushions, you'll find them all right here!
Home Decor Ideas Online
If you'd like to incorporate any of these home decor ideas into your Australia or New Zealand home, Quickfit Blinds & Curtains has you covered! While we specialise in custom window treatments, we also offer a wide variety of interior design products that are sure to put the perfect finishing touch on any room in your home, including your bathroom, bedroom, and living room. We offer free fabric swatches for the convenience of our customers, and with $9.95 flat-rate shipping on all ready-made items, the value of our merchandise simply can't be beat. Shop for your home decor essentials today!