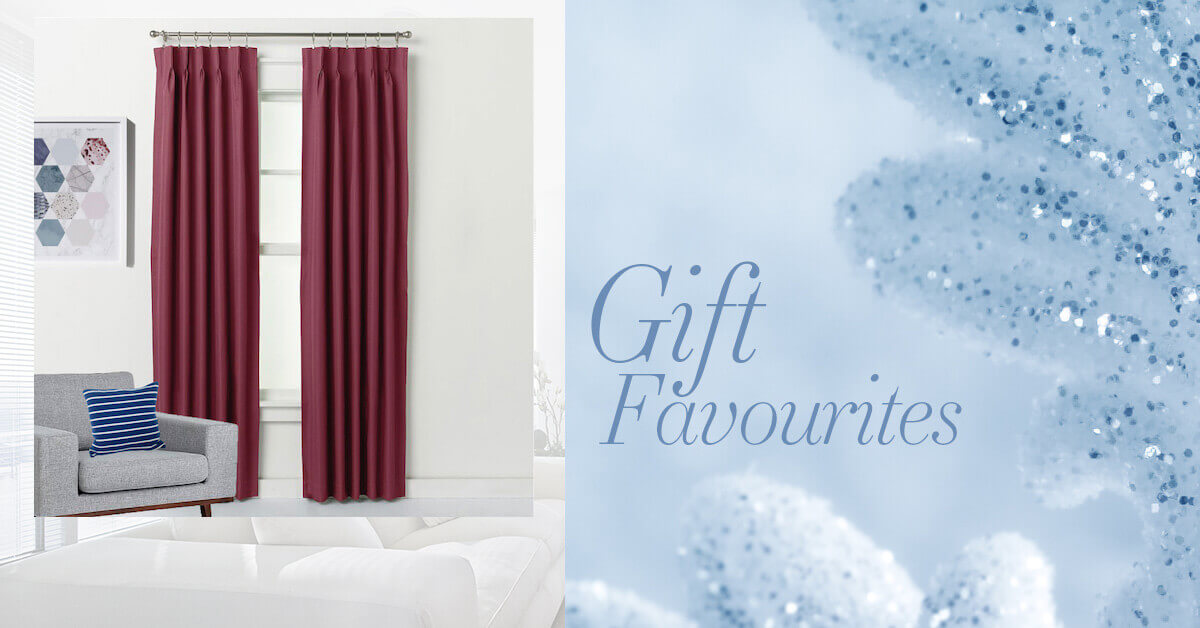 The Holiday Season is upon us! Joyful wishes to you and your loved ones. This season is one for giving, which is why people are always shopping and searching for the perfect gift to give. There are so many choices for the perfect gift, and it all comes down to the person for whom you are buying. Do you have someone on your list who loves his or her home? We sure know a few! If you do too, then you may enjoy shopping through our home decor, curtains, and blinds online. If you are interested in saving a few bucks, check out our discount section for our fast sellers.
Holiday Gift Favourites For Around The House
Window Treatments
Our favourite products here at Quickfit are our blinds and curtains. We believe windows are a light source for the home, a place that brings the natural world inside the home. We also love the simplicity of textiles and the way they can decorate windows without taking away the purpose of the window itself.
Blinds
Help your gift recipient enjoy their living space that much more with the addition of roller blinds this Holiday Season. Not only are roller blinds the best trending window treatment, but they are the subject of many new tech advances. There are apps that can control roller blinds, which make it easier on the user and help with energy efficiency by raising and lowering the blinds at different times of day. Unfortunately, you cannot buy the tech pieces here, but we can fit you with the blinds to get this great, modern gift along its way.
Curtains
The beautiful fabric that drapes over windows and blinds can perfectly complement the home. Whether your gift recipient has a light and delicate style or a bold and bright one, you will find a great selection of curtain panels online at Quickfit. There are sheer styles, blockout styles, and trendy coloured styles. At Quickfit, you can buy ready-made panels of certain sizes or you can create custom, made-to-measure panels that will perfectly fit the window. Shop through our discounted curtain panels to find affordable choices that are still made with high quality and TLC.
Home Decorations
We also love the beauty of interior design. Add some fun decoration pieces to your home or to your friends' and families' homes with these cushion covers, bed canopies, or shower curtains.
Cushion Covers
One of our specialty home decorations is a couch or bed decorative cushion. From Scandinavian Coloured Cushion Covers to beautifully dyed Shibori covers, you will surely find a beautiful piece to gift to your interior designer friends and family.
Bed Canopies
Make your little girl feel like a princess with a beautiful pink bed canopy, or protect your anopheliphobic family member from disruptive sleep with a handy mosquito net.
Shower Curtains
Spice up the bathroom by gifting one of these fun patterned shower curtains. A shower curtain may seem like an off-kilter gift, but it is one your recipient will use each and every day (hopefully!).
Give them something unique that they will truly love when you shop online for blinds, curtains, and other home decorations at Quickfit.