Posted by QuickFit Blinds & Curtains on 5th Nov 2021
Interior design is quite a fickle discipline. Trends can change without a moment's notice, leaving high-concept interiors that were once in the zeitgeist, looking sorely outdated. The past two decades in particular, have seen a myriad of modern and period-inspired interior design styles come and go, including colour block interiors.
The enduring concern for DIY interior designers is that they don't have the means to create truly timeless interior spaces for their homes. You'll be surprised to hear, however, that this isn't necessarily the case. Expansive styles like the Bohemian or 'boho' style of interior design, allow DIY designers to make a space truly their own whilst still adhering to a pre-existing design style. There's a lot that can be said about the singularity and simultaneous versatility of the boho style, which is precisely why our team of designers here at Quickfit have been working at expanding our own selection of boho curtains and window coverings.
Want to know all that you'll need to consider when looking to introduce the beauty of the boho style into your home? Read on for our little guide to attaining truly timeless boho interiors.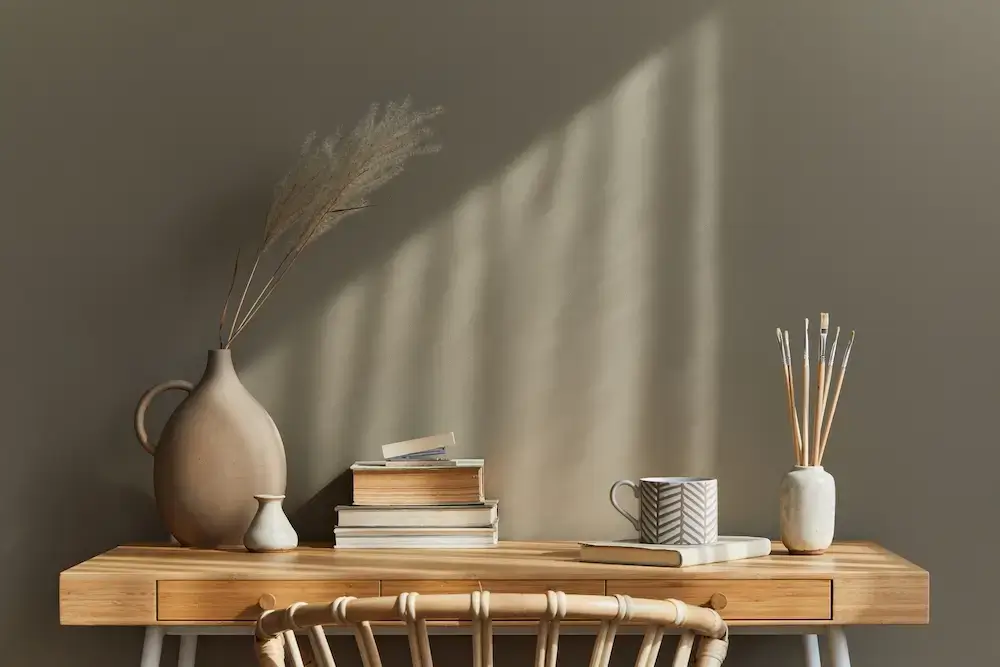 The magic of designing with natural materials
One of the defining characteristics of the boho interior design style is its respect for and use of natural materials. As the Bohemian style is all about connecting with the earth and the many communities, cultures and societies that occupy it, it's common for accents and decor in boho spaces to be made of natural materials like cotton, leather, jute, and organic linen, to name a few. Wall hangings like ornate woven tapestries feel quite at home next to other textured natural elements, like woven rugs, cushions, throws, and boho curtains like our 100% linen curtains. These fabric accents can provide softness and colour to your spaces, helping add contrast against harder pieces of timber or wicker furniture.
Upon introducing these natural materials into your home, you'll find that the atmosphere of your home will lift almost effortlessly. Using linen or hemp curtains will also add to this elevation, alongside also boosting your home's overall natural light availability. But how does this work? This is primarily because incorporating natural materials into your interior design scheme will help cultivate and support a sense of balance between your home's interiors and the outside world, the world around you. It's not just the use of cultural accents that make boho interiors feel worldly!
Creating flexible interiors with neutral tones
One perturbation you may have with the boho style is how visually noisy boho spaces tend to be. It can be tricky to maintain balance in interiors that use bohemian elements, especially if those elements come from different corners of the world. As the boho style tends to be a hodgepodge of different colours, patterns and textures from across the world, the best way of ensuring that you can easily maintain balance when styling your interiors is to keep the concrete elements of your interior space as neutral as possible. By concrete elements, we of course mean large pieces of furniture that are unlikely to be swapped out with the seasons. Even swapping out your patterned curtains for more muted, neutral tone curtains can help here, but you should also feel free to mix and match your window coverings as you please as well!
Neutral tones are also coming back in vogue in a major way due to their versatility above anything else. Natural colours like ash, sage, olive, oatmeal, and taupe, are incredibly easy to style, and can feel right at home even with the changing of the seasons. These neutral colours can also ensure that when any accents are removed, your interior space can bounce back and maintain its sense of balance and cohesion with minimal fuss.
If you feel that your boho curtains may not work in one specific room, it may be because the decor or accents in that interior space are also rather bohemian, but with a largely alternative look and feel to the style of your curtains. This is why having some sets of natural look curtains is essential for any DIY interior designer looking to create and maintain an ever-evolving Bohemian-inspired space.
Balancing care-free and functionality in boho inspired interiors
Finally, just because a room has been designed with boho elements, doesn't mean that that room can't also boast optimal functionality. Boho spaces are generally defined by their eclectic arrangement and use of decor, but the foundations of any boho space are still more than capable of being any kind of interior space within your home. For example, it's growing increasingly common for parents to use boho elements when designing their first nursery room. The emphasis on diversity in colours and textures of the boho design style actually makes for some highly detailed, sensory, and airy nursery rooms.
Alongside providing your baby with much visual and textural enrichment, boho nursery spaces are also a great way of keeping your nursery room gender-neutral. Stereotypical gender-neutral colourscapes like ivory walls with white clouds, are being swapped out for neutral tone walls with a vibrant array of posters, landscape art, and tapestries. Some parents are even adding texture window coverings like shabby chic curtains layered underneath their indispensable versatile nursery blockout curtains to further boost the overall textured feel of their nursery space.
As you can see, creating enriching boho interiors is really all about ensuring that your interiors have a solid enough foundation to allow your boho accents and decor to really come to life. Shop our selection of boho curtains at Quickfit today, and get ready to craft boho interiors that are unique to you and your tastes.
Be sure to also have a look at all of the gorgeous neutral and natural look curtains and blinds we have available too, to ensure that your boho interiors are well-equipped to be truly timeless.