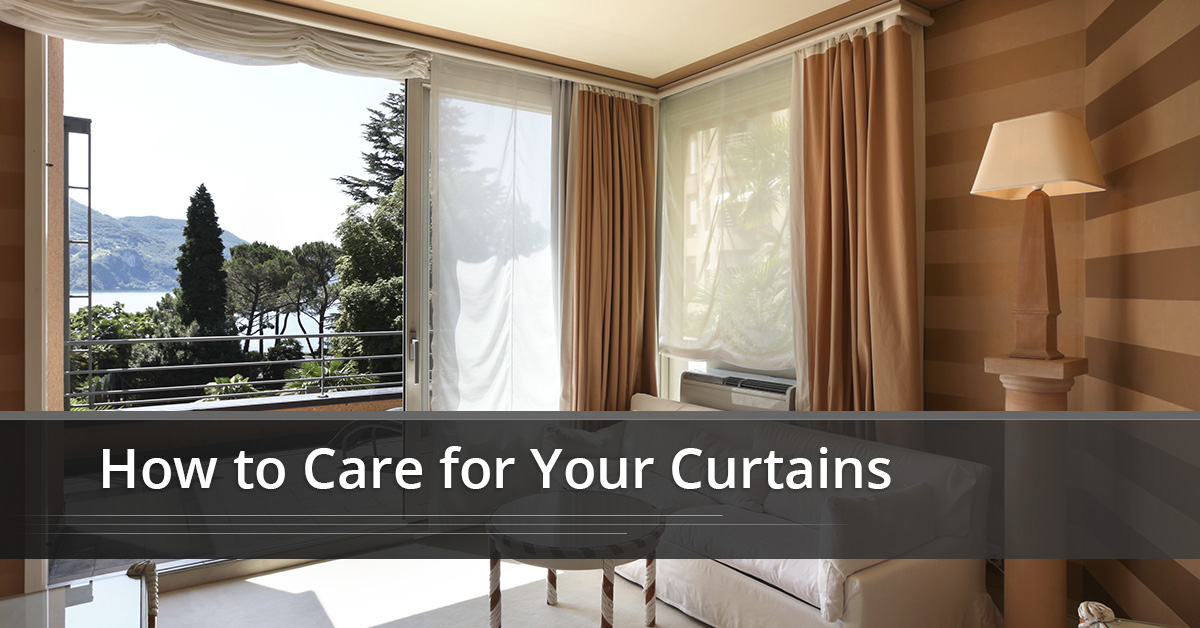 Just like everything else in your home, the better you care for your curtains, the longer they are going to last. Curtains are an investment in the comfort, security, and style of your home and when you treat them right, you could end up enjoying them for decades to come. The key is proper care and maintenance. Here are some of our tips for caring for the curtains you buy online from Quickfit.

Curtain Care Tips
Protect them from the sun.
You might think it's odd that you need to protect your curtains from the sun; after all, isn't their job to protect you from the sun? Well, yes. But too much sunlight on your curtains can end up fading them and weakening the fabric. That's going to age your curtains much more quickly and you'll end up replacing them sooner than you expected. You can protect your curtains from the sun by using slat or roller blinds behind them or making sure your curtains are lined in a blockout fabric.
Give them a gentle shake daily.
Before you go to bed each night or when you wake up in the mornings, give your curtains a gentle shake out. This will prevent any dirt or dust from settle on them and wearing away at the fibres of the fabric. It will also help prevent unwanted creases or pleats in the fabric.
Let them enjoy the breeze.
To keep nasty smells from accumulating in the fabric of your curtains, open the windows and let the breeze blow through them periodically. This will freshen them up and help prevent odours.
Vacuum them weekly.
Using a soft brush attachment on your vacuum, go over your curtains about once a week. This will help remove any dust that has built up and refresh the fabric. Don't over vacuum them, though, or you could run the risk of damaging the fibres.
Wash them every few months.
If your curtains are machine washable (see below), then wash them per the care instructions on their label or on the gentle, cold cycle. You can treat any stains with a spot remover, but be sure to test the product in an inconspicuous corner of the curtains first.
Dry them completely.
Make sure that your curtains are totally dry before you hang them back up. Hanging them when they are still damp can cause them to stretch out of shape or to be damaged by the hardware you are using to hang them up. Hanging them up to dry is better than putting them in the dryer, and in a place where there is a breeze is best. If you have to put them in the dryer, do it on the lowest heat setting possible and remove them as soon as they are dry.
Iron them before rehanging.
It's a good idea to go over your curtains with an iron before you hang them back up. Iron them on the reverse side, being sure to get out any creases caused by the cleaning process. This will help them look as good as new when you hang them back up in your windows!
Are Your Curtains Machine Washable?
Don't wash your curtains if they...
Aren't labelled as machine washable.
Have embellishments in them, such as sequins, fringe, buttons or bows.
Have pleats that won't hold their shape after being washed.
Are very old.
If this sounds like your curtains, simply spot treat the fabric as needed and vacuum occasionally to prevent dirt from building up in the fibres. If your curtains need a more thorough cleaning, you can take them to your local dry cleaner for treatment. Many curtains can also be hand washed in your sink or bathtub, then thoroughly dried and rehung.
Have Questions About Curtain Care?
Our team is happy to help you find answers to your most pressing curtain care questions. You can find a lot of care information on our website but if you are still stumped, feel free to reach out to us via email and we'll try to find you the information that you need.
Ready to order your curtains online? Quickfit has a huge selection of ready made and made-to-order curtains perfect for every room in your room. Browse our selection and get the curtains you need today!