Posted by Quickfit Blinds & Curtains on 2nd Mar 2021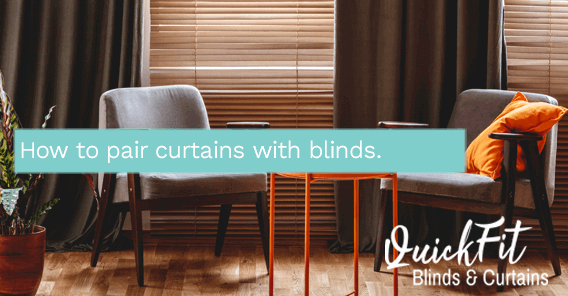 When searching for the perfect window finishing, you don't need to settle for either curtains or blinds - combining the two in one room can make a bold and chic statement. With so many colours, material and style options for blinds and curtains, pairing them together might seem a bit intimidating. But it's easier than you think! We've put together this simple guide on do's and don'ts of pairing curtains with blinds so you can feel confident in your style choices. Don't miss out on this unique interior decor opportunity - keeping reading to have all your questions answered.
Make your selection
When matching curtains and blinds together, it's important to select your blinds first. Curtains offer more flexibility in terms of design, pattern and fabrics, so it's easier to match them with the blind you've selected for the space. Some popular blind choices include roller blinds and venetian blinds as they provide a basic, solid block of colour to work with. It's important that select a colour you see potential with; for example, pale blue blinds will work best with curtains in a similar cool tone colour scheme. Want to know more about colour matching? Check our Ultimate Guide to Matching Your Curtain Colours With Your Couch or Sofa.
Avoid clashing prints
Adding curtains or blinds with a pattern can be a great way to add a touch of artistic flair to a room. However, one of the cardinal rules of pairing curtains with blinds is to avoid matching prints with prints. Combining the two on both curtains and blinds can overwhelm the room and make the space look smaller and potentially cramped. Therefore, the ideal combination of curtains and blinds is a solid colour and a pattern.
Bigger is better
One of the key advantages of pairing curtains with blinds is the ability to change the perception of the size of your windows. For example, your Quickfit Blinds & Curtains technician can install roman shades a few inches below the ceiling to change the height perception then mantle the curtain rod at the same level as the blinds but extend it 30 to 60cm beyond the window. The end result is a standard-sized window that now looks much taller than it is. This perfect if you're looking to make a smaller room feel more spacious.
Don't be afraid to accessorise
When it comes to pairing blinds and curtains, you shouldn't be afraid to accessorise with embellishments like pelmets, tiebacks or trims. However, similar to the rule of prints, be sure not to go overboard. For tips on blind and curtain accessories, take a look at our Beginner's Guide To Curtain Tassels, Trims, Pelmets And Tiebacks. It's also important to note that accessories match the overall 'feel' of your curtains and blinds. For example, curtains with beaded tassels would clash with natural timber blinds.
Avoid matching too much
While it's important that the curtains and blinds match, there is such a thing as matching too much. If you're adding or updating window furnishings throughout your house, it can be tempting to go with the same pattern and colour for every room - but this can make the style of each room feel disjointed. So when pairing curtains and blinds together, make sure you play around with the different design options. Avoiding the same curtains and blinds throughout the house also allows you to play with the natural light options in every room and create different atmospheres.
Create a cosy atmosphere
Curtains and blinds are the standout feature of any room and therefore are an essential part of creating an atmosphere. The style and fabric you choose will have a direct impact on the mood that's created. If you're aiming for a warm and cosy vibe, try layering curtains over the blinds. For example, roman style blinds with linen or block out fabric make the perfect base layer. Alternatively, you could pair sheer blinds without a heavy sheen, or metallic threading with timber blinds for a more relaxed look.
When done right, pairing curtains and blinds are a fantastic way to give life to your interior decor vision, and Quick Blinds & Curtains has the range of style, fabrics and accessories to get you there. Need some help finding the perfect pair of curtains and blinds? Don't hesitate to reach out to us at 0422584155. One of our expert team members will be ready and willing to help you find your perfect match!