Posted by Emily Wang on 27th Apr 2022
Roller blinds are a fantastic asset to any household. This particular type of window covering can be a highly effective form of light and temperature control for Australian households when they're installed correctly and handled sensibly.
What tends to scare many people away from investing in roller blinds, however, are the intricate components used in their installation. Even though the components that come with your roller blinds may seem overwhelming at first glance, they are actually fairly simple to interact with, making standard roller blinds just as easy to install as eyelet curtains.
That being said, learning how to take down roller blinds isn't the same as learning how to install them. If you are a little unclear on how best to remove your roller blinds, then the following step-by-step guide may be just the resource for you!
Read on to help demystify the process of safely and securely uninstalling your roller blinds at home.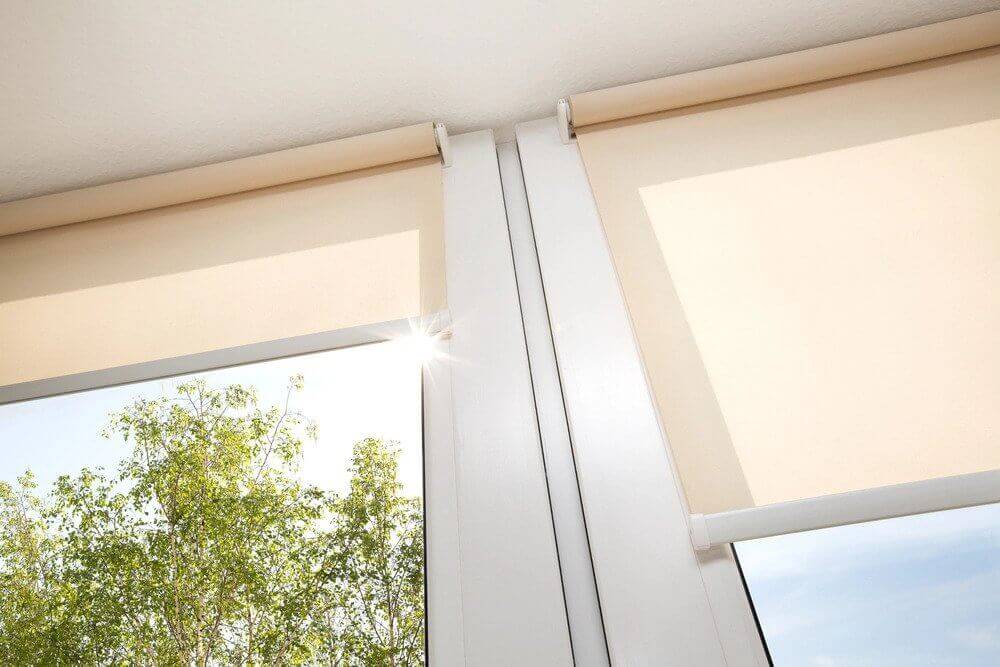 Step 1 - Prepare the blinds for removal
The best way to remove your roller blinds is by rolling them all the way up, just to make sure that none of the blind panel gets in the way during the removal process. Simply pull your blind chain until as much of your blind panel is pulled into your blind's spool as possible.
Once this has been completed, remove any safety clips for your blind chain by using a screwdriver. If you don't have any safety clips, then move on to Step 2.
Step 2 - Locate and open the clamp on your blind's brackets
The safety clamps on your blind's brackets help keep your blind spool firmly in place when placing force on your blind chain or on the blind itself. It's only by opening or loosening the clamp on your blind's brackets that your blind panel will be able to be removed from the bracket itself.
Your blind's safety clamps should be fairly easy to find, as they're generally the only moveable component that's located on your blind's brackets. Look for a round or C-shaped clamp on either side of your blind spool, and then turn this clamp until you hear an audible click or a loosening of your blind spool, depending on the modernity of your roller blind panel.
Step 3 - Lift the blind panel out of both brackets
Learning how to remove your roller blinds from their bracket may take a little fidgeting, especially if you didn't install the blind panels yourself in the first place. Once you have successfully opened and removed your blind's safety clamps, however, all that you'll need to do in order to remove the blind spool from the brackets on either side is to simply lift the blind panel up and out of its position between your blind's brackets.
Once this has been achieved, hold your blind panel firmly in one hand to minimise risks of the spool loosening. It is especially important to hold the blind spool securely in one hand if you're descending a stepladder at this point in order to place your blind panel on the floor before continuing on to Step 4. Keeping your second hand free will provide you with three points of contact when descending your stepladder, which will help reduce risks of falling during this part of the blind removal process.
Step 4 - Remove brackets from the wall with screwdriver
Once the blind spool, safety clamps, and blind clips have all been removed, you can now remove the brackets installed in the walls on either side of your window with a screwdriver. Have a small container or pocket ready to collect all the screws removed as well as the brackets.
Try to avoid dropping brackets to the floor during the removal process, as this can lead to brackets procuring damage. Damaged brackets may be difficult to reinstall.
Step 5 - Cover up holes left in the wall if needed
If you have made-to-measure roller blinds, then chances are high that the holes drilled to install your blind's brackets won't necessarily be of use to other blind panels or window coverings. For those who aren't planning on replacing the removed roller blinds with another set of blinds with similar or equal dimensions, then we highly recommend filling the holes in your walls by using putty or spackling paste and then painting over them if need be.
Need to order new custom roller blinds? Click here for a helpful guide on ordering made-to-measure roller blinds with Quickfit.
Step 6 - Wipe down roller blinds and store securely
Finally, once your blinds have been removed and the drilled holes have been addressed, all that's left to do is wipe down your blind panels and store them safely until they're ready to be reinstalled or disposed of.
If you are hoping to reinstall your blinds, we recommend storing them in protective wrapping to minimise risks of dust build-up or scratches caused during transportation.
How to remove double roller blinds
If you have a set of double roller blinds, then you'll be glad to hear that the processes you'll need to follow in order to safely uninstall your blind panels aren't too dissimilar from what we've outlined above.
All you really have to do in order to safely and securely uninstall your double roller blinds is consider the additional chains and brackets as you handle them in order to minimise risks of tangling or procuring damage to either of the blind panels as you remove them. You should practice extra caution when removing sunscreen blinds or even coloured blinds, as superficial damage may be easier to notice on these than standard dark-coloured blinds.
~
Finally, we recommend taking your time and seeking some additional assistance if you're at all concerned or not entirely certain of how best to proceed with the removal of your own blinds at home. An extra set of hands may be all that you need to simplify the task and minimise the risks of your blinds getting damaged during the removal process.
Removing your blinds safely and securely will ensure that you can reinstall your roller blinds elsewhere, whether it be in a brand new home, in a different room, or even just swapping your window coverings out from season to season. If you foresee installing and removing your blinds on a routine basis, then allowing yourself plenty of time and breathing space to learn how best to remove your roller blinds now, will help you gain a firm understanding of the process that you can use for many blind installation and removal jobs to come.