Posted by Emily Wang on 21st Feb 2022
Our blackout curtains have garnered themselves quite a reputation for being some of our most highly versatile window coverings here at Quickfit. Not only are they superb for cultivating colourful interiors alongside ensuring total privacy through external light control, but our range of multi-layered blackout curtains have been proven to be effective interior temperature regulators as well.
All of these elements coincidentally also make our blackout curtains fantastic alternatives to traditional photography studio backdrops. Admittedly, when we did hear that some of our Quickfit customers were indeed using our blackout curtains as photography backdrops, we were more surprised than anything else! But having extensive experience photographing curtains and home interiors ourselves, we know firsthand just how valuable these blackout curtain panels can be when managing light and other elements in a photoshoot.
Our own experience with photoshoots for all of our curtains and blinds has also allowed us to get a bit creative on our own here and there, which has naturally left us with a few handy photography tips and tricks too. We'll be sharing all of these learned photography hacks using our blackout curtains today, so all of you budding photographers can get to work on your portfolio without even needing to book out a studio space.
Read on to discover just how you can put together your own at-home photography studio with just a panel or two of our blackout curtains.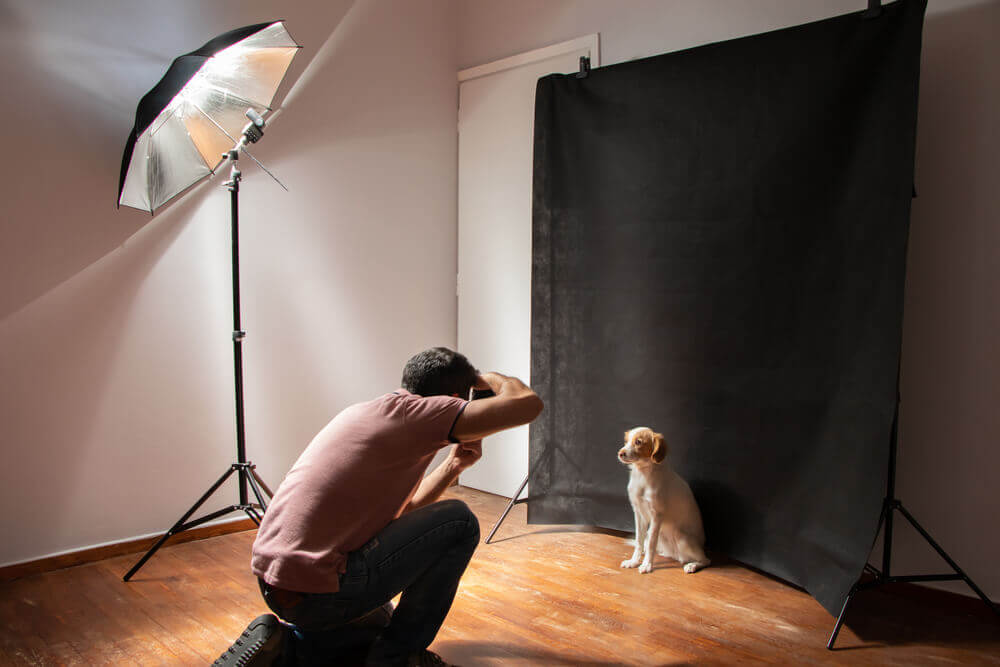 Benefits of blackout curtains as photography backdrops
As we touched upon earlier, there are a few benefits to using blackout curtains over traditional photography backdrops, ranging from controlling environmental factors like light, noise, and wind, to regulating temperatures in your studio space, and many more. We'll be taking a closer look at some of the most apparent benefits that we experienced during our own photography sessions below.
Size adjustable to suit all styles of shoots
Unlike screen photography backdrops, blackout curtains can be hung in a variety of ways to cover a wide array of shoots. You can take close-up portraits, landscape profile shots, and even ensemble shots, or shots with multiple subjects with the same photography backdrop simply be readjusting the position of your blackout curtain panel.
Whilst there is a bit of a learning curve here with actually finding the best ways to hang your blackout photography curtains, rest assured that the quality build and weight of our curtains ensures that your panels will stay in position once they are hung, and won't be easily moved by studio foot traffic or even by a breeze filtering in through an open window.
Eliminating reflective light and other disturbances
Due to their heavy weight and multilayered build, our blackout curtains are also highly effective at not just keeping out external sources of light as no light can penetrate through the curtain's seams, but also minimising the risks of lighting glare or untargeted reflective light throughout your photoshoot by absorbing light. Lighting glares can tarnish even the most professional photoshoots at the worst of times, which is why professional photographers often spend hundreds of dollars on disc-shaped studio light reflectors.
Whilst light reflectors are effective at reducing glare by reflecting external light back to the subject of your shoot at a flattering angle, these large discs can be difficult to adjust from subject to subject. Similarly, it may not be possible to transport your light reflectors from shoot to shoot if you're ever working away from your studio space.
As light absorbers, our blackout curtains provide photographers with the effects offered by photography backdrops and light reflectors combined: total control over external light availability both in your studio space as well as during location shoots.
Adding atmosphere to your snapshots
Professional photographers often utilise backdrops and backdrop lighting as a means of adding dimensionality and a certain sense of atmosphere to any photoshoot. Oftentimes, the colour of your backdrop can say a lot about what kind of shoot you're putting together and how you'd like your finished shots to be received.
As our blackout curtains are available in a wide range of different colours and fabrics, you can absolutely mix and match to cultivate an atmosphere that's best suited to any particular style of shoot. Our classic black blockouts are fantastic for creating rich, professional level portrait shots or even as moody backdrops for pet or plant photography. For headshots, try our white blackout curtains. And if you're feeling particularly adventurous, why not opt for bolder colours like emerald green or rose pink?
Cost efficiency
Finally, it's worth noting that investing in a few panels of blackout curtains is substantially more affordable than buying individual photography backdrops in varying sizes. Some of our blackout curtain panels here at Quickfit only retail at just $40, whilst professional photography backdrops can cost double this, and specially textured curtain backdrops can take you into the hundreds.
As blackout curtains are naturally thick, light absorbing, and temperature regulating, they can often be infinitely more comfortable to work with in studio spaces over screen backdrops. And when you consider the fact that you can enjoy all of these benefits at just a fraction of the cost of professional grade backdrops, then investing in blackout curtains for your studio space truly becomes a no-brainer.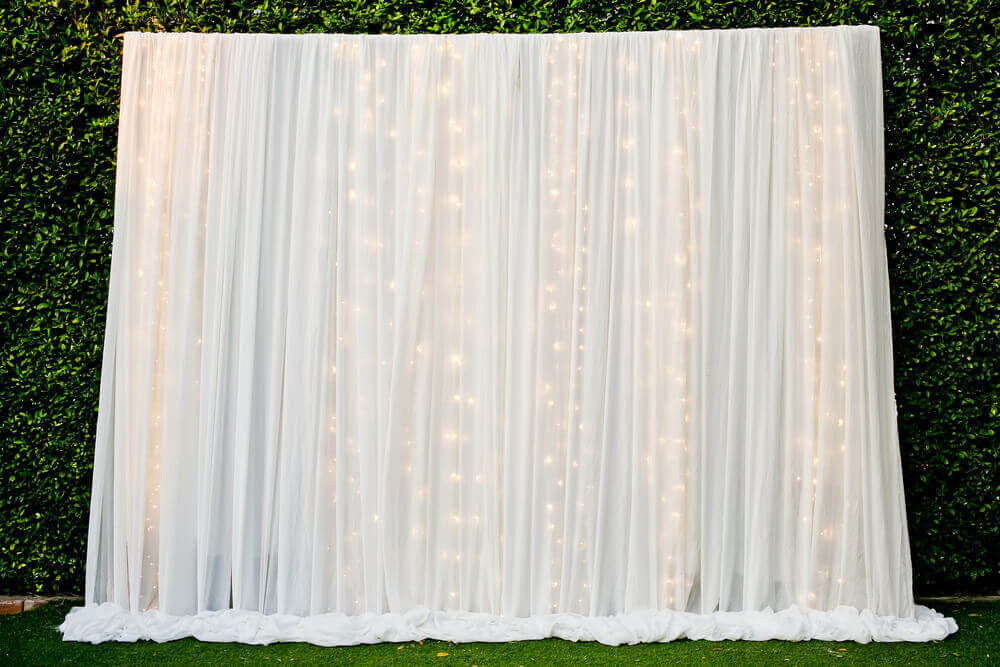 How to hang and style photography backdrop curtains
If you already have a few blackout curtain panels at your disposal and would like to put them to use as your very own photography backdrops, then feel free to follow this little guide on how best to hang and style your curtains.
Select your preferred backdrop size
Backdrops can come in a variety of different sizes, with each size being suited to different types of photos and photoshoots. For instance, 5 x 7 photography backdrops are generally recommended for close-up shots like headshots and portraits, and longer 12 foot backdrops are perfectly suited for single or couple full-body shots.
If you're working with larger groups of people or perhaps even bigger subjects like cars or large animals, you could benefit from even an 8 or 10 foot long backdrop, just to ensure that your subjects have plenty of space to move around if they require it. Our extra long curtains here at Quickfit can measure up to about 250cm, which is between 8-9 feet, making them perfectly suited for larger scale photoshoots.
Going for a larger curtain panel is always recommended as larger panels can simply be folded down and clipped back when they're hung up to produce a smaller shooting space.
Find your ideal mounting system
Once you've found your ideal backdrop size and have folded your curtain panel or panels down to suit your shoot space, it's time to mount those curtains and prepare your backdrop! You can mount your curtains either using wall hooks or a wall-mounted curtain rod as you would traditionally.
If you're preparing for a location-based photoshoot, it may be worth investing in a collapsible backdrop stand that's fitted with hooks so that you can take your blackout curtain backdrop on the go and set it up in next to no time. And if none of these sound like an attractive mounting system to you, then you absolutely cannot go wrong with a backdrop support system which allows you to essentially drape the curtain over a horizontal support beam.
As we mentioned earlier, one of the prime reasons why our blackout curtains make highly effective photography backdrops is simply because of their weight and high-quality build. Our blackout curtain panels can be hung symmetrically over horizontal beams with minimal risk of falling if they're left untouched. If you're a photographer who's often working between a variety of locations, our blackout curtains are likely to be your new favourite photoshoot asset.
Adjust pleats or folds accordingly
One other highly noteworthy feature of our blackout curtains is that they are highly adjustable, again due to their weight and heavy hang. You can go for a highly textured background by adding pleats or folds to your backdrop, or opt for a uniform and neutral black backdrop by removing any natural folds that appear in your blackout curtains as you hang them.
Take some time to adjust and readjust your curtains on your preferred mounting system before snapping a few quick test shots to see if you've cultivated the perfect atmosphere. And now all that's left to do is commence with your shoot!
What about photography studio lighting?
If you've made it this far, you very well may have a winning photography space on your hands, with just one final question on your mind: what about lighting? Yes, our blackout curtains are effective for light control and absorption, but if you're looking to boost the lighting in your space, then you'll absolutely need to consider introducing some additional light sources into your studio space.
Thankfully, due to the insulatory nature of our blackout curtains, even just a single lamp or photography ring light should illuminate your shoot space with minimal fuss. Simply set up your preferred lighting right behind your camera and ensure that your subject's face is well-lit and ready for action.
As you can see, using blackout curtains as backdrops for your next professional style photoshoot can be a certifiable game changer. Don't be afraid to experiment with your shoot set-up and mix and match with a variety of different colours and styles of blackout curtains.
If you want to get a feel for any of the curtains that we stock here at Quickfit, get in touch to order some free curtain swatches, or speak to one of our dedicated designers today!