Cycling through decorations, creating unique and handmade items, or repurposing current decor items are simple ways to save some money during a revamp of the home decor. Putting on my creative cap and thinking about making my own decorations (AKA browsing through the internet for a bit of inspiration) led me to table scapes, painting blinds, and repurposing old quilts as wallpaper.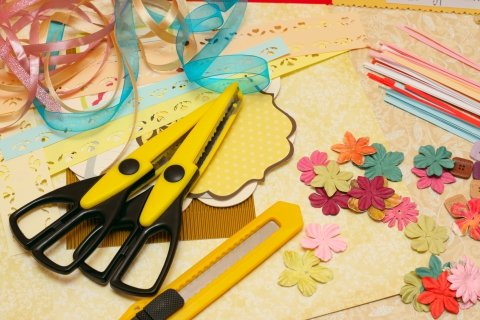 Crafting And DIY Is A Fun Way To Decorate On A Budget
How To Create A Table Scape
Table scapes are miniature collages or collections of decorations that can be easily displayed for a short period of time and then switched out for a different table scape. The holidays are an easy reference, exchanging Christmas decor to showcase Australian pride decor and then St. Valentine's decor and so on through the year.
Find a display table.
Whether it's a coffee table, nightstand, or shelf in the main room, a table scape gets its name from displaying a landscape of decorations across a table.
Brainstorm a few scape ideas.
If you have a family, each person can create their own table scape. Think along the lines of similar items or decorations with a theme. Pairing together tchotchkes with family photos works well as a starting point.
Get to work!
Now, it's time to craft and get to work. The fun part! Upon completion, store the scapes in an easy-to-access place to switch out when you're ready to spice up the decor again.
How To Paint Blinds
After shopping online for roller blinds in a neutral colour, you can add an artistic touch by painting the surface with acrylic paint. From full colour murals to delicate details, a painted blind can be beautiful. Plus, purchasing a solid coloured blind first and then adding your own craft will be more budget friendly in the long run.
Pick the roller blind.
Select a roller blind that matches the look you desire. (In our online shop, there are blinds of many different colours to appease the many styles).
Choose the paint.
Water-based acrylic paint works best on roller blind material. Don't forget the brushes, too!
Practice on a scrap.
When you receive a roller blind from Quickfit, it comes in a larger size that can be measured and cut to fit your window frame exactly. After measuring and cutting your blind, practice painting on the scraps to determine how much paint will be absorbed, how different colours appear, and to get the pattern down just right.
Get to work.
A good online tutorial from Better Homes and Gardens suggests using stencils to decorate blinds if you aren't comfortable crafting by free-hand. You'll be pleasantly surprised with the final look of your blinds as they hang in your home and complement the rest of your style.
How to Repurpose Old Quilts
I don't know about you, but I have a few quilts gifted through the generations sitting in a hall closet. Instead of re-painting or re-wallpapering the living space, I decided to hang the quilts on the big open walls that needed a change.
It's a pretty easy thing to do and didn't cost any more money from my small-budget pocket.
What other ways have you repurposed things around the house to give them an upgrade? We'd love to hear your thoughts on our Facebook page.