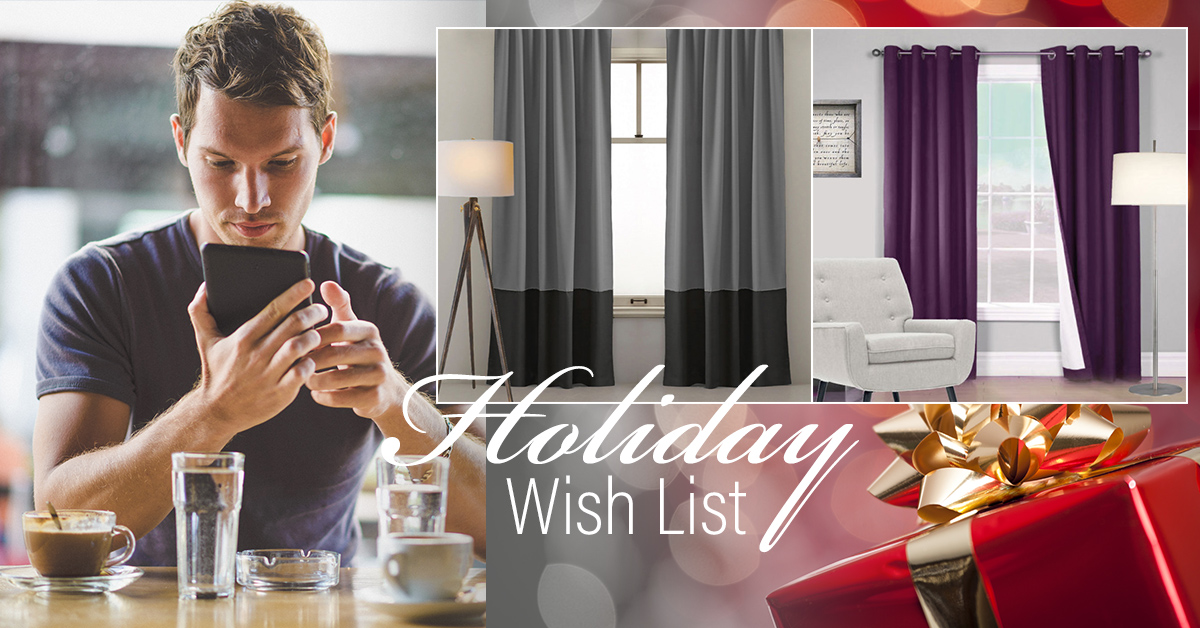 It is not too early to start creating a Christmas wish list! The holiday season is quickly approaching, which means so is the busy shopping season. Uni students probably have a long list of things wanted this year, from building a collection of housing goods to gathering fun, new tech items that have hit the market this year.
Take a moment to ponder: When it comes to Christmas gift giving and receiving, are you the type of person who makes a list and checks it twice before sharing it with loved ones, or the type who must be pestered and asked time after time by friends and family for gift ideas? Whether you prefer to collect ideas throughout the year to put into a nice wish list or wait for the last minute, we have an idea of a few things you can add to your wish list for a great Christmas in 2016.
University students, especially people who are still living in the dorms, should start wish list shopping at Quickfit to find these trendy and efficient blinds and curtains online.
"What? You want us to add curtains and blinds to our Christmas list this year?" may have just passed through your mind, but hear us out.
Why Uni Students Should Add Window Treatments To Their Christmas Wish List
Trendy
For many new uni students, decorating a dorm room is one of the best parts of the year. It is finally a personal space that can be designed with a unique touch, independent from any parental influence that was probably lingering throughout childhood.
A trendy uni room is one that feels comfortable and in style. There are colours and designs trending that students can follow, or students can make up their own styles that showcase their unique personalities. First and foremost, though, a trendy room is one kept clean and tidy with additional features that go above and beyond the given dorm room amenities.
Window treatments, for example, are trendy because they add a touch of coziness to a standard bleak room. Some uni dorms will have blinds or curtains, but most will be an open window left for the new residents to decorate.
Different colours of curtains and blinds can make you feel differently when you enter the room, and different colours are trending in main decoration styles right now.
Here's a tip: Blue is the new black, this year, meaning decorators around the world are using blue as a neutral colour. It pairs well with other colour choices and is a bit softer feeling than the dark black.
Dark
After a long night of studying (plus maybe a game or two of table tennis), the last thing students want is to be woken by the bright morning rays of the next day's sun.
Adding blockout roller blinds to a Christmas wish list means the chance to keep a dorm room dark as night until the blinds are risen, if someone gets you the blinds, that is.
Blockout roller blinds are thicker, so the sunlight is actually blocked from entering the room.
Take it a step further and install blockout curtain panels on top of the blockout roller blinds for a cave-like experience each morning. Sleep is very important, so take care to create a dorm environment that fosters health, wellness, and happiness with dark curtains and blinds.
Private
Along the same lines as making the room darker, blinds and curtains help protect privacy. When the window treatments are drawn, there will no longer be an opportunity for creepers to use their peepers in the dorm without the student's permission. Curtains and blinds are a first layer of privacy and security.
Are you ready to do some online shopping for blinds and curtains to add to a Christmas list this year?
Shop for trendy, blockout curtains online.