Posted by Emily Wang on 27th Jul 2023
Even just a quick skim through our online store will reveal that there are a myriad of different curtain fabrics to choose from out there. From bold velvet fabrics to delicate voile panels, modern home designers have a plethora of options available to them. But of all the curtain fabrics that we stock here at Quickfit, there are three in particular that have been the most popular. These are polyester, linen, and cotton curtain panels. And although today we'll be facilitating a triple showdown of polyester vs linen curtains as well as cotton curtains, all three of these curtain fabrics share one thing in common. They all possess great versatility, and are available in a wide range of colours and styles.
But which of these three materials is the right fit for your home's interiors? Our team of curtain specialists here at Quickfit are hoping to answer that question for you today with this nifty comparison guide.
Read on to determine whether your windows are calling out for polyester curtains, linen curtains,or cotton curtains.
Use the links below to skip sections or keep on scrolling to find out everything there is to know about the differences between polyester, linen and cotton curtains: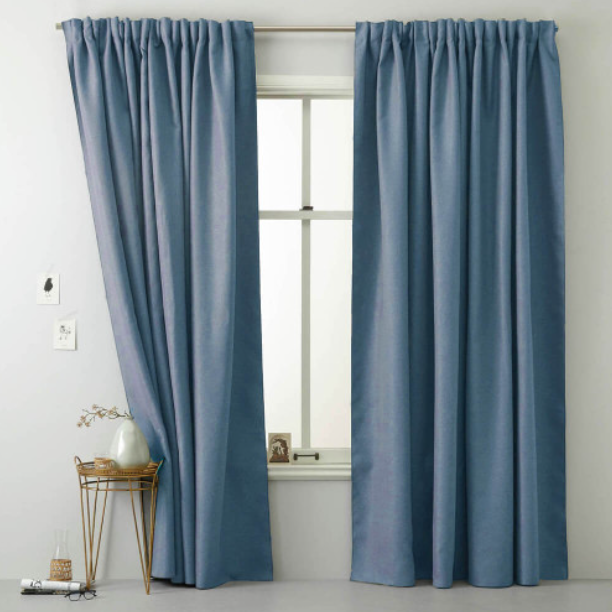 Image: Cordrona Room Darkening Multiband Curtain Panel (Blue)
About Polyester Curtains
Polyester is the only inorganic fabric that we'll be looking at today, with both cotton and linen being natural origin fibres. Because polyester is a synthetic material, you can usually expect polyester curtains to cost a little less than your organic origin curtain fabrics.
Polyester is also well-known for its high durability, with its synthetic fibres designed to withstand more force than natural weaves. The uniform weave in polyester curtain panels also allow them to be naturally less prone to wrinkling or bunching, ensuring that you can enjoy an even hang. Alongside this, polyester curtains are also renowned for being more hardy in direct sunlight and are less susceptible to colour fading.
The main con for polyester is that it is a synthetic material. The tight weave of polyester curtain panels make them easier to wipe clean and naturally anti-bacterial. But the downside to this is that polyester curtains are also more susceptible to absorbing odours or oils, which means you'll likely have to wipe them down pretty often. You should also avoid hanging polyester curtains in kitchens for this reason as well. If you are after kitchen curtains, then you're better off opting for non-flammable curtain panels.
The carbon emissions used in the production of polyester materials should also be considered here. If you'd prefer to maintain a low carbon footprint for your household or are looking to design biophilic or nature-inspired interiors, then polyester curtains may not be the right choice for you.
Pros:
Durable, strong, and less prone to wrinkling
Available in a wide range of colours and styles
Typically low cost
Cons:
Synthetic fibres make them flammable
Can easily absorb odours
Non-biodegradable and not eco-friendly
About Linen Curtains
Linen is one of those truly timeless curtain fabrics that nobody seems to tire of. The delicate, semi-opaque quality of linen makes linen curtains a great substitute for your traditional white sheer curtains. Linen curtains are also naturally UV resistant, which is yet another great reason to use them as substitutes for sheers. And if you are looking for sheer curtains that aren't made with voile or another polyester-type fabric, then our range of linen curtains here at Quickfit is sure to have a few panels that'll suit your home design needs.
But in the showdown of polyester vs linen curtains, the only thing that polyester really has going for it is its lower price point. 100% pure linen curtains just offer more breathability and better presentability. And for those looking to create interiors with a natural look and feel, linen curtains can be just what you need to compliment all the other organic design elements positioned throughout your home.
So with all of these apparent pros, what are some of the downsides of linen curtains? Sadly, linen is a fairly in-demand organic fabric. This means that the costs for linen curtains are comparatively higher than the cost for synthetic curtain fabrics.
As linen is an organic origin fibre that's also naturally delicate, linen curtain panels are also more susceptible to accruing damage than polyester curtains, and are a poorer insulator than both polyester and cotton. And if you're thinking that you can just protect your linen curtains by layering them with a good pair of blockout curtains, you also need to consider the fact that linen can be susceptible to moisture build-up, which can then result in mould and mildew.
Because of this, linen curtains perform best in light and airy environments with low humidity. As our bedrooms should naturally be cooler than our living spaces, you can easily install linen curtains over your bedroom windows to help softly filter light into these spaces during daylight hours.
Pros:
Natural origin fibres
Highly versatile designs
Insect repellent and UV resistant
Cons:
May attract mould or mildew in humid environments
Can be delicate or can crease easily
Often more expensive than other curtain fabrics
About Cotton Curtains
So we've looked at polyester vs linen curtains and effectively considered this to be a comparison between organic and inorganic curtain fibres. But linen isn't the only organic material that our customers love here at Quickfit. Our cotton curtains have also been highly popular for years now, with our DIY home designers loving our extensive range of cotton curtain styles and hangs.
Alongside being cheaper than linen curtains, cotton curtains typically also have a sturdier construction. Due to their thicker construction, cotton curtains are also naturally absorbent even when they're used as sheers, making them a great choice for any homes with plenty of indoor plants.
And when deciding between linen curtains vs cotton curtains, buyers should also consider the fact that cotton has a denser weave than linen, which is naturally more delicate. This means that your cotton curtain panels are likely to offer far greater insulation than your linen curtains. So if you're looking for curtain panels to hang in draughty spaces that still provide a light and airy quality to your home's interiors, then cotton curtains may be just what you need.
There is just one notable downside for cotton curtains, and that is that they don't fare well with direct sunlight. Cotton curtains have been known to fade in areas with maximal solar orientation or solar exposure. This means that cotton curtains are best installed in south-facing or east-facing windows here in Australia, just to reduce the likelihood of them being exposed to the harsh midday and evening sun.
And although cotton curtains are known for their natural absorbency and structural durability, these curtain panels can also be susceptible to mould and mildew when they're hung in humid environments. Whilst these issues can be rectified with regular cleaning or even machine washing, it's also important to note that cotton curtain panels may also shrink when washed in warm or hot water. A gentle hand washing is best to keep these curtains in good condition over the long term.
Pros:
Biodegradable and organic origin fabric
Strong and highly absorbent
Offers better insulation than linen and other natural fibres
Cons:
May shrink when washed
Susceptible to mould and mildew
May wear prematurely with sun exposure
Polyester Vs. Linen Curtains
With all the pros and cons of polyester and linen curtains laid out above, now it's time to decide which curtain fabrics take your fancy. Naturally, this is dependent on the kind of atmosphere you're looking to cultivate in your home's interiors.
For example, if you're looking to create biophilic interiors or maintain a home with a low carbon footprint, then linen or other natural origin materials is probably going to be a better choice for you than inorganic polyester. Contrastingly, if you're looking to prioritise functionality and durability, then polyester may be a better choice.
If you do want the elegance of linen curtains but don't have the budget to justify purchasing 100% pure linen panels, why not explore our range of linen look curtains here at Quickfit? These curtain panels are designed to offer all the aesthetic appeal of linen curtains with greater durability and a lower overall cost.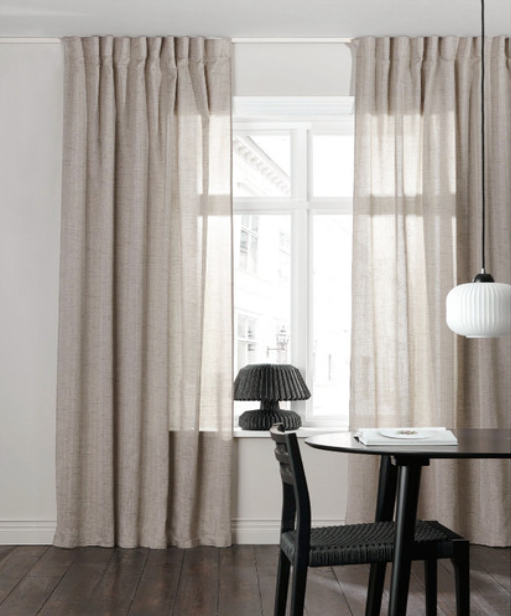 Image: Vintage Pure Linen Ready To Hang Curtain Panel (Hemp)
Linen Vs. Cotton Curtains
Now let's look at linen curtains vs cotton curtains – two organic origin fibres battling it out for the top spot. Well truth be told, there are decent selling points for both linen and cotton curtain panels, and these two fabrics do share a lot of similarities. For starters, they can both be used as organic sheer curtains, and they're both well-suited to light and airy home interiors, which is something that we have an abundance of here in Australia.
But the lower cost of cotton curtains is likely to prompt many curtain shoppers to look at this fabric over pricier linen curtain panels. Even so, home designers who have their eye on linen curtains will find just as much variety in Quickfit's linen selection as they would when browsing our range of cotton curtains. So why not have a look through both and see if there's a particular curtain style that calls out to you?
Cotton Vs. Polyester Curtains
Now, let's have a look at cotton curtains vs polyester curtains. As the two lower cost options on this list, it can be all too easy to just opt straight for polyester curtains based on price factor alone. But if you take a chance and spend a little extra on cotton curtains, you may find yourself pleasantly surprised by the benefits that natural curtain fabrics can have.
For starters, handling your curtains will feel a lot more luxurious than if you were to invest in polyester curtain panels. That, and cotton curtains have similar insulatory properties in comparison to polyester, so you can enjoy a similar level of temperature control for your interiors.
And if you're looking to create nature-inspired interiors or to emulate a nature-inspired interior design scheme like Hamptons coastal or organic minimalism, then cotton sheer curtains are guaranteed to be a better fit than synthetic polyester panels.
Which Is Best: Polyester, Linen or Cotton Curtains?
All things considered, there are real benefits to incorporating any of these three curtain fabrics into your home. They all have their own pros and cons, and each fabric type is also available at their own unique price points. And if price is a major factor for you, then you can easily find a low-cost alternative that'll still allow you to create an aesthetic that aligns with your interior design dreams.
So have a look through our full range of curtains here at Quickfit to find the curtain styles and fabrics that work best with your budget and your vision, combined.