Posted by QuickFit Blinds & Curtains on 17th Jul 2019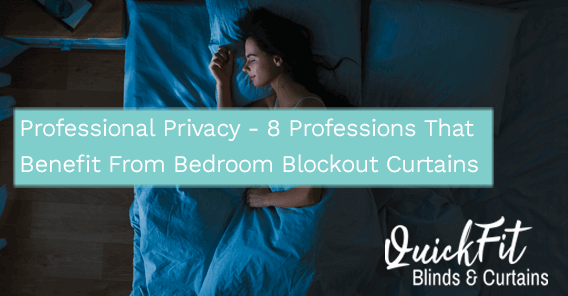 Having a relaxing space to unwind and reset before and after work is paramount to our health and wellbeing. For most of us, this room tends to be the bedroom and we choose our decor and furnishings accordingly. When adding window treatments, bedroom blockout curtains or blinds are a practical choice, as they have many benefits, the biggest being their ability to block the amount of light that enters the room at any given time of the day.
For some of us, getting the recommended amount of shut-eye may not be a problem. But there are many people out there who's occupations stray from the usual 9 to 5 gig. For these people, having blockout curtains in their sanctuaries makes the world of difference! Below is a list of 8 professions who we feel would benefit the most from bedroom blockout curtains:
Nurses
It will be no surprise to you that members of the nursing profession are at the top of the list. Accidents, emergencies and illness can happen at any time and therefore nurses, doctors and other healthcare professionals tend to work any and all hours of the day. When their shift ends they will often have to sleep throughout the daytime and therefore having blockout curtains in their space would make catching those extra zzz's during the day so much easier.
Truck Drivers
Truck drivers work unusual hours and may have deadlines to reach their destinations on particular days of the week or by a certain time of day. This calls for them to be on the road during any hour of the day or night, sometimes for days or weeks on end. Delivering precious cargo across the country is a tough job and can also be dangerous at times. Being well-rested and catching up on sleep whilst off the job is of utmost importance.
Bartenders
Bartenders and other hospitality workers can often work into the early hours of the morning, especially on public holidays and weekends. Although these night owls often tend to enjoy their atypical hours of work, getting a good quality sleep after their shift has ended would be difficult if not for blackout curtains.
Pilots
We all enjoy treating ourselves to a well-deserved holiday once in a while, and some of us have to fly interstate for work on a regular basis. This would not be possible without pilots flying us to our chosen destination. Pilots take us where we want to go at all hours of the day and can tend to land in various different time zones. This can make it extremely difficult to maintain a healthy sleep routine. That's why many hotel rooms all around the world tend to use blockout curtains!
Flight Attendants
Whilst the pilots are in the cockpit, we are serviced by the flight attendants. There to make our journey are pleasurable as possible, flight attendants are serving drinks, food and sometimes even just having a chat to pass the time or calm our flying nerves. Similar to pilots, flight attendants work very unusual hours and travel into different time zones regularly. This will mean they are often required to try and sleep throughout the day in preparation for their shifts.

Firefighters
These courageous men and women rescue us from dangerous, unimaginable situations while protecting our properties and the environment from ruin. As with medical accidents and emergencies, fires and other emergencies can happen at any time and the fire service is on call around the clock to serve and protect us.
Babysitters
Young children can really benefit from having blockout curtains in their rooms and, therefore, babysitters would probably see this as a huge advantage in their line of work. Some babysitters or childminders may have to work late on occasion, especially if they are caring for babies or young children whose parents work some of the jobs mentioned in this list!
Police
We often take it for granted that the police are on call 24 hours a day. Keeping order and protecting the people is a huge responsibility and requires nerve, bravery and courage. It also requires officers to work through the night and into the early hours of the morning.
As well as the handful of professions mentioned above there are many other types of work that will require unusual hours or work and, therefore, sleep. People who work these atypical shifts can be prone to health problems due to their irregular sleeping patterns or lack of sleep.
Blockout curtains make it easier to sleep at any time of the day due to their ability to block the amount of sunlight that enters the room. They can also have other beneficial qualities such as reducing noise pollution, maintaining a steady temperature inside a room and helping to reduce energy costs when used correctly.