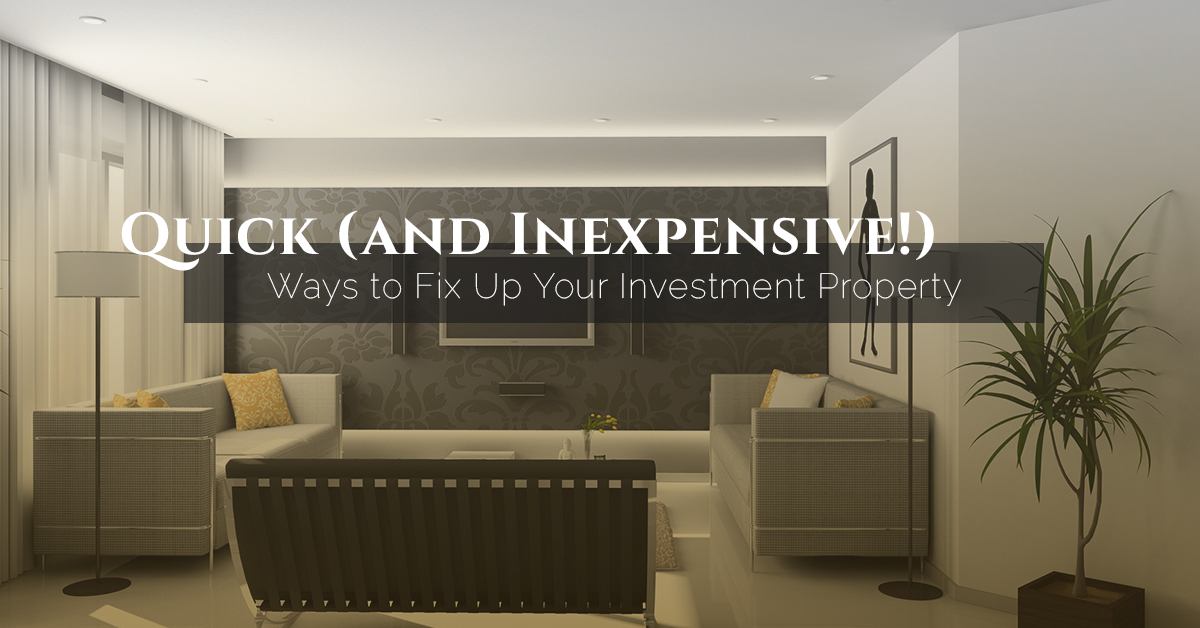 Property owners know that when it comes to their investment, the best option is to minimise their costs while maximizing their profits. This is true whether you are renting the property or flipping it for a profit. That can be a fine line to walk, though. You want your property to look as good as possible without spending a fortune on fixing it up. The better it looks, the more you are likely to get for the rental or sale price. But it can be a slippery slope of spending, too, when you are trying to make a place look its best.
We've worked with many investment property owners as they've fixed up their properties, and they've shared some of their favourite tricks for fixing up a property to maximise their profits. Here are a few of them; see if they could work on your property, too!
Dressing Up Your Investment Property on a Budget
A little paint goes a long way.
Painting is one of the most inexpensive and effective things you can do to increase the visual appeal of your property. Dirty walls can make the entire property feel more run down, outdated, in need of work, and unkempt. But a fresh coat of paint can transform a space, taking it from rundown to beautiful. Choose neutral colors for both rentals and properties you are going to sell. It helps the buyer or renter imagine their own items in the space and fall in love with the idea of it. If you are buying, don't be afraid to paint an accent wall. Buyers know they can paint over it, but the right accent wall can help bring a space to life, mask potential problem areas, and show off the potential of the space.
Get the floors professionally cleaned.
Another area that can bring down the whole property is the floors. Whether it is linoleum, vinyl, tile, hardwood, carpeting or rugs, if it's not clean, it's going to make the rest of the property feel dirty, too. It's definitely worth the investment to have the flooring professionally cleaned. Carpets should be cleaned once or twice a year anyway (or every time a renter moves out, at least), and a good professional cleaner will be able to make old carpets look nearly-new again. If you are dealing with hard floorings like tile or vinyl, it's still worth the professional cleaning. They'll be able to address issues with the grout or get those hard-to-reach corners clean. Floor cleaning companies charge reasonable fees for their services, too; and while you can certainly rent the equipment and do the job yourself, it's often worth the cost of the professional cleaning to save you the time and the effort.
Smell matters...a lot.
Don't allow yourself to go "nose blind" to the odours in your investment property. Nose blindness happens when we're around a smell so much that we don't notice it anymore. Every home has a unique scent, and it's worth a few dollars to make sure that your investment property's scent is a pleasant one. Unpleasant odours can really put off potential buyers or renters. They may assume that the smell isn't going to disappear, and as a result, they might be reluctant to offer top dollar for your property. So make sure that any smell they experience is a pleasant one. You can accomplish this by purchasing plug-in scented oil diffusers around the property or even using the reed oil diffusers that don't require electricity to work. We recommend avoiding candles since they can present a safety hazard and could get wax all over your freshly painted walls or newly cleaned carpets. Stick to simple smells like vanilla, cinnamon, or lemon.
A little staging is a good thing.
Most properties don't need to be fully staged by a professional decorator in order for people to see its true potential. However, it is nice to add a few pieces of furniture and decor to give the space a little personality. Adding some beds to the bedrooms shows potential buyers and renters that a full-size or queen-size bed will fit into the space. Adding a sofa, side tables, and flower arrangements to the living room makes the space look larger and homier. Place a few carefully selected items of furniture to stage the home, just make sure they aren't too big for the room or you'll end up making it look smaller than it actually is. You can also add some artwork, rugs, and other tasteful decor pieces just to give the home a warmer feel. Staging can be more important if you are trying to sell your home than if you are trying to rent it, though it can be useful in both cases. Don't bother buying all new items for the staging process; you can take things out of your own home or rent pieces from a local furniture store to get the job done.
Invest in bulk curtains.
If you do no other staging in your investment property, make sure your windows look nice. Having quality curtains in the windows can bring a little warmth to an otherwise empty room. Curtains can also make the window look larger, something both renters and buyers will love. If you are renting the property, the curtains can stay in place, although you can make the offer to potential buyers as well. It gives them some window treatments to work with and offers them privacy right when they move in, and they can replace them later on if they wish. It won't set you back much, either, especially when you buy your bulk curtains online. You can wash or replace the curtains as needed, and the bulk packs allow you to dress every window in the property without setting you back too much.
Let Us Help You Get Your Property Ready
QuickFit can be your go-to source for inexpensive bulk curtains online. Whether you simply need enough curtains for every window in the property before you start showing it or you want to have extra curtains on hand for replacements after the renters leave, we can make sure you have exactly what you need without spending a fortune. Browse through our online selection of bulk curtains and choose the ones that are right for your property, then place an order on our website. We offer flat-rate shipping that keeps your costs low so you can put more of the profit from your property back in your pocket. Get everything you need for window dressing, shower curtains, window hardware and more in the Quickfit online store today.