Posted by Quickfit Blinds and Curtains on 3rd Nov 2017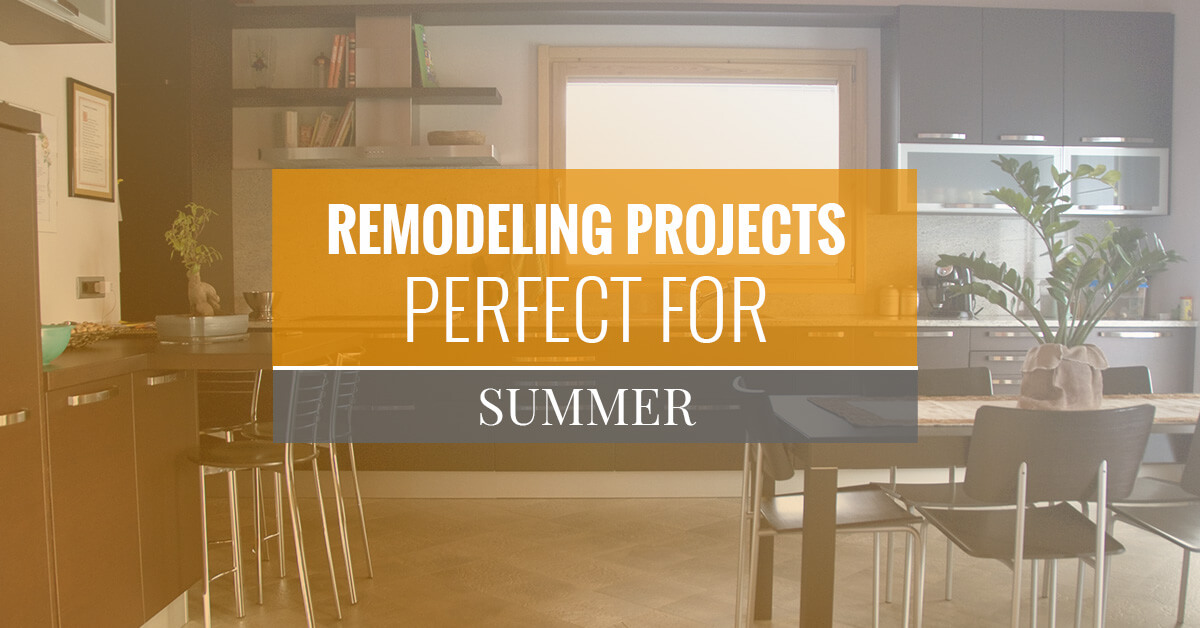 Summer is right around the corner! The sun shines longer each day and the weather stays warmer. This lovely weather means it's the perfect time for some remodeling projects around the house. Whether you rent or own, a little care can go a long way into making a house feel like a home.
Try a few of these projects on for size this year.
Outside Projects
Garden
A good garden means fresh produce throughout the summer — both for you and for your neighbors if you have a green thumb. Start with a defined area for the vegetable garden. You can use planks of wood (maybe some old railroad ties) as the border. Then, fill the area with dirt and fertilizer suitable for future foods. Lastly, plant the seeds or starter plants for the foods you want to grow in the garden. You can't go wrong with broccoli, tomato, celery, and beetroot.
This is a perfect project to keep you entertained each day as you tend to the weeds, water the plants, and watch them grow. The transformation throughout the season is astounding!
Flower Box
The flower box is a similar project to the vegetable garden, but it means growing beautiful flowers instead of edible foods. A flower box can have many different types of flowers: perennials and annuals. Annual flowers are those you plant again each and every year, while perennials are flowers that naturally go through a lifecycle every year and bloom at the same time. Flower boxes are generally easier to maintain than a vegetable garden, but it is still a fun project that can add new life to your outdoor landscape. If you're looking for a quick and easy way to spruce up your front or back yards, a flower box can be a go-to project.
House Maintenance
Things like a new coat of paint, a new driveway or garage door, and new windows are all things that provide dual benefits when remodeled. A new coat of paint protects the exterior of your house from rain, wind, and other weather elements. A garage door means tighter security and less wind blowing through, and a new driveway means less damage caused to your car as you pull in and out of your driveway. Similarly to the garage door and paint, new windows help protect your home from the weather outside. All of these exterior projects help maintain the integrity of the home, and they also help make the house look new and fresh.
Inside Projects
Floors
Floors take a beating over the year. Especially following winter months where the weather is usually wetter and feet are dirtier, the floors could really use a refresh come summertime. Summer is a nice time to remodel floors because it's easy to sleep elsewhere in the middle of the project. Say, for example, you want to redo the carpet in the bedrooms. When the furniture is moved out of the room as the new carpet is installed, your family can have a camping night in the backyard.
New floors are a great way to spruce up the feel of a home. Different types of floors make it easier to clean and can really impact your lifestyle.
Decorations
A quick remodeling project that adds a special wow factor without too much effort is re-decorating. Some quick changes you can make to decorations around the house include new curtains and blinds. These come in many different colours and styles, which makes it easy to transform the entire look of a room with just a few pieces. Then, you can add new wall decor and throw pillows to match the windows to really tie together the new look.
Fixtures
Update lamps. Change out the ceiling fan in the main room. Get a new sink in the main bathroom. A few small changes here and there to everyday appliances or fixtures make it seem like a brand new house over time. These types of remodeling projects are easy to do in the evening after work, while many of the others on this list will require some dedication over a weekend or two.
Ultimately, summer is a time for new life. So why not breathe some new style into your home this year with a few of these remodeling projects.
Quickfit can help you redecorate your windows with new curtains or blinds. Our team sells affordable custom-made curtains and made-to-measure blinds so you can redesign your home perfectly and specifically for you.