Posted by QuickFit Blinds & Curtains on 27th Sep 2021
The Hamptons Coastal style of interior design has been all the rage across the globe over the past few years in particular, which has contributed to the growing popularity of natural textured rugs and our white timber venetian blinds here at Quickfit too!
Although this breezy interior design style originated in the Hamptons region of Long Island, New York, the bright and airy atmosphere that this style inspires feels incredibly reminiscent of idyllic Aussie summer days.
As a nation of avid beachgoers ourselves, the Hamptons Coastal style can feel quite at home in suburbs across Australia. Coupled with our own glorious summer sun and tropical to temperate climates, Aussie homes are well and truly built to accommodate this luxuriously laid back design style.
Here's all you'll need to consider when looking to introduce elements of the Hamptons Coastal style into your own home design plans.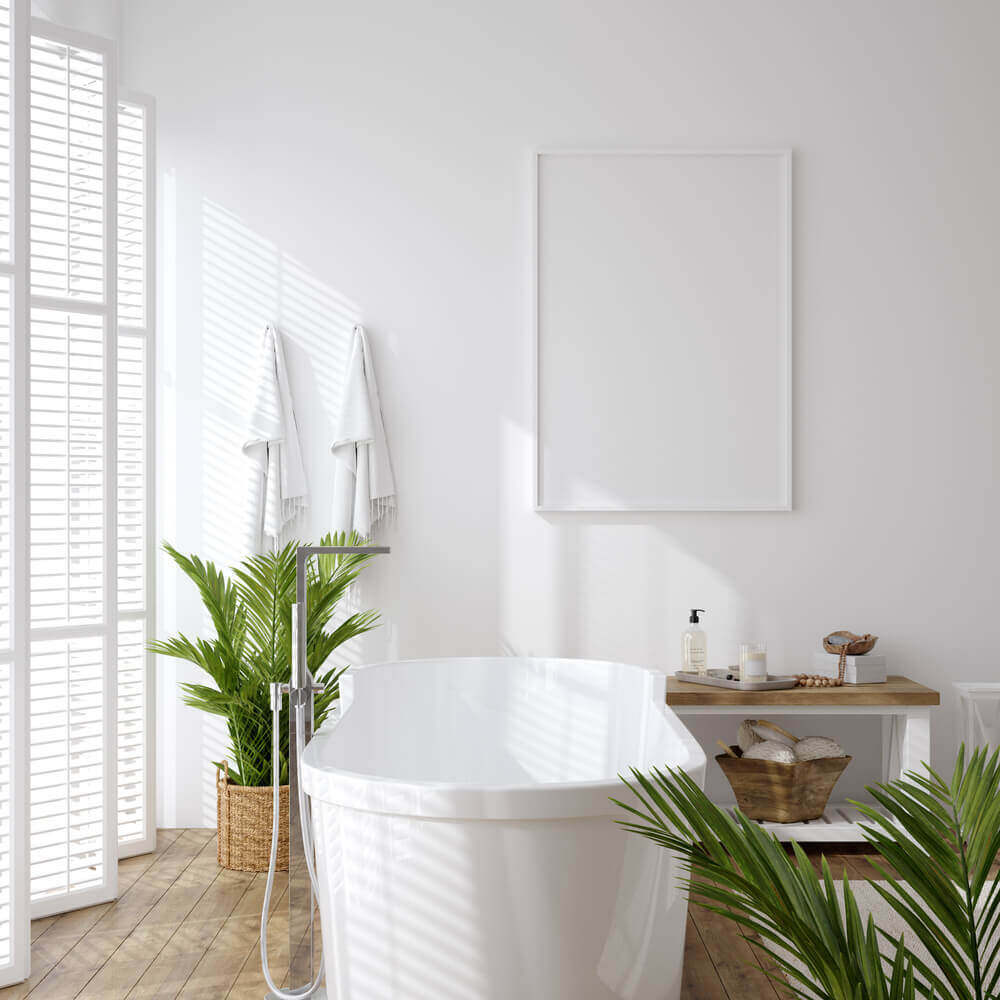 Use natural textures wherever possible
Hamptons Coastal is defined by its effortless melding of luxury living with all the natural or earthly elements that accompany being beachside. Generally, colour palettes in Hamptons-inspired homes include soft blues and earth tones like sand and clay juxtaposed against stark, bright whites.
You can incorporate a mixture of natural colours and textures like pure linens, hemp, jute, and wicker into your space through furniture or rugs, as well as with the addition of functional accessories like woven baskets and macrame plant holders.
As natural colours tend to make a fantastic and highly versatile backdrop for interior spaces, you may find your ideal Hamptons Coastal window coverings amongst our curated selection of natural curtains and blinds.
Whitewashed timber for a beachy feel
As we said earlier, white timber is a staple of the Hamptons Coastal style, with whitewashed timber furniture being a staple of seaside living and of the naval or maritime aesthetics. You don't, however, have to do up your interiors in the exact same fashion as you would your patio!
You can incorporate whitewashed timber into your interiors with ease through installing some timber look venetian blinds onto your windows. As another essential element of the Hamptons Coastal style is facilitating the movement of natural light throughout your bright interior spaces, the absolute light control offered by blinds make them a more than suitable window covering for fine-tuning your home's Hamptons elements.
That, and the filtering of bright early morning or evening sun through the linear slats of blinds has a knack for bathing these bright interiors in a glorious, golden glow! Imagine having interiors that are so aesthetic that they facilitate their own golden hours!
Play with natural light
Drawing on from our last point about the wondrous light displays facilitated by white timber blinds, the fresh and inviting colour palette of the Hamptons Coastal style almost inspires playing with natural light in itself. Hamptons Coastal interiors tend to look their best when they're illuminated by natural sunlight, so you'll want your interiors to have total light availability wherever possible.
A fantastic way of staying in control of your home's overall light availability is naturally through using sheer curtains in your interior spaces. Sheer curtains will ensure that your home maintains optimal natural light availability, as well as still providing you and your family with some privacy.
If you're not a fan of long, flowing curtains however, or have young children or pets, even a pencil pleat voile curtain should do the trick, as the delicate voile fabric will still ensure the natural light that illuminates your home is accompanied by some delicate glimmers.
Airiness always
Finally, it's also a trademark for Hamptons Coastal style interiors to be just as airy and open as they are bright. You can achieve an evergreen sense of airiness throughout your interiors by continuously decluttering or practicing minimalist living wherever possible. Try to keep your living spaces nice and open and, if your home has an open floor plan, do your best to maintain a healthy sense of space to facilitate the movement of energy throughout your wider interiors.
If you don't have an open floor plan and live in a smaller home or apartment, you can still effortlessly maintain an airy atmosphere by adding some domestic greenery in all of your interior spaces. That, and of course, any of our sheer linen curtains won't go amiss either!
Introducing the Hamptons Coastal style into your home's design scheme is all about maximising all the natural, innately homegrown elements of your home. It's all about ensuring that your home melds in with the world around it, providing you and your family with a sense of lasting harmony and homey bliss.
If you're looking to follow any of the tips outlined above, be sure to check out our selection of sheer curtains online, designed for Australian homes and ready to help elevate your home's own sense of luxury and modern living!